Arnold Origi
Arnold Origi teammate celebrate Cup with a nude photo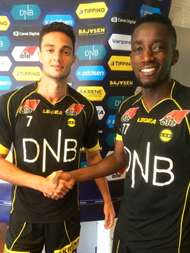 Arnold Origi and his Lillestrom teammates have been criticized for their 'weird' celebrations after winning the Norwegian Cup.
Lillestrom beat Sarpsborg 08 3-2 on Sunday to lift the trophy, but it was the celebration by Origi's teammate, Aleksander Melgalvis, that spoilt the party after the player was snapped in his birth suit with the trophy tightly held on his genitals.
The 'necked' celebration did not go down well with some quarters with the local FA saying that Lillestrom should have shown the trophy "a little more respect".
"Winning the Cup is a big thing and obviously it should be celebrated. But it is possible to do so in a manner that shows the cup a bit more respect. I am sure it wasn't intentional from Melgalvis but it came out the wrong way regardless. I think Melgalvis and Lillestrom agree with that," The Norwegian FA communications director, Yngve Haavik, was quoted by the Guardian.
Unapologetic Melgalvis however, said that the celebration was a spontaneous reaction and that it was not planned.
"[Winning the cup] was something I never thought I would experience. I've come a long way to play in a cup final. Of course, I can understand that [people thought] it was a bit over the top. I'll admit that and apologise, but it is not something I regret," Melgalvis told Dagblaget Newspaper.
"I can understand [that some people didn't like it]. Should I apologise to the King? Well, I was very privileged to say hello to the King yesterday so maybe I should apologise today."
Origi did not appear in the photo taken on a raised stage where Melgalvis is seen tightly squeezing the Cup on his public area with his right hand while his left-hand sits on the Mic.