Alli dives but so what?! Juventus will be wary of the Spurs starlet's talent - not his ethics
Last week it seemed that anyone in England who had a problem with diving put all their rage in a bucket and dumped it straight over the head of Dele Alli.
His yellow card for simulation in the penalty area against Liverpool brought hostility and condemnation from all quarters, putting not only the performances but also the ethics of the 21-year-old under scrutiny.
There remains a stubbornly prevalent train of thought in this country that diving is 'un-English'; here, they want to believe that it is a foreign scourge that has infected football within these borders.
However, English players can earn free-kicks with the best of them, so they clearly don't think that themselves. It comes as naturally to Alli as it does to many more renowned foreign divers.
Tottenham manager Mauricio Pochettino was right last week when he suggested that diving was clever: "Football, for me, is being creative; to try to not cheat but trick the opponent in a good way." 
Diving is regarded as an acceptable means of deception in every corner of the world. If a player can gain an advantage, he should. In that context, it's no worse than a player claiming a throw-in when he knows damn well he got the last touch.
If he gets away with his dive, job done. If not, well, he will be booked or else retrospectively punished. It's a game of risk and reward.
Alli knows this, Pochettino knows this and every other player who tumbles easily knows it too. It's up to the referee and not the player to decide what is and what isn't a foul.
As a talented, native prospect, Alli is always going to command a certain amount of attention. He has been touted as a £100 million player in the making, as well as the man to lead England through their next series of international tournaments, starting this summer at the Russia World Cup.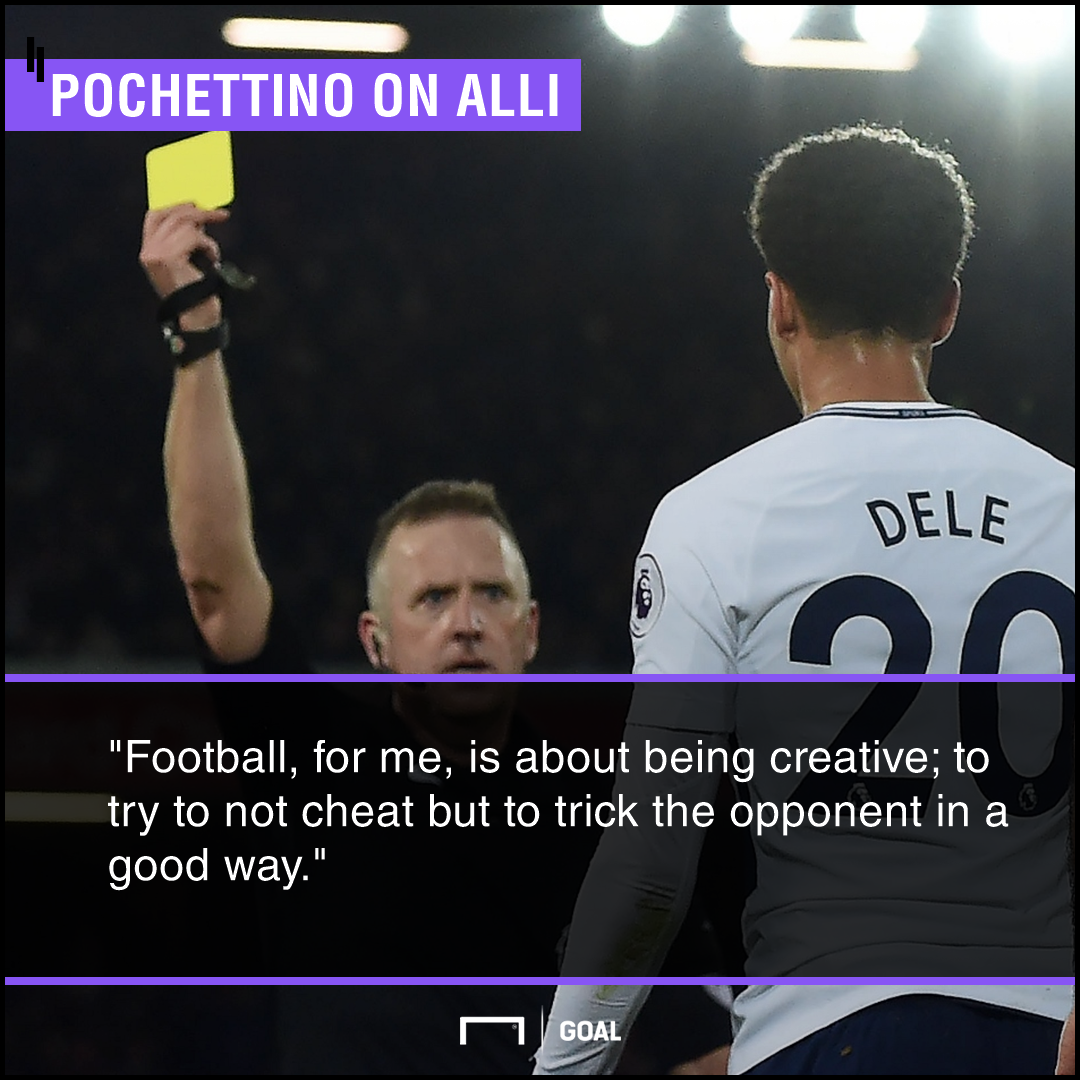 And so there is a national obsession with trying to straighten him out. He dives but they wish he wouldn't. Therefore, he'll be condemned for it in the hope that one day he'll stop. But Alli is his own man and unless his manager threatens to pull him out of the team for diving, then he's got no reason to stop.
This is a difficult season for Alli, diving scrutiny aside. He is perhaps in the same bracket as Marcus Rashford in the sense that his "newness" – for the want of a better word – has worn off and defenders have a better grasp of how to deal with him.
Last season, he made the transition to a player whose good form were taken for granted and spells of bad form unfamiliar.
This season, he hasn't been bad as such but there is little doubt that he's finding the going a little tougher. Nonetheless, he's holding his place in the Spurs team on merit. And this is a very, very good Spurs team.
He may not have as many goals or assists but Spurs are not exactly doing badly right now because of that.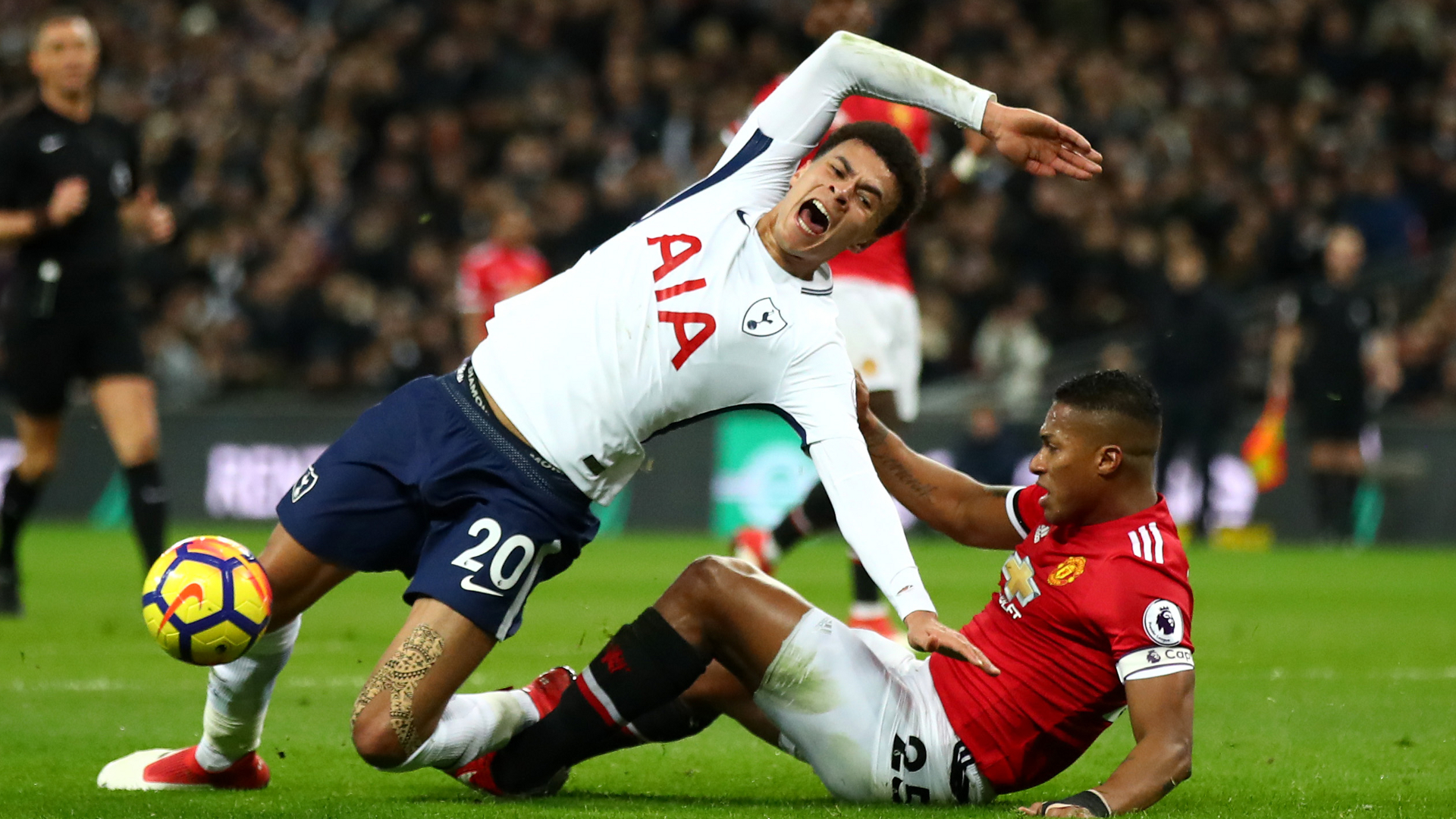 While much of the focus for the North London Derby was on Harry Kane and his quest for more and more vengeance for the Arsenal who jilted him as an eight-year-old, there was also extra focus on Alli. How would he play? Will he lash out? Will he dive?
The answer to the first question is that he played well. He didn't lash out, nor did he dive. He got on with his job and took the acclaim when he was substituted in the second half.
Around Tottenham, the players feel that their wins against Borussia Dortmund and Real Madrid in the Champions League group stages brought the confidence and belief that they belong at the top level – in matches like this. Dortmund are no pushovers, even if they are enduring a difficult campaign, but Real Madrid are European champions and were brushed aside.
Big wins against such quality continental opposition built momentum and confidence. It's no coincidence that Pochettino's team are finding themselves capable of wins against Manchester United and Arsenal – as well as the big fight-back against Liverpool – following opportunities to prove themselves against the best in Europe.
Alli was integral in those games before the turn of the year; he scored two goals against Real and had two assists in the away game at Dortmund. He's still got the knack for the big occasion even if his overall output might be down.
Juventus are Europe's in-form team. When the draw was made, it appeared Spurs may have been able to catch them cold. But last year's beaten finalists have grown stronger through the winter and look impenetrable now.
It'll be the continent's best striker against the continent's meanest defence. And while everyone is concentrating on that battle, there might be enough space for Alli to sneak in and spring a surprise.