U20 Women's World Cup
Algeria 0 Ghana 5: Black Princesses humiliate Algeria at home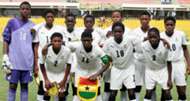 Ghana's female U20 national team hammered Algeria 5-0 in the first leg of the 2018 Fifa World Cup qualifiers at the Omar Hamadi Stadium in Algiers on Friday.
Coach Yusif Basigi paraded a strong XI with goalkeeper Martha Annan in post while Gladys Amfobea, Justice Amfobea, Blessing Agbomadzi and Philicity Asuako making up the defence.
Grace Asantewaa, Helena Obeng, Grace Acheampong and Ruth Anima made up the midfield with Sandra Owusu Ansah and Rafia Kulchire leading the attack.
After a slow start by the two sides, Ghana began to make incursions into the hosts' box in search of an opening goal but they were denied on many occasions by the goalkeeper.
However, the Black Princesses took the lead by the 25th minute through Ansah, before a brace by Elmina Sea Lions midfielder Olivia Anokye saw them leading 3-0 before the break.
Grace Asantewaa and Helena Obeng added a goal each to give Ghana a huge advantage to progress to the next round of the qualifiers ahead of the return encounter.
Ghana, who have qualified to the last four competitions since 2010, will welcome Algeria to the Accra Sports Stadium in a fortnight for the second leg.
The tournament will be hosted by France between August 5 and 24 August 2018.