Burnley
Alexis Sanchez shrugs off pressure to earn Arsenal their spurs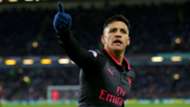 It all came down to a single kick.
A tightly-contested, goalless 92 minutes had brought fine stops from both goalkeepers, goal-saving blocks and, on the one time every had looked beaten, the post had come to Arsenal's rescue.
Now they were counting on Alexis Sanchez, who wasn't even supposed to be there having quite publicly conducted a search for a new club during the summer. 
Arsene Wenger's men arrived at Turf Moor against an impressive Burnley side on Sunday with fresh optimism in a season which was supposed to have little.
Three victories in their last four had dragged the Gunners back up the table, and the disappointment of a 3-1 defeat to runaway leaders Manchester City had been reduced to a footnote following last weekend's thrilling North London derby victory over rivals Tottenham Hotspur.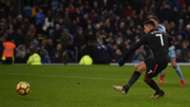 "I thought the draw would have been a disappointment today," admitted Wenger. "We were on a high after Tottenham and I think it was important to push on again to strengthen the belief and the ambition of the team."
It felt like all or nothing for the resurgent Gunners. They were unbeaten in their last nine against Burney, but the stats counted for little now. The afternoon would be decided by one man.
Countless Gunners' fans could hardly watch. It was potentially a pivotal moment in Arsenal's season.
But Sanchez appeared unmoved. After all, the task before him likely paled into insignificance when he thought back to 2015, when his penalty was all that stood between Chile and their first ever senior title. He not only scored that spot-kick to see off Lionel Messi's Argentina and claim the Copa America – he did so with a Panenka!
And it was only back in January of this year that Sanchez last faced a stoppage-time penalty versus Burnley, converting a 98th-minute spot-kick to give Arsenal a 2-1 win over Sean Dyche's side at the Emirates.
Here, Nick Pope stood tall, hands stretched high to the crossbar above. Sanchez stood motionless, hand on hips.
Three points stood between them and the continuation of an uncanny recent record.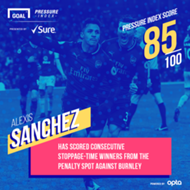 Last season Arsenal's two victories over Burnley saw them become only the second team in league history to defeat the same opponent both home and away via injury-time winners.
Moreover, Arsenal had won their previous two away games at Burnley by hitting the games' only goal.
Sanchez strolled up and fired his shot low to Pope's right. The net rippled; Arsenal were over the line.
"For us, after the win against Tottenham, it was very important to go away from home and play a very difficult game and win it," insisted Wenger, whose side leapt ahead of Tottenham and into the top four.
 
"That's what we did. For the belief of the team, it's a very important win."
For Alexis Sanchez, it was never in doubt.
The Goal Pressure Index is presented by Sure, Official Partner of Chelsea FC, Everton FC and Southampton FC. Join the conversation on Twitter @Sure.