Transfers
Alexis saga at Arsenal branded 'ridiculous' by club legend Wright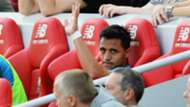 Arsenal's handling of Alexis Sanchez and the contracts of several other players has been slammed as "ridiculous" by Ian Wright.
The Gunners ended the summer transfer window with their Chilean forward still on their books, despite receiving a £60 million bid from Premier League rivals Manchester City.
Get Arsenal 7/1 to win the Europa League
He will now continue to run down his current deal, alongside fellow creative influence Mesut Ozil.
Another of those to have entered the final 12 months of his agreement at Emirates Stadium, Alex Oxlade-Chamberlain, has moved on to Liverpool for £35m, but club legend Wright believes the club have become a "total shambles".
The former Gunners striker wrote in a column for The Sun: "The latest transfer-deadline-day disaster shows you yet again the people handling the business side of things at Arsenal are failing on every possible level.
"Letting the deadline pass without selling Chilean striker Alexis Sanchez was just ridiculous. It did not make any sense in football or financial terms.
"Whether it is chief executive Ivan Gazidis or someone else who is in charge of the comings and goings, they need to be held to account for this total shambles.
"We have got to the situation where we have NINE players at the Emirates out of contract at the end of this season, and eight more will be in the same boat in another year's time.
"But there seems to be no sense of urgency to either tie them to new contracts or to line up replacements. That is financial ­madness.
"And in the short term, why would you refuse to sell Sanchez for £60million, just because you think he is a £100m player? If he had another three years left on his contract, yeah, hold out for every penny you can get.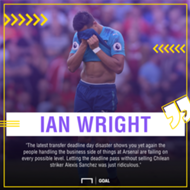 "But we all know he's off whatever happens next summer, so Arsenal are probably going to end up with sweet FA for him.
"Arsenal have known Sanchez, Alex Oxlade-Chamberlain and the rest were running their contracts down.
"And yet there was still the last-minute scramble for replacements, instead of sensible, long-term planning.
"Just when you think things cannot get any worse at Arsenal, you have to witness yet another behind-the-scenes fiasco.
"The way they are going about things would be laughable if it wasn't so damaging to the club."
Goal revealed on Friday that unsettled Sanchez does not want to play for Arsenal again after seeing a move blocked, but Arsene Wenger has maintained that the player remains "100 per cent committed".