Barcelona
Alena, Lee, Mboula & the top five teenage stars to watch at Barcelona
Ignasi Oliva & Ben Hayward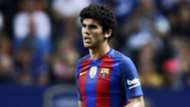 Barcelona's brilliant generation of homegrown heroes formed the base of the superb side which won 14 of 19 trophies under Pep Giardiola and another treble with Luis Enrique.
But many of those players have now moved on or retired - including Carles Puyol, Victor Valdes and Xavi - and some of those still at Camp Nou, such as Andres Iniesta, are approaching the end of their playing days.
So, what is next for La Masia?  Goal selects five emerging talents that could shine for the first team in years to come...
---
  CARLES ALENA
---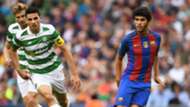 Carles Alena is only 18 years of age is and many at Barcelona believe he will be the next talent to break into the first team at Camp Nou.
The midfielder made his debut - and scored - against Hercules in the Copa del Rey earlier in 2016-17 and also featured for Luis Enrique's side in pre-season.
The Top 50 teenagers in world football
The son of a footballer, his idol was Rivaldo and the young Alena played in the same position as the Brazilian, but was eventually moved back into midfield at the Catalan club and now operates as a right-sided interior - even though he is left-footed.
Now at Barca B, Alena was so talented in his younger years that he regularly played in teams above his age group and he has a genuine chance of moving up to the first team in the summer.
---
    ORIOL BUSQUETS
---
With a name like Busquets, young Oriol will have a lot to live up to at Barcelona - especially because, like Sergio, he is a midfielder.
Born in January 1999, Oriol recently turned 18 and much is expected of the young midfielder, who currently turns out for Barcelona's Juvenil A side.
Oriol is not related to Sergio Busquets and is tired of being asked the question, but he is the son of another former La Masia graduate - goalkeeper Jordi Busquets.
A talented central midfielder, he is nevertheless different to Sergio - for whom he is considered a possible successor in future. Oriol is creative, with good technical ability, but gets forward more than the current Barca midfielder and has a good eye for goal.
---
  ALEX COLLADO
---
Alex Collado is another member of the Juvenil A team at Barcelona and the 17-year-old is a left-side interior who is highly thought of at the Catalan club.
The midfielder, who is 18 in April, is a superb passer with excellent technical ability and also good dribbling skills that allow him to play further forward if necessary or as a winger.
Collado is another in a long line of talented midfielders at La Masia, where he has looked up to the likes of Xavi, Andres Iniesta, Cesc Fabregas and Thiago Alcantara.
He is also an admirer of David Silva and is perhaps more similar to the Manchester City man. Barca believe he can go all the way to the first team.
---
  SEUNG WOO LEE
---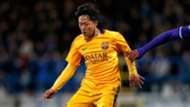 Seung Woo Lee was supposed to be Barcelona's next big thing at La Masia, but the Korean midfielder saw his progress halted by the FIFA ban that sidelined him for almost three years.
Now 19, the Juvenil A player is not a guaranteed started for coach Gabri Garcia and still needs to develop physically. However, he remains extremely talented and is still one of the most exciting prospects at the Catalan club.
Lee can play as a forward, a support striker or as an attacking midfielder. He is a prolific goalscorer with great technique and is already a sensation in his homeland.
At his age, he is reaching a key moment in his career and is likely to move up to Barca B next season on a permanant basis.
---
  JORDI MBOULA
---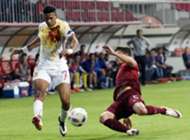 Jordi Mboula hit the headlines recently with his wonder goal for Barcelona's Juvenil A side in the UEFA Youth League against Borussia Dortmund, when he ran half the pitch to score with an effort reminiscent of Lionel Messi.
The 17-year-old was born in Granollers just outside Barcelona to a Catalan mother and a Congolese father. He is physically strong and also fast, drawing comparisons with a young Thierry Henry.
Most effective when he has plenty of space to attack, Mboula is also good in the air and is a constant threat in front of goal, having scored seven in as many games in the Youth League this term.
Mboula has represented Spain at youth level and although he is out of contract in 2018, Barcelona are preparing a new deal amid interest from teams in the Premier League.