Young Africans
Ajib master-class as Kamusoko disappoints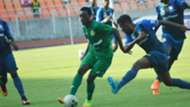 Here is how Yanga performed against their opponents at the National Stadium.
Youthe Rostand
Returned to the starting line-up after missing out in the last CAF Champions League clash with Township Rollers. He had nothing to do in this match because the visitor did not test him frequently. His distributions were not in good standard passing the balls to the opponents repeatedly. 5 
Hassan Kessy 
He has been in good form recently but not in this match, he did not overlap as usually may be because of Jafary Kibaya and Japhet Makalai who were very dangerous in the both flanks. 5 
Hajji Mwinyi 
He came in to replace Gadiel Michael who had a disappointed game against Township Rollers, but as Hassan Kessy, Mwinyi also was not able to go forward in order to deliver the balls to the strikers, this is one reason which made Yanga not do well especially in the first half. 5 
Juma Said 
Deployed again as a central defender to partner Kelvin Yondani, he struggled to cope with the pace and power of Atupele Green, he gave away many chances to the opponents. 4 
Kelvin Yondani 
A senior central defender, led the line loudly, trying to connect the playing from the back to the middle, he cleared some mistakes which were committed by his fellow defenders. 6 
Pato Ngonyani 
Deployed as defensive midfielder but his contributions on the pitch did not suggest that he his is fit for that position. He played only for 30 minutes and was replaced with Maka Edward may be because he was booked. 3 
Thaban Kamusoko 
Return for the first game after nearly six months out, he seemed unfit and because of him Yanga played like they were only ten on the pitch. 2 
Emmanuel Martin 
He had a quite first half until his deflected shot saved by goalkeeper Ramadhan Chalamanda in the dying minutes of first half. He returned in the second half energetic and he forced another crucial save from the goal keeper, that did not stop him to score in front of an empty net in the 77th minute. 6 
Pius Buswita 
when the game was 0-0, Buswita missed two good chances of the match for Yanga, he seemed like he has forgeten his killer instinct by now. 4 
Obrey Chirwa 
the Yanga talisman was kept under security by Mohamed Fakhi and Juma Shemvuni. He was not involved much in the game but his good pass for the second goal seemed to finish the game. 5 
Ibrahim Ajib 
Decent performance from the playmaker, he scored a penalty after his initial effort was handled by Juma Shemvuni. Created both the second and third goal and it will be fair to say that he was man of the match. 8 
Subs 
Maka Edward 
He came in the 30th minute to replace Pato Ngonyani. His availability seemed to favor Yanga on the middle of the park although to play alongside "unfit" Kamusoko was a challenge for the young star. 6 
Yusuph Mhilu 
He came in 25 minutes before the final whistle, his creativity and pace on the flank led to the second goal and even he forced Juma Shemvuni to an own goal in the 88th. 6 
Juma Mahadhi 
Came in 2 minutes before final whistle no impact.