Johor Darul Ta'zim
Aidil's return a crucial advantage for JDT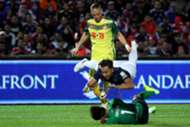 Johor Darul Ta'zim (JDT) will take on Ceres-Negros FC in Bacolod City on Wednesday in the 2017 AFC Cup ASEAN zone semi-final second leg. JDT takes a 3-2 lead into the reverse tie but the two away goals conceded in the first leg could come back and haunt them.
Head coach Benjamin Mora spoke to Goal on the how he's going to approach the game knowing that he can neither be too open in attacking to find their own away goal nor sit back to just defend the lead. There's a balance which need to be found and Mora acknowledges the tough task that awaits the team.
"Our target is to qualify to the next round. It's going to be hard and difficult because we enter into the fasting days. But we're going to try to train in an intelligent way and manage the game. To let them know we are not giving up."
"We still have to do a good game. A draw give us the pass, a win or 3-2 will be excellent. We're going to focus on tactical strategy and position, hopefully the players will be 100% as can be," said Mora.
In the first leg, Dominic Tan was used in the starting centre back position and it looked like the pressure of the game was too much on the youngster. Ceres targeted him and heap a lot of pressure on his young shoulders - so much so that Mora felt the need to swap Dominic for Amirulhadi Zainal to ease the pressure on his defence.
Last Wednesday, Aidil Zafuan started in the away win against PKNS FC in the Super League and that is seen as a very welcomed return for the team. Aidil played the full 90 minutes and helped his team to keep a clean sheet in that match.
Mora was understandably pleased to be able to give his experienced centre back a run out before the crunch fixture against Ceres. With Junior Eldstal still out of contention and Fadhli Shas only 90% fit according to Mora, Aidil's presence could well be the key against Ceres.
"We have no option. We have a low number of centre backs available. Aidil is the experience one and for this game, we need an experience one. Dominic will get his opportunity again but for now Aidil with Marcos [Antonio] is our best option," added Mora.