Singapore
AFF Suzuki Cup: Majulah Singapura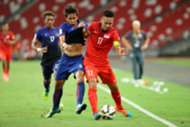 Singapore kick-off their AFF Suzuki Cup campaign against Indonesia at the National Stadium on Nov 9. Fandi Ahmad has announced his 23 man team and unlike sides of the past which featured naturalised players, this will be an all-local team.
There is no doubt that Singapore will enter this competition as underdogs. Singapore football is not going through the best of times to explain it euphemistically. Furthermore, there is a sombre mood running through the country every time someone brings up the topic of local football.
However, if there is one man who has remained the most upbeat in the worst of times it has been the interim coach of the Lions, Fandi Ahmad. The Singaporean legend relishes the underdog tag that his team has been given and believes the Lions can use it to spring a surprise at the tournament.
Under the 56-year-old, the Lions seem to have regained some form of their roar which made them four-time AFF Championship winners. Victories over Cambodia and Mongolia are hardly anything to shout about but the former FC Groningen player knows it can inject confidence into his players.
If Sundram left Singapore shattered, Fandi has made them soar. And he has done it by encouraging his team to play attacking football even though it comes off as less than perfect at times.
Indeed this bunch of players that Fandi has assembled are less than perfect however they more than make up for it with their never say die attitude. This is a team that is ready to fight tooth and nail against any opponent. Youngbloods such as Jacob Mahler, Irfan Fandi and Zulqarnaen Suzliman scream fearlessness while the experienced heads of Shahril Ishak, Khairul Amri and Baihakki Khaizzan eliminate recklessness.
In 2012 the Lions won their fourth AFF title however before entering the tournament the team was criticised severely as their form was woeful. Many football fans continue to hope that the situation this time around can be similar for Singapore.
For that to happen, the first game against a hungry Indonesia side will be crucial. It is imperative that Fandi and his charges secure all three points at home to ensure positive momentum. It is a herculean task for this Singapore side but not impossible.
As a young country after gaining independence in 1965, many thought Singapore was too small to survive on its own yet we proved those doubters wrong. It has always been in the DNA of Singaporeans to punch above our weight.
And there will be no qualms that this group of Singaporean players will be punching the hardest when the tournament begins. As the chorus of our national anthem goes "Majulah Singapura"!