Africa Cup of Nations
Afcon 2019: Africa reacts to Zaha's winning goal for Ivory Coast against Mali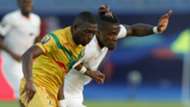 The Elephants edged Mali 1-0 in a closely-fought encounter in the Round of 16 of the Africa Cup of Nations at the New Suez Stadium on Monday evening.
Crystal Palace attacker Wilfried Zaha scored the only goal of the game in the 76th minute. The ball somehow bounced over the Mali defenders and ended up in Zaha's path, who didn't waste time to place the gift in the back of the net.
We can follow the Twitter reaction to Zaha's goal below. There are also many Arsenal fans keenly following Zaha's performances in Afcon.
Some fans want him to lose so that can make up his mind and sign for the Gunners. Other fans are licking their lips watching him, or worried about whether Arsenal will meet Palace's evaluation.
We provide you with two bonus videos, a discussion of Zaha's evaluation and the player himslf discussing his link to Arsenal.
Back to the game itself, SuperSport TV provides a video of his goal against Mali. Caf shows us the atmosphere in the stadium, and we also see a video of Ivory Coast fans celebrating back home.
The atmosphere in the stands is EPIC 🥁#MLICIV #TotalAFCON2019 pic.twitter.com/L4E2oBgu1A

— CAF (@CAF_Online) July 8, 2019
Nicolas Pepe ✅
Wilfried Zaha ✅

Ivory Coast confirm their team to take on Mali in the first #AFCON2019 tie of the day 🇨🇮#MALCIV pic.twitter.com/ewGsJarfAV

— Goal (@goal) July 8, 2019
Wilfred zaha, gives Ivory coast the lead With a slight touch to get the net, hence boosting his value to £90m , Arsenal will have to include the non existing next season budget to get him I guess. In football we troll #MUFC #AFC #AFCON2019 #MLICIV pic.twitter.com/LFrPKAUblY

— AFCON 2019🇰🇪 (@punditlanguage) July 8, 2019
Clear corner for our Ivory Coast boys not given by the referee.

Our boys have brought it back from 3-0 to 3-3 now. Just hope that very poor decision doesn't come back to bite us on the arse. pic.twitter.com/C4aBOpm3Wn

— Discrete Tipster (@DiscreteTipster) July 8, 2019
Zaha is wat legends r made of. Ivory Coast 🇨🇮 gat talent. #AFCON2019 pic.twitter.com/6cStY1GI2k

— Secretary Of Black Twittter (@Prince_S_A_) July 8, 2019
Goooooal Winfred Zaha scores for the #Elephants#Mali 0-1 Ivory Coast#MLICIV #AFCON2019 pic.twitter.com/HrBKVsNazs

— #AFCON2019 Official (@Kickgh) July 8, 2019
The #Malians hv themselves to blame if they lose this game. Wasting all their chances 🤦‍♂️#Mali #CoteDIvoire #AFCON2019

— Michael Ofori Adjei (@mikkidedon) July 8, 2019
Wilfried Zaha and Nicolas Pepe need to do FAR than what we are seeing ! Specially Pepe but ok fair enough he's not used to play in Africa which is a fair excuse let's say #CIVMAL #MALi #IvoryCoast #cotedivoire #can2019 #AFCON2019

— MMM (@ManikMane) July 8, 2019
ZAHA breaks the deadlock ⚽❗#LesÉléphants take the lead after a neat finish by Wilfried Zaha from a tight angle! Will Mali respond with 10 minutes left to play?#AFCON2019 pic.twitter.com/92yJ7AbB0m

— SuperSport ⚽️🏆 (@SuperSportTV) July 8, 2019
"Arsenal have come in with a scandalously low offer." 👎

"Look at his skill set. He's outstanding."

"He's worth a lot more than £40millon, that frankly disrespects Crystal Palace."@MirrorDarren slams Arsenal's recent offer to sign Wilfried Zaha from #CPFC. pic.twitter.com/fYqVdJArCO

— talkSPORT (@talkSPORT) July 7, 2019
Reporter at AFCON: Would you like to play for Arsenal? Wilfried Zaha: 'I don't know, we'll see in the future'. pic.twitter.com/M6ipxDE4Pn

— TheAFCnewsroom (@TheAFCnewsroom) July 5, 2019
75' Mali 🇲🇱 0-1 🇨🇮 Côte d'Ivoire : Après le but de Wilfried Zaha au forum de l'université de Cocody #VillageRTICAN2019 avec la #RTI#RTISPORT #MLICIV #CAN2019 pic.twitter.com/VPvuUyMGIN

— RTI Officiel (@RTIOfficiel) July 8, 2019
Full-time: 🇲🇱 Mali 0-1 Ivory Coast 🇨🇮

Wilfried Zaha's goal sends Ivory Coast through to the quarter-finals 👏#AFCON2019 #MALCIV pic.twitter.com/JpFpSyaDb7

— Goal (@goal) July 8, 2019
So Mali wasted all those chances only to be punished by Zaha's 2nd half strike...

The Malians should blame themselves and no one else#AFCON2019 #MALi#IvoryCoast

— #SportHob (@TomiwaBabalola) July 8, 2019
Thank you my Star, You make me too happy when you are on the field and especially when you put 1 goal. Brave man❤ @wilfriedzaha 💪🏾 pic.twitter.com/LztqLcSXRt

— A - L - E - X (@AlexLognon) July 8, 2019
Zaha in Côte d'Ivoire's team can get it pic.twitter.com/JLIaVdZM0x

— Rym (@sarraxx31) July 8, 2019
Wilfried Zaha the Ivory Coast hero.

They progress to the last 8.

Brilliant Quarter-Final in prospect v Algeria. #AFCON2019

— John Bennett (@JohnBennettBBC) July 8, 2019