Goal United
Academy View: A week in the life of an academy intern
Young Bafana Soccer Academy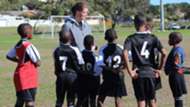 ---
ACADEMY VIEW:    Young Bafana        Follow on Twitter
---
I am in my third spell as a volunteer with  Young Bafana Soccer Academy , this year. My first visit was back in 2014 when we only had one team and about 20 beneficiaries. It´s great to see how much the Academy has grown in the last three years, as we now have more than 100 beneficiaries. I have many special moments at YB and I take many nice memories home every time I leave.
Back in Germany I work as a sports journalist and play/coach soccer in my free time, which makes Young Bafana the perfect place for me to volunteer. The guys working here, the kids and the country with its friendly people make me want to come back as often as I can.
Coming to SA means of course that you have to adapt yourself. We drive on the right side of the road for example and dont have these annoying taxis. Furthermore everyone is a bit more on time in Germany, you have to get used to late people when you come to South Africa.
My weeks at Young Bafana vary quite a lot.
On Mondays, we meet at 9:00 a.m. for our coaches meeting where our director Bernd Steinhage, the three head coaches and all the volunteers come together to plan for the week.
Normally every volunteer works with the same team and has the same duties every week. Sometimes, however, we need to rearrange things as some people might not be available, which makes this meeting very important.
Another important morning is on Thursday, where we all come together for our workshop-meeting. Our U18 head coach Moritz Kossmann presents to us about useful tactical themes for our teams and we work out training sessions that we can use on the field.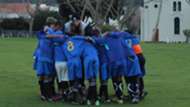 Apart from that, the mornings are about organisation and logistics. We have to wash the training and match kits, pack the buses for training or matches, make sandwiches for the boys and fill up water bottles. If unpredictable things happen, like a flat tyre or a broken-down bus, we try to solve these problems as well.
Furthermore, I am responsible for the Facebook page and the "Family Club" which we run in Germany to raise funds. I make photos or videos for our social media platforms and send out Newsletters to our club members to make sure they can see where their money is being used.
In the afternoon, it´s time for training. I am mostly with the U18's but also sometimes with the U14's.
Going to training means that I fetch the boys in the township Lwandle, where we meet them at the taxi rank. The younger ones are training in Somerset West which makes it an easy and short drive, but the older guys train in Cape Town.
We make a few stops on the way – in Kayelitsha and Athlone for example – to fetch everyone. If we are lucky and traffic is not too bad, we will be at the field after an hour's drive.
At training, I assist Coach Moritz or Coach Veron with their respective sessions. I observe the players and we discuss about what might need to be changed in the session itself, or which 'hints' or guidelines we can give to the players to improve in each training session.
After that it´s time to go back home and drop the boys off again. When I am with the U14's I normally get home by 7pm. When it´s the U18's training I normally get back by 8.30pm.
Saturday is match day which means an early start to the day for us as we normally play in the morning.
My work at the matches involves assisting the coaches and take photos for social media.
On Sundays, we are normally off.
I often use that day to travel around a bit with the other interns. But sometimes there are matches on Sunday as well which makes it a long week with lots of soccer for us and the players.
I am used to that as Sunday is the main day of soccer in Germany. We normally get a day off during the week then to make sure we all get a little break somewhere.