UKM
Academic and footballing success drive UKM boss Sulaiman equally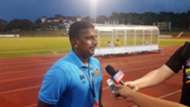 ---
BY        ZULHILMI ZAINAL       Follow on Twitter
---
Talking to the media in the FAM Cup final pre-match press conference on Saturday, UKM FC head coach Sulaiman Hussin spoke of his desire to coach at a higher level.
But more importantly, the former Kuala Lumpur player wants to prepare his charges academically as well, which is why he has been with the university club for almost a decade.
Sulaiman recently guided the Varsity Boys into the FAM Cup final in Malaysia's third tier, and with a place in the final comes promotion to the Premier League next season.
Despite the success, contract negotiations between him and the club have not begun yet, but Sulaiman is confident that the board will make the right decision.
"I will leave the decision in the hands of the board. I will do my best, but it is them who will have to decide. If they want me to stay, I will definitely stay, but if they think there's a better replacement, I will make way.
"If I get to stay, I want the squad to retain its academic background even when we're playing in the second tier. When we hire foreign players, I want them to be students as well. The board has to figure out how.
According to Sulaiman, he wants to produce players who put equal emphasis on formal education and playing.
"I want the objective of producing thinking athletes that have been set by the Ministry of Higher Education to be continued by UKM.
"Whereas for me, I'd be lying if I said I haven't dreamed of coaching more established clubs. I've been with UKM for almost 10 years, and I've always wanted the team to be one of the biggest university sides.
"Praise Allah, I've achieved that. But there are greater heights to reach with UKM. My passion is young players development.
"I don't want them to solely focus on football and have nothing to fall back on after they retire," he explained.
In their first leg final match which was held at the Tuanku Abdul Rahman Stadium on Sunday, Sulaiman's charges were defeated 1-0 by Sime Darby. They still have a chance of overturning the tie in the second leg, which will be held at the Petaling Jaya City Stadium next Sunday, October 22.