Kylian Mbappé
Abidal hopeful PSG and France star Mbappe will win Ballon d'Or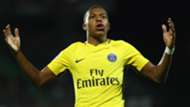 Former Barcelona and France defender Eric Abidal is hopeful Kylian Mbappe's enormous talent will lead to him winning the Ballon d'Or in the future.
Mbappe, 18, has established himself as arguably the most promising young star to emerge in several years, scoring 26 goals during a remarkable campaign at Monaco last season.
The forward moved to Paris Saint-Germain in the summer and has made an excellent start to life in the French capital, netting three goals in six games so far.
Abidal has recognised Mbappe's highly-rated skill set and says he is rooting for his compatriot to land football's most lucrative individual award one day.
But he insists the key to Mbappe getting his hands on the Ballon d'Or is working hard every day alongside the likes of Neymar at PSG in order to fulfil his vast potential.
"Yes he can," said Abidal when asked whether Mbappe could become one of football's greatest players at the official draw for the FIFA Club World Cup on Monday.
"But I can say also he has to, because he has a lot of talent.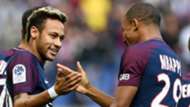 "He is only 18-years-old. PSG have hired one of the best players of his age so he deserves a good career. But he has to work. Talent is not enough, you have to work every day.
"And with Neymar and other good players around him he has to learn from them.
"I'm French and he's French too so I hope in a few years he wins some titles with his club and maybe in a personal capacity too, like a Ballon d'Or."
Mbappe has been shortlisted for the Golden Boy 2017 award and is one of the favourites to win the prize alongside Barcelona's Ousmane Dembele and Manchester United's Marcus Rashford.