Ajax
Ajax youngster Nouri collapses during Bremen friendly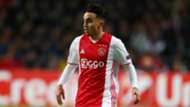 Ajax player Abdelhak Nouri received treatment on the field after collapsing during Saturday's friendly against Werder Bremen in Austria, with the Eredivisie club later clarifying he had suffered a heart arrythmia but was in a stable condition.
Suarez 'never imagined' dream Liverpool move
In the 72nd minute of the game at Lindenstadion in Hippach, the 20-year-old midfielder lay down on his back inside the Bremen half in clear discomfort.
Ambulances and paramedics then tended to Nouri on the pitch, with a screen drawn around him.
Niet best dit. #nouri #ajawer pic.twitter.com/iMBUPZVC3I

— Bart Sanders (@bart_sanders) 8 de julio de 2017
"Emergency services are still [treating] Nouri, players look worried," Ajax tweeted. "It is serious, we [will let you] know immediately if there is more clarity."
A trauma helicopter then landed on the ground to assist the medics treating Nouri and fans were asked to leave the stadium with the match abandoned. 
Shortly after Nouri arrived in hospital, Ajax sent a further update affirming that the youngster's state had improved. 
"[Nouri] has a heart arrythmia. He is in a stable condition, he has a heartbeat and is sleeping," the club's official Twitter feed informed.
"Nouri has now been taken to hospital. Thank you for all your messages of support."
Club director of football Edwin van der Sar later reiterated that the worst had passed for Nouri, one of Ajax's most promising talents. 
"It could have been worse. At a certain point it took so long, you're thinking of something really worse since his legs weren't moving at all," the former Manchester United goalkeeper told NOS. 
"His family and friends will come over tomorrow (Sunday). We will support them in every way possible".