World Cup
A goatee for the GOAT? - Ronaldo shows off new beard at the World Cup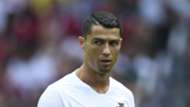 A goatee for the GOAT?
That's how plenty of people reacted when discovering that Cristiano Ronaldo - regarded as the world's greatest player by many - is sporting a new style.
Ronaldo, 33, unveiled his fresh look ahead of Portugal's World Cup clash against Morocco when the superstar forward was aiming to build on his stunning hat-trick against Spain.
And the goatee appears to be bringing him some luck after he scored a header in a matter of minutes to take his tally at the World Cup to four goals in two games.
In fact, Ronaldo has revealed that his good fortune in front of goal is precisely why the new look appears to be here to stay.
"It's a joke with Quaresma," Ronaldo said in a post-match interview. "We were in the sauna on the eve of the match against Spain, and I started shaving.
"I told the others that I would leave the goatee until the end of the tournament if I scored the next day. And it brought me luck."
And thus the fresh chapter in the GOAT debate between Ronaldo and Argentina ace Lionel Messi has begun! Your move, Leo...
Cristiano attempting to grow a goatee after Messi poses with the goat is the level of pettiness I aspire to pic.twitter.com/bMSztLiD9Q

— Peter Staunton (@petermstaunton) June 20, 2018
Ronaldo growing a goatee and celebrating goals by grabbing imaginary goat whiskers—in response to Messi's G.O.A.T. portrait with a real live goat—is my favorite petty World Cup subplot https://t.co/8ef6cepP94

— Grant Wahl (@GrantWahl) June 20, 2018
Cristiano Ronaldo's becoming so obsessed with this "GOAT"-stamp that he is actually growing a goatee now pic.twitter.com/4x1PWPw58C

— Jonas Giæver (@CheGiaevara) June 20, 2018
Ronaldo has a goatee now. The man knows he's the best. I'm done.

— Nathiyaah / நதியா (@Nathiyaah_) June 20, 2018
Ronaldo growing a goatee because he is the GOAT

— SacredScofield (@ScofieldSpecter) June 20, 2018
Do you think Ronaldo is trying to tell us something with his new GOATee....?

#POR #PORMAR #WorldCup pic.twitter.com/W8t0S31k2J

— bwin (@bwin) June 20, 2018
Ronaldo is doing everything he can to remind eveyone who the GOAT is... he's now grown an actual goatee #PORMAR #WorldCup pic.twitter.com/Pef3efUvMW

— Footy Humour (@FootyHumour) June 20, 2018
Ronaldo growing a goatee to prove he's actually the GOAT...

— Kelvin (@GeraldCrack) June 20, 2018
Who told Ronaldo that his goatee was a good idea? #PORvMAR

— Insiya (@insiyat) June 20, 2018
Ronaldo needs to shave that goatee off asap

— Mãestrø (@MaestroNZD) June 20, 2018
Ronaldo's goatee smacks of a gap year student walking through arrivals after a month in Goa to find himself pic.twitter.com/2q0ftSwImX

— Nooruddean (@BeardedGenius) June 20, 2018
Ronaldo grew a goatee for the GOAT debate. Messi better respond wearing hooves or what's the point

— James (@jamesfol5) June 20, 2018
Ronaldo grew a goatee just to emphasise his point that he's the GOAT. My god this man has the elitist of mentalities.

— #TransferSzn(@LukeUnitedd) June 20, 2018
Nah Ronaldo looks like a badman with a goatee 🐐

— Sam Graham (@SammyG_91) June 20, 2018
The goatee suits Ronaldo. Should keep it.

— Vedant(@GuajeMaravilla) June 20, 2018
It appears Ronaldo's new look has gone down fairly well, then!