Michael Carrick
'A big player is leaving but a big man is staying' – Mourinho hails Carrick's Man Utd contribution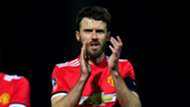 Manchester United manager Jose Mourinho has hailed the contribution that Michael Carrick has made over the years to the club.
The 36-year-old midfielder will retire at the end of the season to join the coaching staff of the club and picked up a Special Contribution trophy – as well as a whistle and some pain killers for his new role – at the club's award ceremony.
Carrick has been at the club for 12 years and Mourinho admits that it is a wretch to see him hang up his boots.
"I have to admit that one of the most difficult things in my 18 years as a manager is when a big player is leaving - it is always very sad," he said.
"So this time we try to do it in a way where I am not sad. A big player is leaving but a big man is staying.
"There is a space for him and we will welcome him with open arms but, before that, we still want Michael to play and then the next day give his boots to his kids."
Upon accepting his prize, Carrick said: "I don't know what to say after that. I said I wasn't going to get emotional but that caught me out.
"To the fans, I've turned into one of you now - I support this club home and away. We've got a great spirit. We need to keep that and we need to stick together."
David de Gea was the big winner at the ceremony, claiming the Player of the Year award to move ahead of Cristiano Ronaldo as the club's most decorated recipient of the award, having lifted it four times.