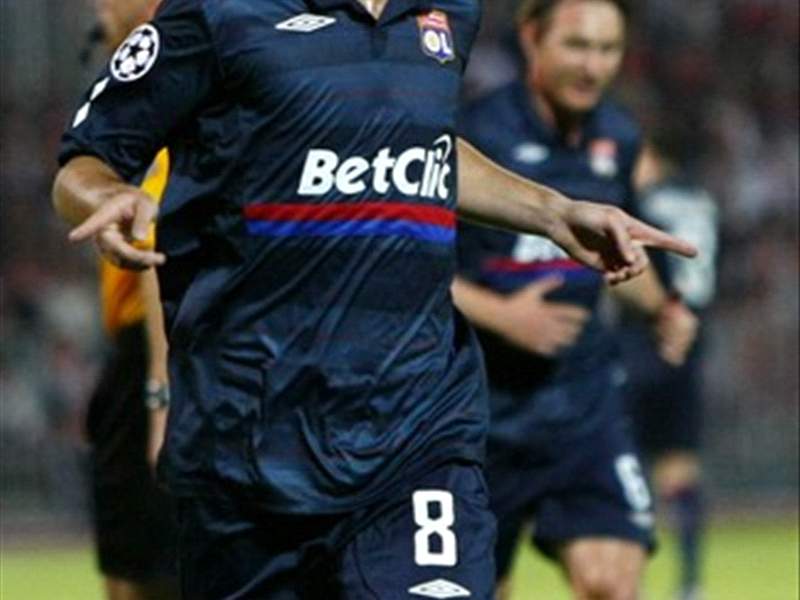 Ligue 1 is packed with promising young players. However, there is one young man who already stands well above his peers and who is already providing his side with match-winning performances on the biggest stage there is. Step forward Miralem Pjanic.
The 19-year-old midfielder played a pivotal role in Olympique Lyonnais' 4-0 demolition of Debrecen in the Champions League on Tuesday evening, providing assists for Kim Kallstrom and Sidney Govou and scoring with a superb free-kick of his own. In truth, that performance was simply the culmination of a run of fine form that has seen the Bosnian international growing towards becoming a regular starter in Claude Puel's unit.
Indeed, the mature showing was reminiscent of Juninho, the Brazilian who led OL to seven consecutive league titles with his astute playmaking and world renowned dead-ball strikes. This is a comparison that Pjanic has, thus far, tried to play down, although after he reputedly phoned the Brazilian this summer to ask if it would be fine to take his shirt (No.8), he will be hard pressed to fend off such associations for long.
"I work to be like Juninho," he confessed to
Football365
recently.
"I don't compare myself to him. I don't want to put pressure there. What he has done is enormous.
"Of course, it's nice to be compared to a player of such a level. I try to play my games well and score the free-kicks I've learned. It can become a strong point for the team."
Pjanic is a teenager who is getting used to carrying the burden of responsibility. When he first broke through into the Ligue 1 scene with Metz, he rapidly established himself as the centrepiece of a quite woeful side. At times, the 16-year-old Pjanic looked like the only competent player on the park for les Grenats as they crashed to relegation having claimed just 24 points all season – a mammoth 18 from safety.
Even the most mediocre of scouts could have picked out the young Bosnian, who took flight from his native country with his parents as a one-year-old to escape the escalating war. However, it was a Coupe de France quarter-final match, ironically against Lyon, that confirmed the youngster's phenomenal talent.
Teenage Kicks |
Pjanic in his younger days
Pjanic single-handedly ran the midfield in that encounter, giving the far more experienced and renowned home players, including Juninho, the run-around. Still lacking a little in composure at that time, he smashed a fine chance to write his name in lights wide from just eight-yards out when a loose ball broke to him in the box. Instead, it was another teenager – Karim Benzema – who proved to be the match-winner.
Since those early days, there can be little doubt that his game has matured and become more refined. The sight of the Zvornik-born midfielder slaloming through an array of challenges is now a less common one, though that is certainly not to say his dribbling has become weaker – his decision making has just become better.
In addition, his movement into space has become smarter, although he is often deployed in a less offensive role with OL than he was with Metz. Indeed, he has been increasingly shifted into the 'Juninho role' since completing his move €8 million from the Lorraine club.
However, he was not purchased to be 'Juni's' replacement – that was supposed to be Ederson – but the phenomenal rise of Pjanic, combined with the slightly underwhelming form of the Brazilian, has seen the Bosnian quickly thrust into the playmaking spotlight.
You'll Do! |
Pjanic celebrates another fine strike
His path to centre stage has been far from orthodox. After finding himself in Luxembourg, he began watching his father play football in the evenings because his mother worked late. This fostered an unrelenting love for the game, which he took up at five and played with increasing seriousness until he was signed by Schifflange 95.
From there, offers came from the likes of Inter but the youngster preferred to sign for Metz, a city stationed near France's eastern border. Still near his adopted home, it was the perfect location for the midfielder to develop his game.
While with the Stade Saint-Symphorien side he broke into the Luxembourg youth sides, although his future would lie with the Bosnian national side, whom he had to fight valiantly to appear for due to the expiration of his passport.
Impressive due to his bullishness and positivity in les Grenats' first team, a clutch of clubs circled to pounce on the prodigious talent in the summer of 2008. Indeed, there is barely a heavyweight who did not supposedly have Pjanic on their shopping list: Arsenal, Chelsea, Barcelona, Real Madrid, Inter and Milan were all credited with an interest.
But Lyon proved to be the destination of choice for the dynamic midfielder. And as his star ascends at the Stade Gerland, it may well be that he takes the final step to superstardom in the near future, when there are sure to another eager batch of suitors in line to bid for his services, should his excellent form continue.
The dream? Pjanic has previously stated his love for Real Madrid in interviews, noting that he idolised Zinedine Zidane as a player and now holds Cristiano Ronaldo in the highest regard, so if the Bosnian craftsman does make it to the very elite, don't be too surprised to see him at the Bernabeu.
Of course, he would have to battle 'CR9' for free-kick rights, but that would not perturb a young man who has already defied the odds to become one of world football's hottest prospects.

Robin Bairner, Goal.com