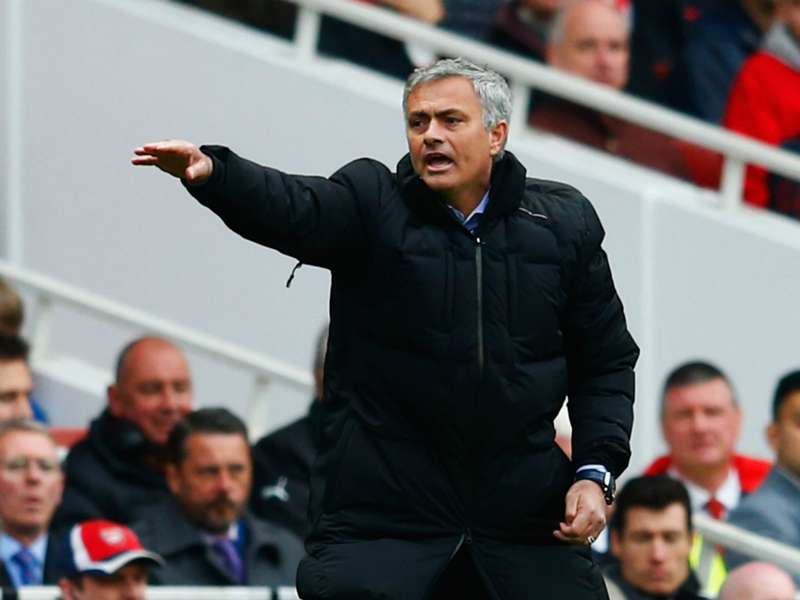 Jose Mourinho
has once again slammed critics who brand his
Chelsea
side as boring, claiming detractors want a sterile game of football "played on the moon".
The Blues opened up a 10-point lead at the top of the Premier League table with a 0-0 draw against Arsenal at the weekend, but Mourinho was subsequently criticised for his pragmatic approach against the Gunners.
The Portuguese has now hit back, however, and insists that the obsession with "ball possession" will lead to a game without goals.
"People talk about style and flair but what is that?" he told reporters. "Sometimes I ask myself about the future, and maybe the future of football is a beautiful, green grass carpet without goals, where the team with more ball possession wins the game.
"The way people analyse style and flair is to take the goals off the pitch. It's the football they play on the moon – where the surface is not good, with some holes but no goals.
"Everyone speaks about teams playing fantastically well because they 'had great ball possession'. It looks like the goals aren't important. They conclude a team that scores as many as we do is boring but a team with 70 per cent of the ball who don't score isn't.
"Maybe, when my grandsons play, football will be a game without goals and we'll just enjoy people passing the ball. But when football is played without goals, you will say it's boring. You will say 'bring the goals back'. For me, it's still about putting the ball in your opponents' net, and keeping it out of your own."
Mourinho also says that Chelsea owner Roman Abramovich – who is famed for craving an expansive style of play – is delighted with the way the Blues are playing, and has revealed that the Russian celebrated with the squad after their goalless draw at the Emirates.
"He is very happy," Mourinho added. "I saw him hugging the players in the dressing room after the game and, yes, I think he's happy and I think every Chelsea fan is happy if we win the title. If we do, we will have had a fantastic Premier League season." //