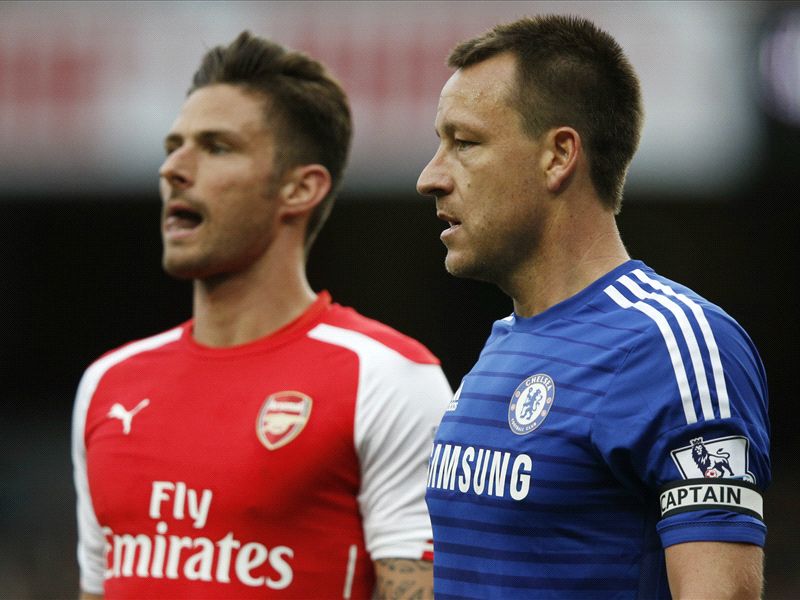 Arsenal
striker
Olivier Giroud
has insisted the Gunners will not change their style despite being 10 points behind
Chelsea
as the Blues close in on the Premier League title.
Despite almost certainly missing out on the title, Arsenal could still end the season with silverware having made it to the FA Cup final for a second year in a row, where they will face Aston Villa.
The Gunners' 0-0 draw with Chelsea on Sunday led to accusations the Blues were 'boring' and, while Giroud agrees they play a different style to his side, he insists Arsenal will continue to follow Arsene Wenger's philosophy.
"Boring? I don't know but there is the table, which speaks for them," he told reporters.
"It is true maybe they are not [playing] the same game as us but we are not going to change our game and I think they are not going to change their game.
"I think they are pleased with that and if they are champions, what can you say?"
Giroud has scored 18 goals in all competitions for Arsenal this season but has come in for criticism,
with club icon Thierry Henry insisting Arsene Wenger needs to sign a "top quality striker"
.
However, the France international says he is proud of his record since joining Wenger's side.
"To get second in the league and win the FA Cup would be a great season," Giroud said. "I know we can still improve ourselves and that is what we have been doing since I signed for Arsenal.
"I am proud of what I've done and I'm pleased with that. I just want to carry on like that and I know if we keep our best players and this determination with the team spirit, I am sure we are going to join this championship race next season.
"It has been a few years since we finished second and, if we can do it, we can see an improvement, which is great. Next year, hopefully, we will have fewer injuries, will keep the same group and, with maybe one or two new players, we will have a great season I am sure.
"As for myself, in sport you have to question yourself every week and be ready in your head and you have to be at 100 per cent of determination if you want to keep going and win games; you cannot afford to be at 80% or 90%.
"You have to have faith in your own qualities, that is part of being a footballer: being strong in your head. That is more than half of the quality you need to be a football player."