Eden Hazard found himself making headlines for all the wrong reasons on Wednesday night as he was dismissed in Chelsea's Capital One Cup clash with Swansea on Wednesday night.
The Belgian was sent off after clashing with a ball boy, he appeared to kick the young boy as he refused to return the ball to the pitch quickly, with the Blues chasing the game.
Needless to say, the footballing world exploded and
Goal.com
has taken a look at what Hazard's fellow professionals thought of the incident...
"What have I just witnessed?! A ball,a ball boy,a player + a red card..u would never have imagined all that could go together in 1 sentence!"
Rio Ferdinand
simply cannot comprehend the comprehension, never mind the event.
"Hazard sent off! Ballboy should have seen the 'hazard' coming!"
Gaizka Mendieta
is quick on the draw to get the most obvious pun in there before most.
":O!!!! AM I SEEING THIS? A RED CARD?? LMAOOO NAAA i have never seen anything like this before in my life!!!"
Nathan Redmond
reacts in a dignified and calm fashion.
"Unbelievable Jeff *kammy voice* hahahaha"
Impressions corner with
Tom Huddlestone
.
"If the ball boy gives the ball straight back and does his job properly that doesn't happen !"
Robbie Savage
gives the youngster a telling off. He does have the hair to be a mother...
"I'm not saying Hazard isn't in the wrong but I hate to see a person who instigates a situation then cry foul for next to nothing."
Charismatic as ever from
Michael Owen
.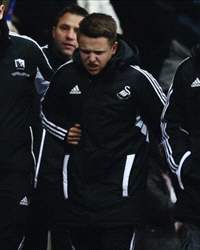 "Unbelievable decision by the referee to send Hazard off but congrats to Swansea. Who'd have predicted this final?! "
Gareth Bale
sides with the player, and actually decides to talk about the football, sort of.
"I'm still laughing! He actually smothered the ball like a goalie, great handling in tough conditions! Hazard lost his head! Can't do that!!"
Sone Aluko
is tickled pink by the whole thing.
"From underneath the lad who was lying on the ball wasting time!! I'm sorry that he caught the lad!!if u play with fire you might get burnt!"
A damning verdict from
Noel Hunt
.
"Rafa Benitez will need to be careful here on interview re Hazard. These incidents have a habit of growing arms and legs. Nip it in the bud!"
They've already grown,
Gary Neville
!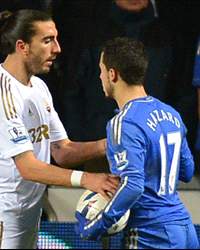 "In hazards defence i dont think he meant to kick the ball boy! i think he was just trying to get the ball from underneath the boy!"
Stating the obvious from
Andros Townsend
.
"Ballboys staying down injured... They'll be elbowing players off the ball next"
Robert Huth
is relishing his next physical encounter.
"I'm not saying its the correct thing 2 do but when in the heat of the moment u just want the ball"
Desperation for having the ball often leads to kicks to the ribs, says
Steven Pienaar
.
"He never kicked him! He went to get the ball as I'm sure any other person in that situation would do the same thing"
He's a mighty fine player, but we're not sure if
Luke Shaw
's eyes are working.
"That kid will be on Celebrity Big Brother next year!!"
Careers advisor extraordinaire
Steven Reid
chips in.
"Game has well and truly gone..... #absolute joke #unbelievable #edenhazard"
Fury leads to bonus hashtags from
Tom Ince
.