Arsenal
's long-term commercial deals are costing the club the opportunity to earn an estimated £20 million each year,
Goal.com UK
can reveal.
Former managing director Keith Edelman signed secure contracts with sponsors Emirates and kit makers Nike when the Gunners were trying to finance their new stadium, but other top clubs are benefiting from far more lucrative agreements.
Arsenal's deals are dwarfed by those of Chelsea, Manchester United and Liverpool.
The north London club get £6m per year for their shirt sponsorship with Emirates, which runs to 2014. The airline also has naming rights to the club's stadium after signing a 15-year deal in 2006.
Furthermore, Arsenal have an £8m-a-year deal with Nike, which initially ran until 2011, but the sportswear giant took up the option last summer of extending it by three years until June 2014.
A report by the respected Arsenal Supporters' Trust analysing the club's accounts for the six months ending 30 November 2009 estimates that these contracts are costing the club around £20m per year compared to "fair market value".
United receive £14m per year for their four-year deal with sponsors AIG that will increase to a world record £20m each year from next season when they will wear the logo of insurance giants Aon on their shirts.
Chelsea's 10-year deal with kit manufacturers Adidas is worth £10m a year and their contract with sponsors Samsung is £12.5m a year.
Even Liverpool, whose last remaining hopes of securing a Champions League place next season were dashed yesterday, announced last September that long-term sponsors Carlsberg will be replaced by Standard Chartered Bank from next season in a £20m-a-year deal.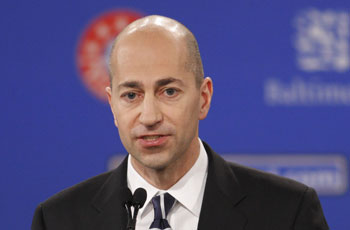 Deal-maker | Gazidis has beefed up commercial team
Arsenal's move to Emirates Stadium in 2006 has helped the club climb to fifth in the Deloitte World Football Rich List, mainly due the vast increase in match-day receipts, worth £3.1m a game. Yet, as the report suggests, there is considerable room for growth in the club's commercial and sponsorship income.
Next season, Arsenal will earn a staggering £29m a year less than United from the key shirt sponsorship and kit manufacturer deals.
It is understood that chief executive Ivan Gazidis investigated the possibility of ripping up the old sponsorship deals when he arrived in north London in January 2009 but there was no room for manoeuvre because the club is locked in to both agreements.
In 2005, Chelsea were able to take advantage of a buy-out clause in their agreement with former kit makers Umbro and paid £25m to terminate the deal five years early.
Arsenal are stymied further because they are not getting annual income from the contracts with Nike and Emirates. The deals were 'front-loaded' to allow them to build Emirates Stadium although it is believed that from next year the club will begin receiving the cash in yearly payments.
Since Gazidis arrived, Arsenal have beefed up their commercial team with the aim of exploiting opportunities that were put on the back-burner during the switch from Highbury.
During a recent question-and-answer session with the Trust, the club's new commercial chief Tom Fox revealed that there will be greater focus on exploiting Arsenal's status as London's biggest team in Europe's biggest city.
"We were very impressed by Tom Fox and the new commercial team," said a Trust spokesman. "The club has built a new floor for them at Highbury House and it is clear that there are plans to improve an area where Arsenal have been lacking in the past."
BIGGEST SHIRT DEALS
Club

Sponsor

Deal

Bayern Munich

Deutsche Telekom

£25.5m a year, three-year deal
(from 2010-11)
Manchester United

Aon

£20m a year, four-year deal
(from 2010-11)
Liverpool

Standard Chartered Bank

£20m a year, four-year deal
(from 2010-11)
Real Madrid

Bwin.com

£18.3m a year, four-year deal
Schalke 04

Gazprom

£17.5m a year, five-year deal
(from 2012-13)
Juventus

Betclick

£15m a year, two-year deal
(from 2010-11)
AC Milan

Emirates

£14m a year, four-year deal
(from 2010-11)
Chelsea

Samsung

£14m a year, five-year deal

Borussia Dortmund

Evonik

£12m a year, four-year deal
Inter

Pirelli

£9m a year, ten-year deal
Tottenham

Mansion.com

£8.5m a year, four-year deal
Manchester City

Etihad Airways

£8m a year, three-year deal
Arsenal

Emirates

£6m a year, eight-year deal
Become a fan of Goal.com UK's Facebook fan page for all the latest news and insight into everything related to the beautiful game!