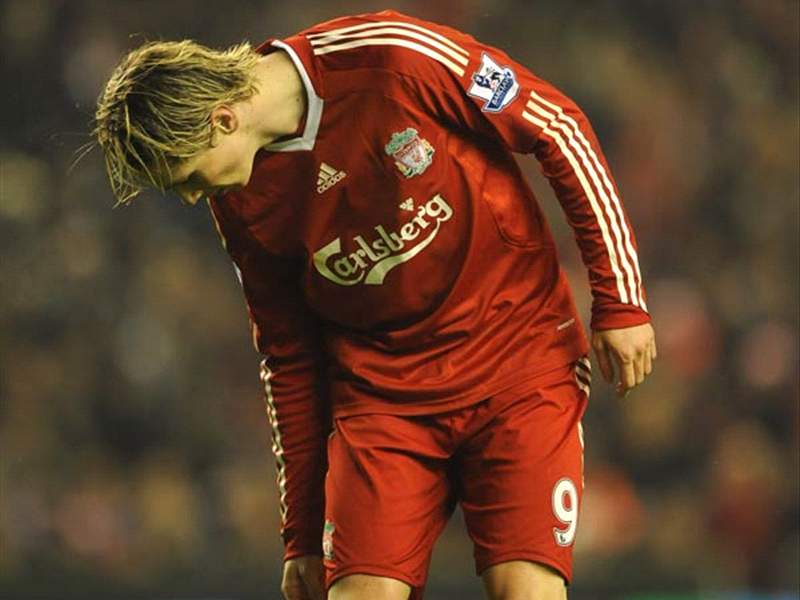 By
Neil Jones
| Liverpool Correspondent
Liverpool
star
Fernando Torres
may be fit to play again in a week's time, but he will be running the risk of long-term damage to his knee, according to a top specialist.
Dr Stephen Montgomery, a knee surgeon at Liverpool's Aintree hospital, believes the 26-year-old's problem, which kept him out of the Reds' 0-0 draw with Fulham at the weekend, will need to be managed with extreme caution in order to avoid exposing the Spaniard to repeat injuries further down the line.
"Any knee injury is delicate; especially for a professional," he told Goal.com UK. "Torres' initial injury [sustained in January] was a torn meniscus - or cartilage - in his knee, which can be complicated. It occurs when the thigh and shin bones collide, due to excess weight on, or movement in, the knee joint.
"Of course, like all injuries of this kind, there is a long-term risk involved. The stress being placed on a professional athlete's body is huge, and as such they need to be carefully monitored, as I'm sure they are at a club like Liverpool."
Torres visited surgeon Ramon Cugat in Spain earlier this week after complaining of pain in his right knee - the same knee which was operated on by Cugat in January - following last Thursday's Europa League win over Benfica, and has been ordered to rest for at least five days before undergoing a further examination.
Cugat believes the striker – who has scored 22 goals in 32 appearances this season - could yet be fit to face West Ham United next Monday, allaying initial fears that he could miss the rest of the season. But Montgomery says Torres should be wary of inflicting further damage on his troublesome knee by returning too soon.
"The fact that he required surgery after the initial injury suggests that there was significant damage," he said, "although of course it is hard for me to say without knowing the full extent. But there will have been a lot of weakness in the joint, and it is no surprise to see him suffer further problems.
"He will need to be very careful when he returns, as the knee must be strong enough to play on."
Torres missed seven games after sustaining his initial injury in his side's FA Cup defeat to Reading on January 13, but had featured in all of Liverpool's last eleven fixtures since his return. And Montgomery believes the Spaniard is likely to have been playing despite considerable discomfort.
"Injuries like that will always leave problems," he says, "There will be swelling in the knee, locking of the joint and plenty of discomfort. The fact that he has picked up another problem – although not necessarily the same – suggests that he has been carrying the injury, or at least the beginnings of it, and playing through the pain."
Liverpool manager Rafael Benitez will be desperate to have his top scorer fit as soon as possible, yet with Liverpool seemingly out of the running for a top-four finish – six points behind Manchester City with just four games remaining – he is likely to carefully ration the 26-year-old's appearances, with the Europa League taking priority.
Torres himself, of course, has the incentive of a trip back to his former club Atletico Madrid in the Europa League semi-finals, not to mention the World Cup, to aim for. His return to the Vicente Calderon is likely to be an emotional one, and a source close to the player is quoted as saying; "This is a special match and he is desperate to play".
Become a fan of Goal.com UK's Facebook fan page for all the latest news and insight into everything related to the beautiful game!