By
Neil Jones
| Liverpool Correspondent
There was a familiar feel to
Liverpool
's victory over
Blackburn Rovers
at Anfield yesterday.
Not the final minute nerves, which have become almost as common as anti-American banners and 'You'll Never Walk Alone' this season, nor the post-match verbal sparring between Rafael Benitez and Sam Allardyce, two peas from distinctly different pods, who share a common dislike - each other.
The familiarity came from a quick glance at Liverpool's team. Pepe Reina, Jamie Carragher, Steven Gerrard and Fernando Torres have played precious few games together at the spine of Benitez's side this season, but yesterday the quartet were in tandem for the first time since December, and the benefits were clear for all to see.
In truth, Carragher would probably have started the game at full-back were it not for Martin Skrtel's metatarsal injury, and that would have meant Javier Mascherano, not Gerrard, would have partnered the ever-improving Lucas Leiva in the centre of the Liverpool midfield. So, as ever, circumstances played their part.
But as it was, Mascherano performed admirably as an auxiliary right-back, and Gerrard's display in the position in which he made his name will give Benitez plenty to ponder as he plots his assault on the Premier League's top four.
Liverpool's skipper has been some way below his very best form this term, having struggled with a niggling groin strain and suffered from the club's general poor form. But against Blackburn he was back in familiar territory, and produced a familiar performance.
His first burst forward from deep brought the opening goal - his eighth of the season, and second in as many games - and the 29-year-old was at the heart of just about everything good about Liverpool's first-half performance. Just as against Unirea Urziceni in the Europa League last Thursday, Gerrard was the dominant figure in a testing midfield battle.
It should come as little surprise. This is, after all, where Gerrard matured from a shy, skinny teenager to the awe-inspiring powerhouse he has become. He thrives when at the centre of the action, bossing the game and influencing proceedings.
Liverpool fans have noted tell-tale signs of discontent in their captain's body language at times this season, with some even suggesting a lack of faith in his struggling team-mates. But there was nothing negative about the way he hunted down Keith Andrews with relish early on, clipped his side ahead on 20 minutes, or waded eagerly into a verbal bout with the ever-loveable El-Hadji Diouf shortly after.
And with Fernando Torres marking his return to the starting line-up with his 13th goal of a stop-start campaign, Gerrard should now have the perfect ally as he bids to steer his team to the top-four finish that was guaranteed by his manager earlier this year. Both players were together on the scoresheet for the first time since September, and their mutual appreciation is as plainly obvious as Benitez's disdain for Allardyce's tactics.
Torres and Gerrard are a match made in heaven, but despite the pair striking up a phenomenal understanding as a virtual two-man strike-force, Liverpool could be best served using Gerrard in a deeper role, utilising the likes of Dirk Kuyt or Ryan Babel as a partner for the Spaniard.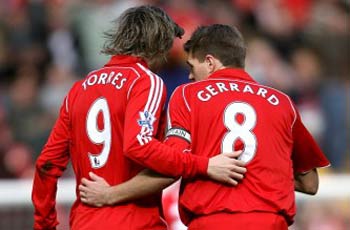 Deadly duo | Torres can benefit from Gerrard's passing
Such a move would of course mean that one of Lucas or Mascherano would need to make way, and in truth Benitez would be harsh to drop either from his starting line-up. But Liverpool can ill afford to be held back by sentiment at a time like this, as Champions League football next season is imperative. The sight of Alberto Aquilani - £17 million-worth of midfielder - sitting out yet another game on the bench yesterday is proof of that particular fact.
The Italian has started just one of the Reds' last six league games, and whilst it is unfair and premature to say the former Roma man is out of favour at Anfield, the fact remains that Benitez has some big decisions to make as he seeks to guide his side to a position that most would have considered failure at the season's outset. Aquilani's style - classy yet perhaps a touch flaky - needs a more fluent side in which to shine at the moment.
Lucas and Mascherano have their many merits - and both have been in very good form of late - but with Liverpool's fixture list dominated by opponents whom it is likely to require plenty of craft and patience to break down, the time may come where one needs to be sacrificed in favour of Gerrard's dynamism and sheer quality from midfield.
And with the captain approaching his 30th birthday, and seemingly taking longer to recover from muscular strains and tears, it may be a long-term idea to utilise his long-range passing and inspirational qualities in a more conventional role than the 'trequartista' position in which he has spent most of the past three years.
Benitez is not one to be swayed by public opinion - demoting Ryan Babel to the bench yesterday following a trio of impressive displays is testament to that - but knows as well as anyone that his side are at their best when Gerrard and Torres are fit and firing.
And having seen Gerrard produce arguably his best form of the season in the past few days, the time may well have come for Liverpool's captain to assume centre stage once again.