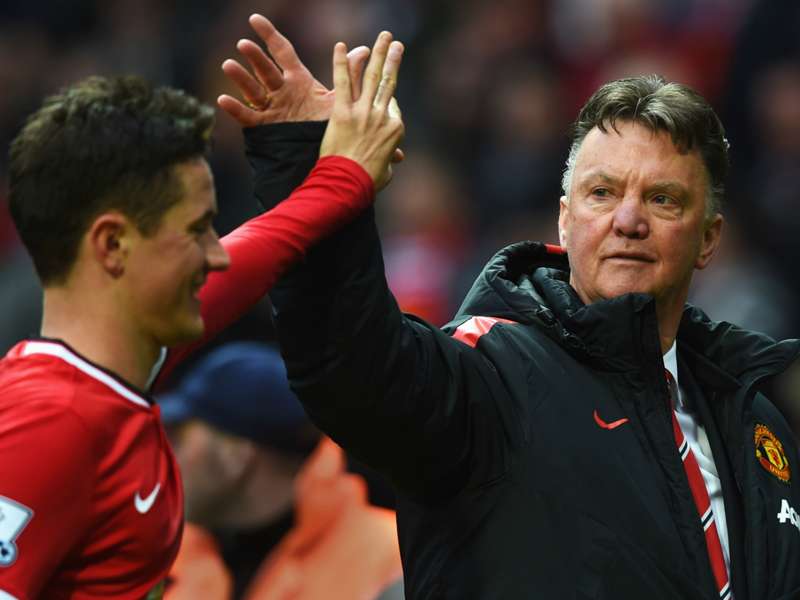 Manchester United
manager
Louis van Gaal
believes his side have proven themselves to be better than
Manchester City
following their emphatic derby win.
Goals from Ashley Young, Marouane Fellaini, Juan Mata and Chris Smalling secured a 4-2 victory for the Red Devils to move them four points clear of City in third and maintain their push for a Champions League place.
"You are playing for the fans. In the beginning of the season, it was not so fantastic to be a United fan," Van Gaal told reporters.
"This week, they can go on the street and lift their hats, and say we are this year the better team.
"At this moment we are four points ahead [of City] so that's a fact. We still have six matches to go and that can be changes again."
Marouane Fellaini delivered another strong performance and received a standing ovation from the Old Trafford faithful when he was replaced in the second half.
"He is very important for the team, he has scored goals under big pressure when we needed him. He always plays the ball to the same colour which is very important. I'm very happy for him.
"Fellaini from day one is the player who always did what I asked. You can say not always very good but never badly. That's always important for a manager that a player gives a certain level of performance."
Van Gaal's philosophy has been questioned by many since his arrival at Old Trafford, though
Phil Jones claimed on Saturday that the team were starting to understand the way in which the Dutch coach wants them to play
.
And the former Barcelona boss feels his players should be praised for handling the pressure and managing a switch in formation to 4-3-3 in recent weeks.
"We have made already big steps in the last six games, because after the defeat against Arsenal [in the FA Cup] it was very difficult of course for my team to stand up and to maintain our confidence in the philosophy," he added to
Sky Sports
.
"I have to say all the credit to the players because they have to do it under pressure, under the expectations of the fans because the fans were expecting today that we would win, and of course after the match you can say we have won but it is not so easy, you can see also the stress of the players in the first 10 minutes."
As well as netting United's first goal, Young also claimed two assists in his role as a left-winger as the England international put in another encouraging performance.
And Van Gaal was full of praise for the ex-Aston Villa man despite Sergio Aguero's late consolation being created down his flank.
"Yeah I think Ashley Young was man of the match… I've seen it [on television]! So I think that is right because I found that also, he was very good.
"He was involved with the first three goals, very important goals, and he did his job as a left winger. When he was left midfielder he let in one goal but OK, I can…how do you say… I can accept it."
Van Gaal also revealed Michael Carrick is set for further tests after he was withdrawn from the action late on with a tight calf muscle.