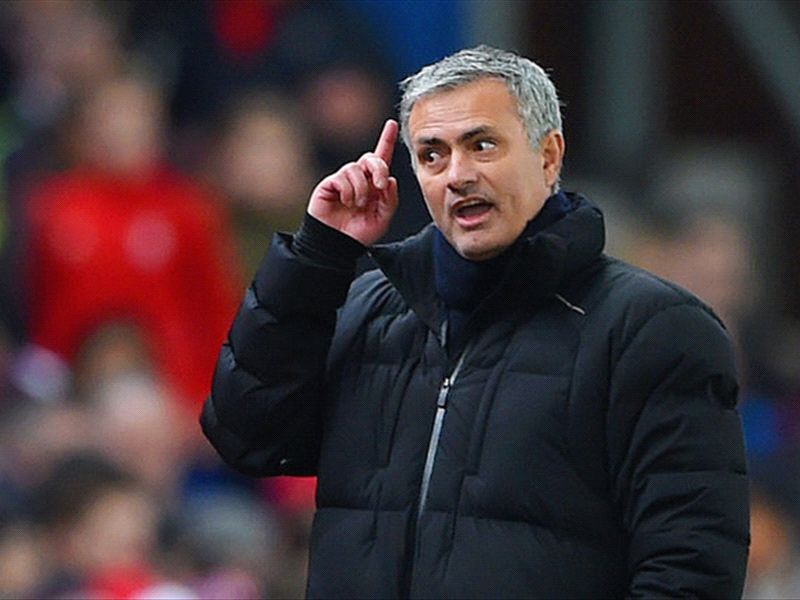 Chelsea
manager
Jose Mourinho
says a "campaign" against his side is to blame for four of his players picking up bookings for diving this season.
Cesc Fabregas became the latest Blues player to see yellow for simulation in Sunday's 1-1 draw at Southampton, though it appeared he had been tripped by Saints left-back Matt Targett.
Gary Cahill, in particular, attracted criticism earlier in December for what was judged to have been a dive against Hull City, but Mourinho says each decision has been a "bad yellow card".
"I think it's clearly the result of something that looks like a campaign," he told reporters. "In the first match Diego [Costa] got a yellow card when should it have been a penalty and red card at Burnley.
"A few months later we lose two points in a match where the penalty is there and Fabregas gets a yellow card [on Sunday at Southampton].
"In football, we are always trying - or we should always try - to change the bad things and the double punishment is something unbelievable.
"You have a penalty and probably you win the game. You don't get the penalty and you get a yellow card.
"It should be easy - [referee] Anthony [Taylor] goes to a screen, he sees he makes a mistake, he's a good guy, an honest guy, he writes 'I made a mistake' and lets [rescind] the yellow card to Fabregas. It should be simple.
"[They are] Bad yellow cards. You can say that. I'm not saying all, but the crucial ones, because we're speaking about crucial decisions.
"For example, the game against Hull City - do you think the most important thing of the game was Cahill or was it Filipe Luis almost with a broken leg? For me that's the crucial point of the game."
When asked who he thought was behind the campaign against Chelsea, Mourinho replied: "I don't know, but for example after the game against West Ham - good game, normal game, 2-0, should be four, should be five, Valencia made a very bad dive and at the end of the game Sam [Allardyce] is speaking about Ivanovic! What is this? What is this? For what? Why? Which intention?
"And today you come here, it's crucial decision, one of these matches between two good teams, difficult match, not many opportunities for both sides, crucial decisions, and the referee makes a wrong decision. Do I have to blame the referee? I just say he made a mistake. Just that."
On the Fabregas incident, Mourinho added: "My view is the same as yours. It's the view of everybody. There are situations in matches where we can have different opinions, and you think something, I think another thing but there are others where everyone has the same opinion.
"I'm saying we don't need to speak about it because everyone knows.
"Why [was Fabregas booked]? Because the referee made a mistake. People make mistakes, he made a mistake. Big mistake, but a mistake.
"He's a very good referee. He's a good guy from what I know. He's young and has years and years of football ahead of him. It is a big mistake but tomorrow is another day and on January 1 he has another match against QPR and life goes on."