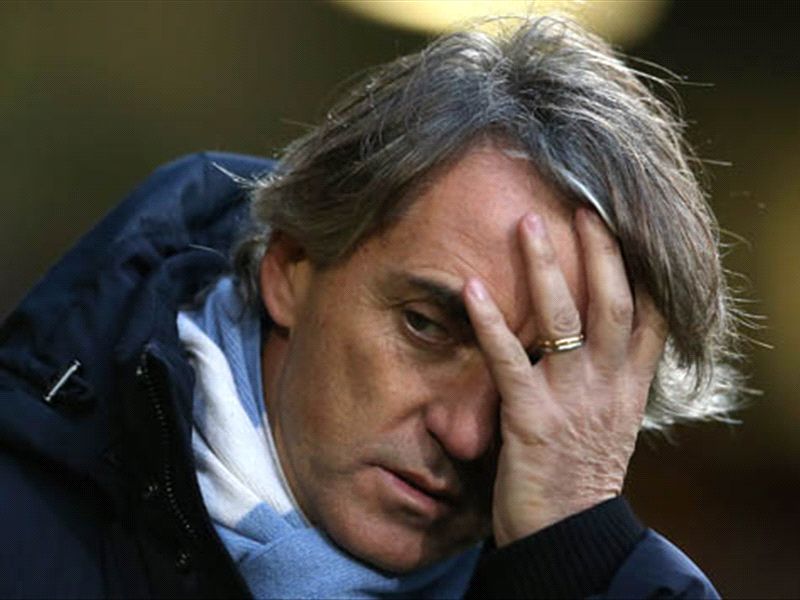 Roberto Mancini
used what is likely to be his last press conference as
Manchester City
manager to hit out at the club's press officer and transfer brokers.
Mancini is set to be sacked following City's FA Cup final defeat to Wigan at Wembley on Saturday, and he took one final opportunity to lambast those at the club he feels have let him down throughout the season.
The Italian's future has been the subject of intense speculation in recent months and Mancini believes the failure of chief of communications at the Etihad, Vicky Kloss, to quell the rumours has undermined his position.
"Vicky, or the other people who work for the press, don't stop this rubbish," he said. "You have written this for six months and in the last two weeks, it's been too much. I don't understand why.
"For football, I answer. For the press, you should talk to Vicky [Kloss] and the other people. If it's true, it will be true. But for me, no. I'm happy to work for Manchester City. I'm happy with my job, about what we did in three years. I'm disappointed now because we lost this game.
"In football, everything can happen. I was sacked after seven trophies with Inter.
"City, for me, are a serious club. The people that are in charge at Manchester City, like Khaldoon [Al Mubarak, the chairman], are fantastic men. But this problem has come out because we didn't stop all these things that you wrote for six months.
"Vicky is in charge, ask her [why the rumours were not stopped]. It's difficult for me to say. I say to you one thing: when I worked for Inter, for a month the newspapers wrote the same as you. I thought always 'It's not true, it's not true', because we are winning. But after the Italian Cup final, I read a newspaper which is very close with Inter. One journalist wrote that Inter probably would sack me. In that moment I realised maybe it was true. I don't know whether it's true or not."
Mancini went on to hint that certain figures at the club were not doing their jobs properly, and that they have affected the playing staff as a result.
"We need to work hard as a squad because when you start to win trophies, maybe you can think 'we are the best team'," he added. "But it's not true because you need to work harder and harder. If the people who work with us around the team are not strong enough for this job, they should improve. I'm strong, but together I think we should improve."
When questioned which people in particular were not strong enough, he said before being cut off: "The people, Vicky, the people that..."
The 48-year-old, who has admitted to having held talks about taking the Monaco job last summer, continued his tirade against the English press, despite many of the recent reports emanating from Spain.
"I think that you have written a lot of stupid things for six months. This is my opinion," he continued.
"Yes, also the Italian newspapers write what you write in England. This is normal, it's your job. But, I repeat, I'm not a magician, I don't know what can happen tomorrow, in one week or in two weeks."
Mancini has often been critical of City's summer transfer policy, and he had plenty to say about how and why players like Jack Rodwell, Maicon, Scott Sinclair and Javi Garcia were brought to the club last August.
"We did a market in the last week [of the transfer window]," he went on. "We didn't have any other players. We chose these players because we didn't move very quickly last year. We moved in the last week of August. We didn't have these players in pre-season.
"The players that we took, I decided to take these players. But you need to move in February, March, April, May. August is difficult because you don't have these players in pre-season.
"Why? I don't know why. Because the people that work for us didn't do this well.
"We have a sporting director and a CEO. But now it's in the past. We can do nothing. We didn't win, we are disappointed and next year we start again."