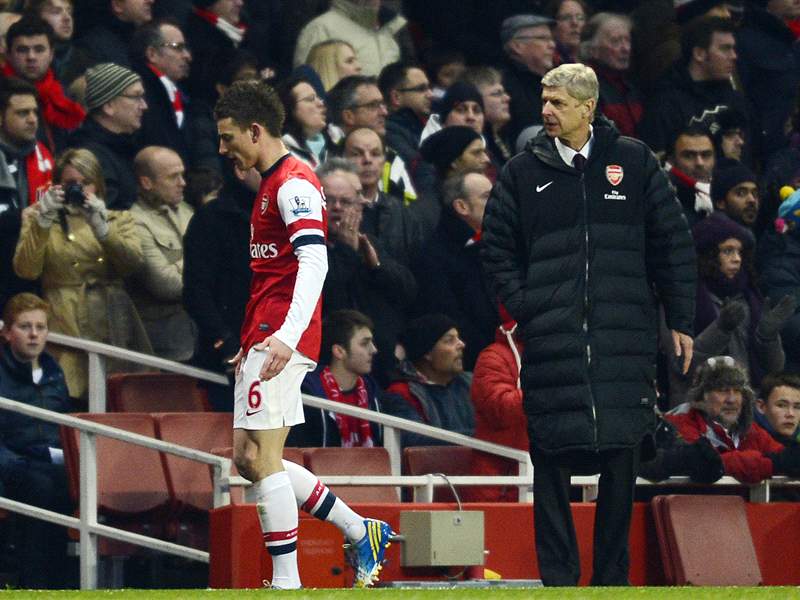 Arsene Wenger
bemoaned
Arsenal
's poor start in their 2-0 home defeat to
Manchester City
, branding his side's first-half performance as "timid".
Laurent Koscielny saw red inside 10 minutes for the Gunners and, despite a missed penalty, goals from James Milner and Edin Dzeko left the hosts with a mountain to climb in the second half.
Arsenal rallied, thanks largely to a talismanic performance from Jack Wilshere, but were unable to dent City's defence even with Vincent Kompany's dismissal late on.
"I felt we were too timid in the first half and we didn't show enough authority on the game. We let them dictate the first ten minutes and were punished," Wenger told
Sky Sports.
"[We showed a lack of concentration] especially for the first goal. Even on the second we didn't win the challenges.
"I feel that we are a bit nervous at home, not relaxed enough. We lack the authority that makes you stronger especially at the start of the game. We start a bit dodgy and today we paid for it.
"We gave to cheap goals away. Where we are guilty is that with ten men you keep it at nil-nil, you never know."
Despite his side's poor display, the Frenchman had no qualms about Laurent Koscienly's sending off for a foul on Dzeko.
He continued: "I haven't seen it again, I was surprised by the decision but I've heard that it was a penalty. We have to live with the decision but anyway it doesn't mean that afterwards you have to lose the match."
However, the 63-year-old was impressed with Wilshere's performance as well as Abou Diaby's return from injury.
"Yes, there are a lot of positives," he insisted. "Some players had outstanding games. Jack [Wilshere] is getting stronger and stronger and he found that acceleration again.
"Diaby came out and came through well, getting stronger. The team, I believe gave absolutely everything, but it's when you don't start well in this job. You have to go from the first to the last minute."