Arsenal
manager
Arsene Wenger
insists that he will not walk away from the club despite confessing that he is aware of the growing pressure around him.
The Gunners lost 2-0 at home to Swansea City courtesy of a Michu double to leave them without a win in their last three league games since beating Tottenham 5-2 in the north London derby.
The defeat leaves them in 10th place in the Premier League after 15 games and Wenger, who has 18 months left to run on his current deal, believes that he will be in charge until at least its 2014 expiry, stating that their recent struggles are a mental rather than physical problem.
"If you ask me always about my future, I can only give you one answer," Wenger told reporters. "I always respected my contracts and that is it.
PROTESTS SHOULD TARGET WENGER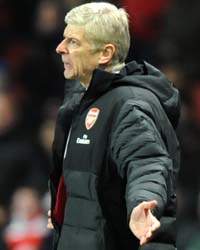 COMMENT: Arsenal fans are aiming vitriol at their board but the manager must take some of the blame for another frustrating run of form


"At home we have struggled with confidence and belief. It's difficult to put a finger on it because we won 5-2 against Tottenham and we had not lost for a while.
"You look at the moment at this uncertainty amongst the fans, where there is not complete confidence that we will win games. I don't know if it has an influence on our performance - we have to look at the solution from inside and not expect too much from outside.
"I believe that at the moment we cannot be satisfied with the quality of our game but, at the moment, that is more important than the psychological side. But this was a more physical factor than psychological."
Wenger remarked that he understands the fans' pain at their recent slide into mid-table after finishing third last season but that the increasingly competitive nature of the top flight means that even sides who have spent big over the past few years are finding it difficult to be consistent.
"I want our fans to be happy and to be over the moon but I cannot say it affects the way I feel because I feel I have to focus on the job to see how we can sort our problems out," the Frenchman continued.
"We lost a game and, even though it is a massive disappointment, I do not want to go straight away to general conclusions. We want to win the next one.
"You can see from the results that it is difficult for everybody at the moment. All the teams. Even those who have invested a lot of money, it's difficult for everybody.
"You have to keep the focus and the desire, and the ambition and turn it round. That's how it works. You cannot go to definite conclusions from one game."