Fernando Torres
returns to the
Champions League
this week with
Chelsea
and as the World Cup winner trots out at Copenhagen's Parken Stadium he will feel a sense of satisfaction, that he has returned to a stage befitting his talent.
An eye-watering £50 million secured Torres' transfer from Liverpool to the Blues – a record-breaking sum but one which pales into insignificance compared to the potential rewards on offer for the Stamford Bridge club.
Roman Abramovich's pockets are deep enough to bring Torres to west London but, like any businessman, he wants a return.
Torres is already earning his keep off the pitch despite an uncertain start to life on it. Shirt sales for Torres outsold those of Andy Carroll, his replacement at Anfield, by a massive 250-1 in the 24 hours following the transfer window deadline.
But Chelsea already knew this would happen. Simple internet searches reveal just how big a draw the Spaniard is. General reasoning by which all clubs and individuals are rated show that Torres is a big hitter, by anyone's standards.
"The most popular social networking site Facebook highlights perfectly how Chelsea can benefit commercially by acquiring Torres," said Oliver Ward, Senior Agent at ITM Sports Management.
"With 966,680 fans, Torres is the most popular player in the English Premier League. More people 'like' him than John Terry, Frank Lampard and Didier Drogba combined, Torres has almost as many fans as either Arsenal and Chelsea Football Clubs.
"Torres is particularly popular in football's emerging markets. In the USA, Argentina, Brazil, Indonesia and India Torres is the most popular Premier League player.
"With 966,680 fans Torres is the Premier League's most popular player on Facebook"
"The implied valuation of a Facebook user is £60 per user. If Chelsea were to monetise the below figures in a similar way they would be able to recoup the initial outlay very quickly.
"It may seem like a large transfer sum on the surface but when you dig a little deeper you see that the added commercial revenue and merchandising around Torres will lead it to being a shrewd acquisition at £50m."
The benchmark by which all sporting icons are measured is David Beckham. The England veteran's arrival at Real Madrid in 2003 transformed an average of 900,000 shirt sales a year into a touch over 3,000,000 in the 12 months following his arrival.
Figures which aren't to be baulked at, but that isn't the whole picture. The real lucre for the Bernabeu giants came in the shape of endorsements from their sponsors.
Beckham's arrival in Madrid allowed the club negotiate an unprecedented eight-year kit deal with Adidas, believed to be worth a staggering £500m.
And where sensibility tells you that the Torres deal will not offer his new club such vast riches, his worth to Stamford Bridge has certainly raised the Blues' worldwide profile.
The move is already looking like a marketing match made in heaven. And it is a sound financial investment, too - albeit with obvious risk associated with sport at this level.
Patrick Mitchell is an associate on the sports team at legal experts DLA Piper, who specialise in the business of sport, and he believes Chelsea have moved at the right time to make such a big signing.
He said: "Many people see these spending sprees simply being the case of big clubs making the most of one of the last chances to spend on this level, in advance of the impending UEFA financial regulations.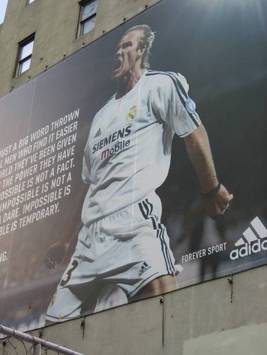 Billboard King |
David Beckham's move to Real unleashed his marketing potential
"That's true to an extent, but this is also clubs playing the long game. Buying, for example, a Torres now gets that massive upfront payment out of the way. Moving forwards the club wants, perhaps needs, to see a genuine return, not least so that they will have money in the bank to make similar-scale purchases in the future.
"The idea is that this return is achieved on several levels. Firstly, and most immediately, matches won, points on the board and trophies in the cabinet.
"Second, increased sales - on a domestic level, of tickets, and worldwide of club sponsorship, shirts, merchandise, club memberships and subscriptions to club TV channels etc.
"Then, based upon the success of the club comes a bigger slice of the Premier League's broadcast revenues, more lucrative club sponsorship arrangements and increased chances for revenue-generating pre-season tours - it's a case of cause and effect.
"The bottom line is that making a big-money, 'superstar' signing such as this is both a footballing decision and, critically, a sound business investment."
But it's a two-way street. The financial juggernaut forks off in a number of directions and Torres has made sure his £175,000-a-week wages are supplemented through a number of fertile avenues.
Mark Shipley, a solicitor who specialises in intellectual property, says: "Torres has licensed the use of his image to Chelsea, meaning he will get paid a chunk of what they earn from sales of all shirts and joint commercial deals.
"This deal won't be exclusive, allowing the footballer to continue to license his image for use by personal sponsors, such as Pepsi. It's through these other deals that an individual player's brand value can go through the roof.
"Take Wayne Rooney, his image has made its way into thousands of homes, splashed across the front of football computer game FIFA 11."
"He will receive a cut of the profits the game makes through his affiliation with it. A substantial part of that will be garnered from the licensing of his image rights," he said in an interview with
how-do.co.uk
.
And there's little doubt that Torres will be happy with life in west London just so long as he retains his Champions League status.
"Torres will certainly believe he's back where he belongs. The Champions League is the biggest brand in football outside of the World Cup, it's where the best players in the world showcase their talent," said Ronnie Finch, commercial director at ITM Sports management.
"Missing out on Champions League football is akin to a trader only opening their shop for one day a week. There's all this other revenue to be earned, but its not being tapped.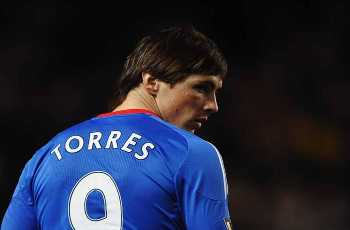 "Missing out on the Champions League is akin to a trader only opening his shop for one day a week"
"Everyone knows Torres in Europe but you need that extra leverage when trying to develop the brand in Asia and America. And for that, Champions League football is a must.
"Torres of Chelsea, Spain and the Champions League is infinitely better than Torres of Liverpool, Spain and the Europa League. And sponsors show their deference to this in basic figures and bonuses five times what they would be if he stayed at Anfield."
As always, the proof will be in Torres' ability to deliver Chelsea the title and the Holy Grail of the Champions League but, regardless of success on the pitch, this is already shaping up to be the deal of the decade for all parties.
Chelsea's global profile is inflated via association; there are the on-field benefits and subsequent financial gains. And Torres can use his new-found status as a player in Europe's elite knockout tournament as leverage to squeeze those extra pounds out of sponsors.
There's no guarantee of success, but there's no doubt player and club have taken a huge step forward.