COMMENT
When news broke earlier this season that
Robert Pires
, without a club after having been released by
Villarreal
in the summer, was back training with
Arsenal
in order to keep fit while seeking to open the next chapter in his illustrious career, many Gunners fans dared to hope that
Arsene Wenger
might be tempted to resign him.
Pires is, after all, an Arsenal legend, one whose departure from the club was almost unanimously mourned among the faithful. The fact that he'd given Villarreal four outstanding seasons confirmed not only that he had been allowed to leave the Gunners too soon, but also that – despite having turned 37 last month – he can still do a job.
Wenger emphasised that much himself when, regretfully confirming that he had no room in his own squad for another attacking midfielder, he nevertheless urged other Premier League bosses to give him a chance.
"Robert is a fantastic player still today and he loves to play, so anybody who signs him will make a good deal."
Gerard Houllier, a compatriot of both Pires and Wenger, clearly agreed. "It's perfect," said Houllier's assistant, Gary McAllister. "I am sure he will arrive at the training ground in good condition. He's a player everyone can look up to because of what he has achieved."
As chance would have it, Villa are bringing 'Bobby' back to the English top-flight in the same week as the French national team are in England hoping to tug the Three Lions' tail.
Pires' own international career was cut short in 2004, with former Bleus' coach Raymond Domenech's bizarre aversion to Scorpios the catalyst.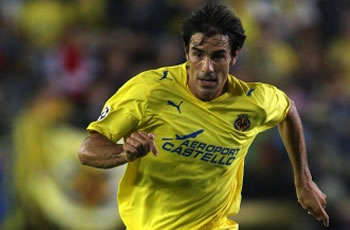 "
It's perfect. I am sure he will arrive at the training ground in good condition. He's a player everyone can look up to because of what he has achieved.
"


- Aston Villa assistant
manager Gary McAllister

But having been a member of European Championship, Confederations Cup and World Cup winning squads, he can console himself that he did his country proud in his time as he embarks on an intriguing coda to his club career.
Many thought that last act would be played out in Spain when Pires left Highbury just before the club moved from their spiritual home to the new Emirates Stadium in July 2006.
His destination was Villarreal, who snapped him up on a free transfer when his hope of securing a new two-year contract at Arsenal had been thwarted by Wenger's policy of offering players over 30 one-year deals only. Pires felt he had at least two good seasons left in the tank. Most Arsenal fans agreed; but it was Villarreal who got the benefit.
With Houllier hoping Aston Villa can now benefit from what is proving to be a lingering sunset, Pires will certainly want to avoid any repetition of the serious injury that nearly torpedoed his spell aboard the Yellow Submarine when it had scarcely begun.
Just 46 days after signing for the Spanish club, he suffered a cruciate ligament injury during a pre-season friendly against Cadiz. It would keep him out of action for seven months and was an eerie echo of a similar injury that had cost him the same length of time on the sidelines while at the peak of his powers at Arsenal.
As he'd done in 2002, however, Pires recovered from the knee surgery and battled back to fitness, eventually making his Primera Division debut as a second-half substitute against Real Sociedad on March 17, 2007.
By the end of the month he'd scored his first league goal for the club, and when he made his first start for Villarreal, on April 22 against La Liga leaders Barcelona, he opened the scoring in a 2-0 victory.
It was poetic justice of a sort, because the previous May Pires had been substituted prematurely following Jens Lehmann's red card against Barcelona in the Champions League final, his last Arsenal appearance.
His integration into the Villarreal team at the back end of that 2006-07 season helped propel the Yellow Submarine, which had been becalmed if not sinking in his absence, up the table. Winning each of their final eight games they finished fifth and gained entry into the Uefa Cup.
As Paul Macdonald of
Goal.com International
put it: "Undoubtedly his injury deprived the player and indeed his club of Pires closer to his absolute peak, but while it is a major regret not to have watched him in action for the entire campaign, it is also a testament to the player how quickly, and emphatically, he bounced back."
At the start of the following season, he played a key role as Villarreal won six of their opening eight games, his leadership on the pitch providing the perfect antidote to the ongoing wrangling off it between the board and Argentine playmaker Juan Roman Riquelme. In that 2007-08 season Villarreal split the Barcelona-Real Madrid duopoly, playing scintillating football in which Pires was a pivotal figure.
His playing time started to decline over the next two seasons, but in his cameo appearances, often coming off the bench, Pires continued to exhibit glimpses of the masterly technique he'd produced so consistently while in England. Eventually the hierarchy at Villarreal opted not to renew his contract as they signalled a change in emphasis towards youth, prompted by the need for financial prudence.
But in April 2009 the footballing fates had decreed that Pires and Arsenal would meet again when Villarreal were drawn against the Gunners in the quarter-final of the Champions League.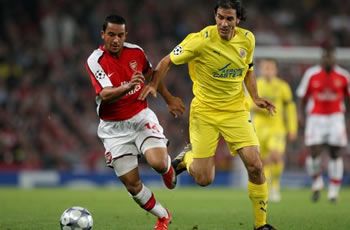 He came on as a 70th-minute substitute in the first leg in Spain, and played the full 90 minutes in the London return. That second leg provided Pires with one of the highlights of his career, even though Arsenal won 3-0. He was welcomed home like a long-lost son by Gooners who'd been denied the opportunity to give him a proper send-off back in 2006.
He recently told
Four Four Two
magazine: "We lost, sure, but it was lovely. The fans were incredible – they sang [my name] before the game, during the game, after the game. Un-be-lievable. There was a moment when I thought – a bit of me, at least – ah, if only I had stayed."
The adoration was more then merely sentimental; in 2008 Arsenal fans voted Pires the sixth-best Gunner of all time, underlining the impact he'd made on the club during his six-year spell in north London.
He'd joined them from Olympique de Marseille for £6 million in summer 2000, immediately after helping France become European champions to complement their world crown, and despite determined wooing by Real Madrid – a club he'd always admired because of his Spanish mother's allegiance.
Pires had been signed by Wenger to replace Barcelona-bound Marc Overmars, a tough act to follow. And it took the Frenchman a little while to adapt. Indeed, he has admitted that initially he felt he had to do something special every time he got the ball, while struggling to adapt to the physicality of the English game.
Wenger had put him on the bench for Arsenal's first game of the 2000-01 season, away to Sunderland, so he could look and learn. "By the 20th minute I was already thinking 'what am I doing here?'" he recently told
Arsenal TV Online
. "It was hard, very different to France, but in the end I got used to it."
Indeed he did. A great goal against Lazio in the Champions League gave his Arsenal career lift-off, and from then on it was onwards and upwards.
He endeared himself to the Arsenal fans by giving as good as he got with his limited command of Anglo-Saxon in a feisty verbal joust with Leeds United manager and ex-Arsenal defender David O'Leary at Elland Road, and ensured a permanent place in their affections by netting the decisive goal in the FA Cup semi-final against Tottenham at Old Trafford.
Arsenal lost the final to Liverpool, but the following season they scooped the Double - and the swashbuckling Pires, despite the cruciate injury that deprived him of the campaign's crowning moments, was so influential he was voted Footballer of the Year.
A sensational goal at Villa Park was a glorious milestone along the way, and the abiding image of that 2001-02 season was of the rest of the Arsenal squad bowing down to the injured Pires in homage as he collected his Premier League winner's medal.
He rates that moment alongside winning the World Cup in 1998 as the greatest of his career, because it confirmed that his team-mates valued his contribution.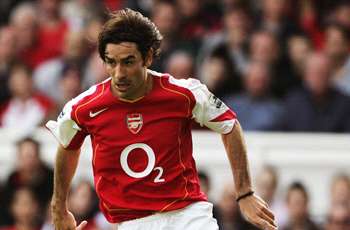 "To me, before his knee injury, Pires was the best left attacking midfielder in the world. With us he was just flying. Even if he has lost the speed of his youth, he can still help at Aston Villa thanks to his knowledge of the game."
- Arsene Wenger

Pires returned from injury the following October and finished the season with 14 more goals in 26 Premier League games from midfield, plus the winner in the FA Cup final against Southampton. Then came the 'Invincible' 2003-04 season.
His creative passing, eye for goal whether assisting or scoring, and that trademark pigeon-toed stance, giving him a shuffling but deceptively fast gait, was emblematic of the record-breaking Gunners as Pires combined with Thierry Henry and Ashley Cole on the left to create one of football's most influential triangles. He has said that they worked on it every day in training until it was almost perfect; it showed.
The stunning shot he curled in from 25 yards to secure victory at Anfield in October of that season epitomised his contribution, while his headed goal in a Champions League quarter-final against Chelsea – when he outjumped John Terry to get to the ball first – underlined how completely the initial reservations about his appetite for battle had been dispelled.
He scored another 14 league goals that season, plus four more in the Champions League and one in the FA Cup. "That unbeaten season there was a lot of pressure, but we enjoyed it," he recalls. "We went on the pitch and we knew we were going to win."
Pires was part of Arsenal's last trophy success - another FA Cup win in 2005 – but the following season proved to be both his and the club's Highbury swan-song. He famously contrived with Henry to mess up a penalty against Manchester City, but the attempt to do something different somehow summed up Pires' cavalier style.
At the end of that season, Lehmann's early dismissal in Paris, forcing Wenger to withdraw Pires for substitute 'keeper Manuel Almunia in the Champions League final, gave him the worst moment of his career and hastened his departure for Villarreal, who had already made their interest clear. His final statistics for the Gunners were 84 goals in 284 appearances.
The Frenchman's affection for Highbury, though, was confirmed when he bought one of the Highbury Square apartments built on the site of the old stadium.
He'd arrived in London from Marseille, where in 1999 he'd missed out on the French title by a single point and then lost the UEFA Cup final to Parma; but his formative years were spent at Metz.
Born in Reims to a Portuguese father and Spanish mother who both loved the game, he nearly quit football at the age of 15. He was in the third team at Reims and restless, but his prescient mum told him to stick with his dream as it could be a great job.
So he joined the Metz academy, making his first-team debut in 1993 and staying with them until 1998, scoring 43 goals in 162 appearances and winning the League Cup. What kept him there until the move to Marseille, aged 25, was regular football: he was virtually guaranteed a start every game, and playing has always been his main motivation.
The prospect of no longer being a regular starter at Arsenal was a factor in his departure, and explains why at 37 he is ready to take on a new challenge with Villa.
"To me, before his knee injury, Pires was the best left attacking midfielder in the world," said Wenger. "With us he was just flying. Even if he has lost the speed of his youth, he can still help at Aston Villa thanks to his knowledge of the game."
Now there is the tantalising prospect of Pires in a claret and blue shirt facing his former club in the Premier League when the Gunners visit Villa Park on November 27. No doubt both sets of fans will be applauding.