Emmanuel Adebayor
has made no secret of his frustration at a lack of starting opportunities so far this season, but with impeccable timing he clicked through the gears to become part of the
Manchester City
steam train that entertains his old side this weekend.
As the Togolese striker danced a hop, skip and a jump on the Eastlands pitch following his hat-trick during the 3-1 Europa League win over Lech Poznan, he was also warning Arsenal what he has in mind when the Gunners travel to Manchester on Sunday.
Adebayor's three goals – his first strikes of the season – will make sure both Roberto Mancini and Arsene Wenger have a couple of restless nights' sleep ahead of them.
Mancini because Adebayor has rediscovered his form in front of goal after generally poor performances throughout 2010 which have resulted in him starting just one league game so far this season.
Wenger because he knows the 26-year-old is one of the streakiest forwards in Europe and a man who loves to be hated by the Arsenal supporters following his £25 million switch to City in July 2009.
The fixture last season was dominated by Adebayor as he celebrated scoring in City's 4-2 win by running the length of the pitch to goad the Gunners' fans. He also deliberately kicked Robin van Persie in the face, an act that earned him a three-match suspension.
But it's different this year for Mancini's side, it's about far more than the Adebayor sideshow because they sit second in the Premier League, just two points behind leaders Chelsea, and consider themselves genuine title contenders.
Having won their last four league games, there is something ominous about City as they slowly build a momentum that they hope becomes unstoppable.
What City crave is respect and the best way to do that is to beat those you consider your closest competitors. They did it last month with a 1-0 home win over Chelsea and the players' words and body language after beating Poznan said they are determined to repeat the trick.
Summer signing David Silva could be one of the keys on Sunday and he has embodied his new side's growing confidence with rapidly improving performances.
Against Poznan he was brilliant, following up Sunday's wonder goal at Blackpool with elusive movement, deft touches and pinpoint deliveries which created two of Adebayor's goals.
"David makes it look easy to play football," Mancini said after the game. "Everything for him is easy. He's a fantastic footballer."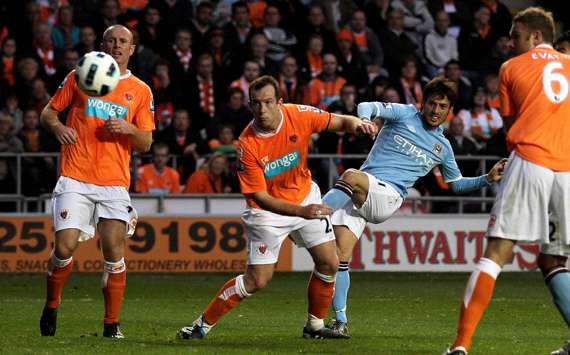 Class act | David Silva is a devastating creative force in the Manchester City attack
City's flowing attacking is only made possible by their steel in midfield as they follow the Chelsea model of how to win the title both on and off the pitch.
Chelsea consistently beat Arsenal with a well-rehearsed cocktail of both power and substance, with the likes of Michael Essien and John Obi Mikel providing a platform for Frank Lampard, Didier Drogba and Florent Malouda.
City will be looking to do the same by out-fighting the visitors' midfield – they did it against Chelsea, so they can certainly do it to Arsenal.
Jack Wilshere is suspended for Arsenal so even more pressure will be on the shoulders of Cesc Fabregas, who will face a difficult afternoon against the pressing and power on City's midfield three.
Nigel De Jong will be snapping into tackles, every time to huge cheers from the home faithful; Gareth Barry will be using his positioning and nous to block off Arsenal's cute passes and Yaya Toure will use his power and size to bully the Arsenal midfield.
It is a toughness City know they need if they are compete at the top of the tree, an attitude that creates a winning mentality among a group of players who are yet to win any silverware as a team.
For all Arsenal's pretty football, the reason they have not won a trophy for five years is because they are missing someone with the playing style and winning mentality of Patrick Vieira – now at Eastlands – in his pomp.
Mancini realises this, he knows that over a 38-game season you have to be mentally tough and physically combative; start with the substance and then add the style with Adebayor, Silva, Adam Johnson and Carlos Tevez.
Arsenal will be a huge test, it always is, but you get the impression that City are relishing the chance to stick it to one of the traditional title-challengers. Adebayor will be keen to open his Premier League tally against his old side, but he's jumping on board a team that's already in full flow.