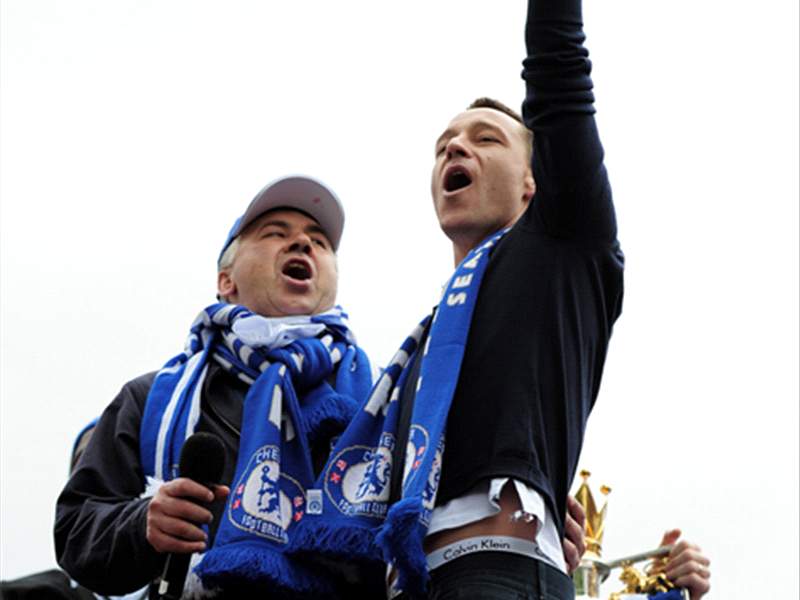 Chelsea
boss
Carlo Ancelotti
has revealed his admiration for skipper
John Terry
and the huge debt of gratitude he owes to Ray Wilkins in his new autobiography, extracts of which have been published in
The News of the World
.
Despite completing an historic Double, Terry came under fire following revelations about his private life which led to the defensive stalwart being stripped of the England captaincy.
However, Ancelotti has revealed his admiration for Terry and how important his captain was in their bid for success last season.
Ancelotti wrote: "John Terry is the captain of all team captains, he was born with the captain's armband on his arm.
"Even without the band, it's as if he wears it anyway, and that's how it ought to be. He's different from all the others, Chelsea is his home, it always has been, ever since the youth squad.
"One word from him, and the locker room holds its breath. He's the first one to sit down at meals, the first one to stand up.
"Being part of this club is his mission, that's how he was made. He pays close attention to the performances of the youth team, he keeps up, he knows all the scores, he misses nothing (although he often loses at ping-pong in the dining room - and when that happens, watch out).
"He works twice as hard as everyone else, he has the sense of responsibility of someone who runs a company, a people, a philosophy that above all has to win.
"There is no room for second place; there can only be room for us."
The Italian also has high praise for his assistant manager Ray Wilkins, who helped him settle into life in England and also was a great help in the dressing room trying to convey his ideas and tactics to the players.
Ancelotti added: "One of the reasons I fit into the locker room was thanks to the fundamental role played by Ray Wilkins, my number two and my friend. It's one thing to translate words - plenty of people can do that - but translating feelings is the gift of only a select few.
"Ray is one of those select few, always present, noble in spirit, a real blue-blood, Chelsea flows in his veins.
"His heart beats in two languages, and that helped me.
"Without him, we couldn't have won a thing, and in particular we would not have started the year at supersonic speed."
Chelsea began the season in style, but following a run of poor results and elimination from the Champions League, their season was in danger of being a disaster. But a training ground meeting, where Chelsea's senior players took the lead, set Ancelotti and his team up for a glorious end to the season.
"We did our calculations right after we were catapulted out of the Champions League by Inter, at a moment in the season that was so precarious it could easily have slid into disaster," wrote Ancelotti.
"In the past, Chelsea had always had a hard time recovering from roundhouse punches like that, so the day after our defeat we all gathered in the locker room of our training grounds in Cobham.
"The venerable old men all spoke - Terry, [Didier] Drogba, [Petr] Cech, and [Frank] Lampard (another magnificent example of English leadership - when I see him on the field, it makes me happy). I was proud of us in that twenty minutes, we understood that we had lost a great deal but that we could win much, much more.
"I was very clear in what I had to say: 'The Premiership and the FA Cup are still ours for the taking. Only six teams have managed to pull off a double in 140 years, but it's our turn now'."
The key game in dethroning Manchester United in last year's campaign was the 2-1 victory at Old Trafford, and Ancelotti has revealed that he and assistant Wilkins were snubbed by Sir Alex Ferguson after the full-time whistle.
"Our success at Old Trafford was the one that got us the League title, even though in the end Ray Wilkins and I were forced to drink to our victory alone," wrote Ancelotti.
"As is the tradition, a few minutes after the final whistle we went to Sir Alex's room to drink the usual glass of wine. We walked in, and silence reigned.
"He sat there staring at a television screen; the set was tuned to a horse race, his greatest love.
"We were strictly relegated to the background, to some place beyond and behind the background.
"We stood awkwardly for a while without saying a word, uncertain what to do, and finally did what we had come to do. We drank a glass of wine, to our own health. Bye-bye.
"Even though I won the three games I played against him that season, I still consider Ferguson to be a master of soccer, an example I have always looked up to, in some ways, unattainable. (Unattainable in the sense that I don't have a passion for racehorses)."
Ancelotti has been very clear about his objective for this season; he states: "Now I want the Champions League."
Ancelotti will donate all royalties from the sale of his autobiography to Fondazione Stefano Borgonova, a charitable foundation set up for his former team-mate at Milan, and dedicated to finding a cure for ALS, a neurogenerative disease, from which Borgonova suffers.
The book,
The Beautiful Games of an Ordinary Genius
by Carlo Ancelotti with Alessandro Alciato
, is published on September 6, 2010.