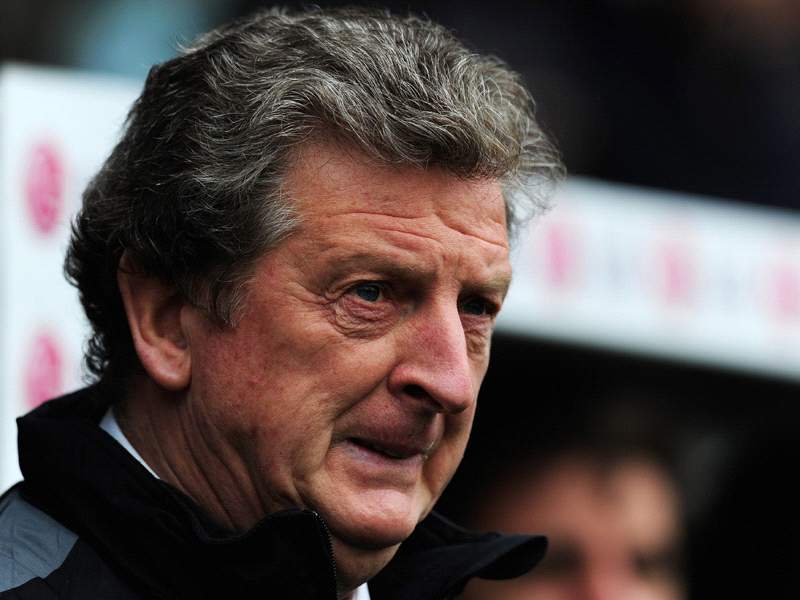 New
Liverpool
manager
Roy Hodgson
refused to guarantee keeping Reds stars
Fernando Torres
and
Steven Gerrard
at the club as he took over as manager on Thursday.
Hodgson hinted that he and the club would be doing their utmost to ensure that Gerrard and Torres would stay at the club amid rumours linking the pair with big-money exits from Anfield, but stopped short of promising the duo would stay.
"It's important, of course. I don't think there's anybody here at the club who would welcome losing them. Certainly the fans wouldn't welcome losing them and us as a club I'm sure will do everything we can to make certain they stay with us," he told Liverpool's official website.
"I'll be trying to persuade them that this is the place to be. I'll ask them to give me a chance to work with you and give us a chance to improve on last season.
"They're all disappointed, I'm sure, after last season's results and I'll be doing my level best. It would be foolish to give guarantees that it's going to happen because I can't speak for the players themselves, but I'll be doing my best to keep them."
With the disappointment of last season, which saw the Reds fail to qualify for the Champions League, Hodgson is keen to get back into the top four.
"The ambition initially is to do better," he added. "For Liverpool the ambition always has to be to try and achieve a Champions League place and that's what we'll be trying to do as soon as possible. There's no point in setting low goals to make yourself look a bit better if you get beyond that goal.
"I don't think any of the players or staff wants anything other than a successful Liverpool year and we want to hit the ground running. You can't do more than work for that.
"There's no point throwing out empty promises. Words are words and actions are actions and we have to show by our actions first of all on the training field and then at Anfield and other stadiums that we're ready and good enough. That's my task, to work with the players and ensure we are good enough."
The 62-year-old has signed a three-year contract with the Reds, and has already begun thinking about what shape the future of his side might take, but does not want to stray far away from what have been the guiding principles of the club since the days of Bill Shankly.
"It's very important you have that as a manager. At Liverpool it's highlighted really because the traditions here are so great, but even if you go to a smaller club it's still important that you're aware of what the club has done in the past and what the club means to the people," Hodgson said.
"There's nowhere more keen on what a club means to the people than the city of Liverpool.
"It'd be foolish to compare [with other jobs] but it'd also be dishonest to say anything other than it's going to be a highlight of my career. I have worked long and hard to reach the level I have reached.
"I'm extremely proud. The club's tradition in terms of its football and its managers is really second to none and it was an opportunity which was absolutely impossible to turn down. I am both proud and excited at the prospect of working as the Liverpool manager."
Hodgson is well aware of the 'Liverpool style' having observed the club since its rise to prominence from relative obscurity in the 1960s.
"What we picked up was the Liverpool style. On paper it was a relatively simple style but in actual fact simplicity is the hardest thing to achieve," he explained.
"Working in Sweden, as I was at the time, they were all very impressed with the quality of the passing, the quality of the movement, the way players were always available for each other. Of course the quality of the players they produced at that time, firstly Toshack and Keegan and then Dalglish and Rush, and then the great partnerships at the back with Smith, Thompson, Hansen and Lawrenson; we were brought up on that.
"When I was at Malmo I brought a group of coaches over and Bob Paisley was great. Graeme Souness was the coach but Bob was still around at Melwood and I remember having a cup of tea with him. He was a really interesting man to meet.
"You can never turn the clock back and live those times again, but it would be nice if we could fashion an image again which in some way represents what these people pioneered so many years ago."
Reds skipper Gerrard and stalwart defender Jamie Carragher have backed the new boss already and Hodgson is pleased that the news of his appointment has been well-received.
"That was really nice and I am looking forward immensely to meeting them. I bumped into Jamie in Port Elizabeth but had no chance to really speak to him and that would have been too soon anyway," he added.
"I am looking forward to speaking to those two in particular today, but also getting in touch with the other players who are either on holiday or still at the World Cup."
As for his priorities now that he has been appointed, Hodgson is ready to set about creating a positive environment to work in, and then move on to establishing the size of his transfer budget and any potential new signings.
"It's important to get started straightaway, working with the players, trying to create an environment which will give us a chance to become better and hopefully improve upon the last season," he asserted.
"I'll see the ones who are here today. There are a couple of meetings this afternoon with senior players, in particular Steven and Jamie, and I'll contact the rest by telephone.
"I will make certain that before the end of the week I have had a conversation with all of the players to tell them I'm here and am looking forward to welcoming them back when they come.
Hodgson was coy when it came to revealing the identities of any possible new players though, adding: "We haven't really had a lot of time to talk about that as yet.
"It was only on Tuesday it was finalised that I would be the new manager. I've had very little time to sit down with the chairman and chief executive and in particular the chief scout to see what avenues he's been pursuing.
"Of course I know players and I've got ideas, but it'd be very wrong for me at the moment to start talking in detail about that. It's a major area of work."
He also hinted the board would allow him to reinvest any money raised from sales back in the team.
"One thing they made clear to me is we have to work within whatever restraints are in place at the club, but they've also made clear that if we were unfortunate to lose somebody then that money would be made available," he explained.
"I'm hoping that won't be the case because I don't want to lose anybody, but we haven't gone much further than that. The Chairman is here today and I'm sure that during the course of the day, when I've spoken to the players, there will be meetings and discussions along those avenues as well."
The former Inter coach also had a clear message for the Reds supporters.
"The message is thank-you for having me here. I'm really looking forward to working with your team and looking forward to getting your support, which I've seen so many times throughout the years," he stated.
"I said recently that this is one of those clubs where your motto 'You'll Never Walk Alone' is really lived by the fans. It's a club where you feel you're not alone. I shall need lots of help and lots of support and I sincerely hope you make sure I never walk alone.
"That would be my message. Help me to do a good job and I'll do my best to do it."