By
Wayne Veysey
| Arsenal Correspondent
Arsene Wenger
has agreed to stay on at
Arsenal
and extend his contract by another two years,
Goal.com UK
can reveal.
The Frenchman, whose current deal ends in June 2011, has told the board that he will remain at Emirates Stadium until 2013.
The earlier-than-anticipated verbal agreement is a huge boost to the club's hopes of hanging on to marquee players such as Robin van Persie and particularly Cesc Fabregas, who is expected to stay at Arsenal for at least one more season.
It will extend the reign of Wenger, who turns 61 in October, to a remarkable 17 years and almost guarantees that Arsenal is his final full-time job in club management.
It is understood that Wenger has only spoken informally with the club but his advisers will begin detailed negotiations on the terms of the deal in the coming weeks and the Frenchman is expected to put pen to paper this summer, possibly even before the World Cup.
He is likely to receive an increase on his current salary package, which is believed to be in the region of £5 million a year.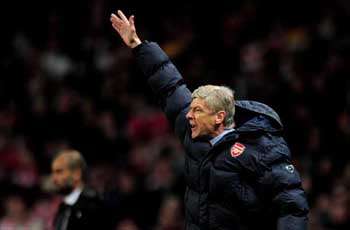 Committed | Wenger will extend reign to 17 years
The timing of the decision has come as a pleasant surprise, notwithstanding the team's implosion over the last month, which has resulted in criticism that Wenger's youth project has failed.
The Frenchman normally prefers to wait until the final months of his contract before committing himself to the club for another fixed term.
During the final year of his last three-year deal in 2007-08, he did not sign the papers until September - over a month into the season - even though he had privately told influential director Danny Fiszman a few months before that he intended to stay.
However, the board were eager to get a firm commitment from Wenger, given the £45m transfer kitty that will be at his disposal this summer and the uncertainty over the futures of Arsenal's leading players.
Andrey Arshavin has been making covetous glances in Barcelona's direction and the European champions also have a much-publicised interest in Fabregas and even Gael Clichy.
The dressing room remains behind Wenger, many of whom are in awe of the Frenchman and are grateful to him for giving them their chance earlier than would have been possible at one of Europe's other elite clubs.
Although there are no dissenting voices in the boardroom about the wisdom of extending the contract of a manager who has been trophy-less for five years, the club were also aware that a new man would realistically need around £70m to rebuild the squad.
Wenger has now doubled his previous longest managerial stint with one club, which was the seven years he spent at Monaco from 1987 to 1994.
Become a fan of Goal.com UK's Facebook fan page for all the latest news and insight into everything related to the beautiful game!