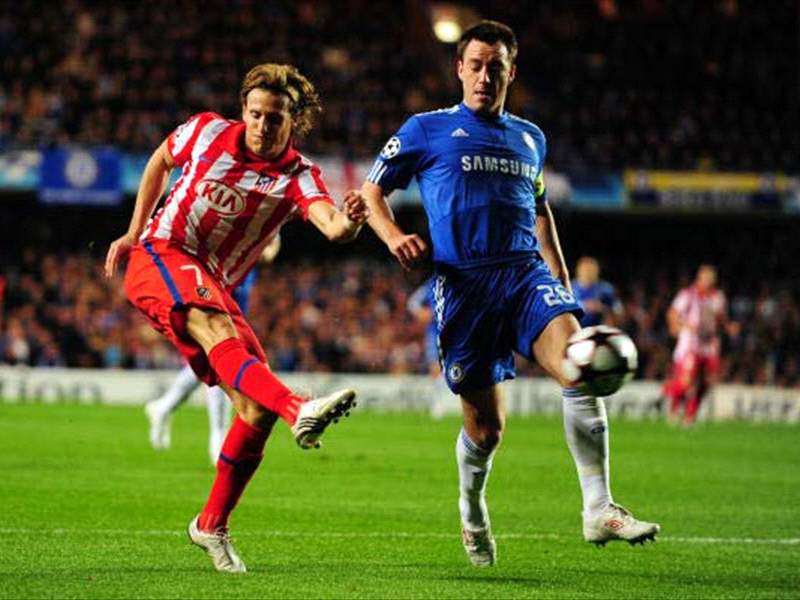 By Alex Dimond
CHELSEA
Petr Cech
-
6.5
- Solid, no-frills performance that injected his defence with confidence.
Ashley Cole
-
6.5
- Incisive running always threatened to create openings, and one such burst resulted in the cross for the opening goal. Had little to do defensively.
John Terry
-
6.5
- Typical, fully-committed performance. Coped well with slippery threat provided by Aguero. But, like rest of his side, didn't often need to get out of third gear.
Branislav Ivanovic
-
6
- Slotted in at centre-back to replace Ricardo Carvalho, and often found himself spare as Atletico only played one up front.
Juliano Belletti
-
6.5
- Gave his side balance and width with his willing running. Was a constant outlet, and didn't lose to Simao in their individual battle.
Michael Essien
-
6
- Disciplined positionally, but didn't have to make too many interventions as opposition rarely flooded forward. Couple of dangerous challenges an unwelcome blast from the past.
Michael Ballack
-
7
- Committed performance in both defence and attack on his return after injury. Put in an important shift for his team, true to his word after pre-match comments about professionalism.

Frank Lampard
-
7.5
- Involved with almost everything inventive about Chelsea's passing. Had 'pre-assist' for Kalou's goal, and long-awaited goal was greeted with delight by Stamford Bridge faithful.
Deco
-
6
- Still slightly lacking the form that could make him a dangerous proposition.
Nicolas Anelka
-
7
- Seems to raise his game when his team needs it most. Was a willing runner all night and although he didn't get on the scoresheet was every bit as threatening as his strike partner.
Salomon Kalou
-
8
- Missed a couple of chances and generally looked off the pace before he clinically turned home Cole's cross. A solid downward header for the second goal will please Ancelotti.
Substitutes
Yuri Zhirkov
-
6
- Replaced Kalou on 70 minutes, slotted in at left-back as Cole departed minutes later. Needs a few more games to hit full form.
Florent Malouda
-
6.5
- Replaced Cole later in the game. Enjoyed a fairly easy run to the finish, and provided delivery that resulted in Perea's own goal.

Daniel Sturridge
-
6
- Got 15 minutes as Chelsea cruised to the finish line. Looked lively and eager to impress.

ATLETICO MADRID
Sergio Asenjo
-
6
- Completely missed Lampard's free kick for what looked like an early goal, before the referee spared the youngster's blushes. Could do little for either of Kalou's goals, but might feel he could have done better with Lampard's successful effort.
Antonio Lopez
-
4.5
- Didn't always get tight enough to the rampaging Belletti, and threatened to be overrun at times. Gave Kalou too much room for both goals. Poor.
Alvaro Dominguez
-
6
- Made a couple of solid blocks as Atletico tried to show their defence is not irredeemably bad. But his efforts were in vain as Chelsea pushed on.
Luis Perea
-
6
- Electric pace helped him cope with Chelsea's fluidity of movement, but he was still caught out positionally on a number of occasions in what became damage limitation. Unlucky for own goal.
Tomas Ujfalusi
-
5.5
- Was robust and uncompromising throughout the game, but Kalou's opener came from his side and the Czech will wonder if he could have done better for Lampard's, too.

Simao Sabrosa
-
6
- Tricky throughout the game, although Resino might have hoped for slightly more from the experienced Portugal international if their side were going to get something from the game.
Cleber Santana
-
6.5
- Worked hard defensively, but was also often involved with his side's attacking play. Influential throughout, can be pleased with his personal performance.
Paulo Assuncao
-
5.5
- Made a few good challenges and broke up the home side's attacks on a number of occasions. But often looked out of his depth and was sacrificed for Jurado after Chelsea's second goal.
Raul Garcia
-
6
- Was not given the freedom to play his natural game, and it showed. But the Spanish U-21 showed good technical ability despite clearly being frustrated as game went away from his side.

Sergio Aguero
-
6
- Showed glimpses of undoubted talent, but was often dwarfed by Terry in what was a difficult 90 minutes. Failed to make anything of what looked good one-on-one chance midway through second half.

Diego Forlan
-
6
- Lively and threatening early on, his movement was at times a joy to behold. Failed to score from one good headed chance, and was otherwise limited to efforts from distance.
Substitutes
Jose Jurado
-
6
- Replaced Assuncao as Resino chased the game, and added a little creativity and guile.
Maxi Rodriguez
-
6.5
- Another arrival designed to improve Atletico's attacking threat. Went agonizingly close with one thrilling run.
Jose Manuel Reyes
-
6
- Former Arsenal man's appearance just another sign of Resino's desperation.