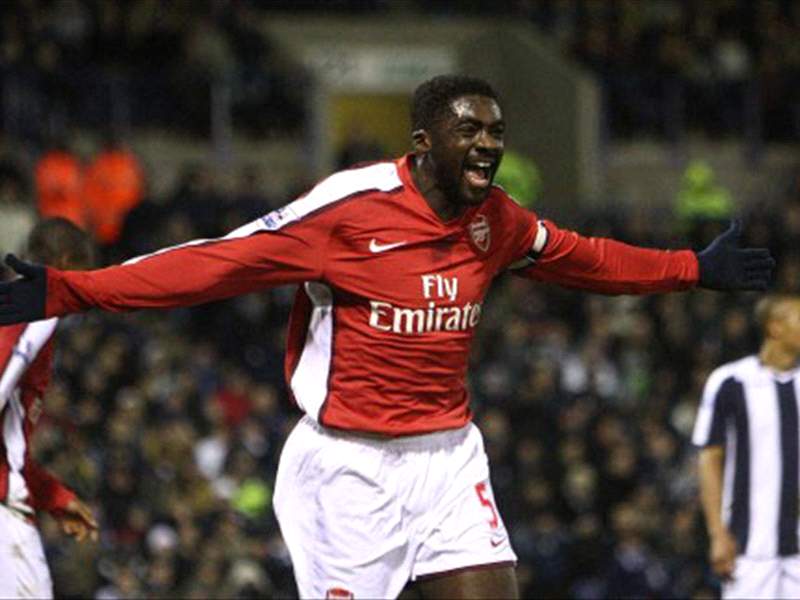 Starting Out With Arsenal
Kolo Toure started his playing career with ASCEN Mimosas before being signed by Arsène Wenger for £150,000 following a one week trial at Arsenal.
Toure took quite an usual route into English football for an African, coming straight to Arsenal's first team squad, rather than going to a feeder club. This was due to Toure having been awarded 17 international caps for the Ivory Coast prior to making the transfer.
The Ivorian made his debut against Liverpool in the FA Community Shield in 2002, and was initially utilised as a defensive midfielder, starting on nine occasions and coming off the bench 17 times in his first season with the club.
Toure quickly won over the Highbury faithful with his tenacious and battling qualities. This would lead Wenger to affectionately describe him as a "crazy dog" for his early performances on the pitch for Arsenal.
Kolo The Invicible
His first full season with the club would turn out to be the most successful, and one that would go down in Arsenal folklore. Toure was moved to the centre of defence and formed a partnership with Sol Campbell that would lead the Gunners to an undefeated Premier League campaign.
The Ivorian was integral to the success of this partnership, making 54 appearances for Arsenal in all competitions, starting 36 Premier League fixtures.
He continued his impressive form into the next season, and was sorely missed when on international duty at the African Cup of Nations in 2005. He did however help lead Arsenal to a FA Cup triumph later that season, the last major trophy Arsenal won.
The 2005/2006 season was arguably Toure's most impressive on an individual level, as he formed a lethal partnership with Phillipe Senderos that led Arsenal to a record ten consecutive clean sheets in the UEFA Champions League.
Arsenal lost to Barcelona in the final, but the defender scored the solitary goal of the two leg contest against Villareal in the semi-final.
Difficult Times For Touré
Following the Champions League final defeat both Sol Campbell and Ashley Cole left the club, with William Gallas being brought in as part of the deal that saw Cole move to Chelsea.
Initially Toure and Gallas formed a reasonable partnership, and Toure even captained the club for the first time during the legendary 6-3 victory over Liverpool at Anfield in the Carling Cup. The Ivorian's lowest point came in the Carling Cup final that year as he was sent off following a brawl with Chelsea players.
The team had problems and barely managed to beat local rivals Tottenham Hotspur into fourth position. This led to captain Thierry Henry leaving the club and caused problems in the Gunners' dressing room.
Toure was upset about being overlooked for the captaincy at the start at the 2007/2008 season, which was awarded to William Gallas. The pair later had a falling out, and it was well known that neither player liked one another.
Toure's season was also interrupted by the African Cup of Nations tournament, and he was played at right-back in the final stages of the season to cover for an injured Bacary Sagna.
Final Season
His 2008/2009 wasn't any better, as Toure was struck down with a bout of malaria during the summer following a visit to the Ivory Coast. He struggled to recover his form during the campaign and was increasingly played in different positions by Wenger, becoming a more prominent fixture on the right flank, both as a defender and a midfielder.
Becoming frustrated with the lack of first team opportunities at Arsenal, Kolo requested a transfer with Manchester City being heavily linked with the Ivorian defender. Wenger managed to persuade him to stay but his long-term future remained in doubt, especially with the club shunning contract talks with the defender.
International Career
Toure has won 70 caps with the Elephants of Ivory Coast, winning his first call-up against Rwanda at the age of 19. He was injured so couldn't play in that game, and so subsequently earned his first cap in a game with Niger in 2000.
The defender has gone on record to voice his disappointment that his national side hasn't been more successful, they finished Runners Up in 2006 to Egypt in the African Cup of Nations. Ivory Coast were also eliminated from the group stages of World Cup 2006, having been placed in a group with Holland, Argentina, and Serbia.
Joining The Blue Revolution
Toure was transferred to Manchester City at the end of the campaign for a £16m fee, after making 326 appearances for Arsenal over a period of seven seasons. He signed a four-year contract worth £120k a week.
Mark Hughes will hope he will add some much needed Premier League experience at the back for his side, after missing out on Chelsea's John Terry. The ex-Gunner will be expected to mentor young England defender Nedum Onuoha, who also signed a long-term contract this week.
Despite his wealth of Premier League experience, this could be something of a gamble from Hughes. Toure struggled to get over his bout of malaria last season and it remains to be seen whether the Ivorian can rediscover the burst of energy that made him such a valuable asset for the Gunners.
Particulars
Name: Kolo Habib Toure
Born: March 19 1981 (Sokuora Bouake, Ivory Coast)
Club History: ASEC Mimosas (2000-2002), Arsenal (2002-2009), Manchester City (2009-)
Senior Club Honours:
FA Cup (2) 2003, 2005
Premier League (1) 2004
FA Community Shield (2) 2002, 2004
Runner-up:
UEFA Champions League (1) 2006
African Cup of Nations (1) 2006
FA Premier League (2) 2003, 2005
League Cup (1) 2007
FA Community Shield (2) 2003, 2005
Did you know? Toure is a devout Muslim, devotedly practising the religion from the age of 13. His childhood football hero was Marcel Desailly, and Toure played alongside Didier Zokora, Solomon Kalou, Emmanuel Eboue, and his brother Yaya Touré at ASEC Mimosas as a youth.
Owen Watson, Goal.com
More Kolo Touré Content:
OFFICIAL: Kolo Toure Joins Manchester City

Mark Hughes Welcomes Kolo Toure To Manchester City