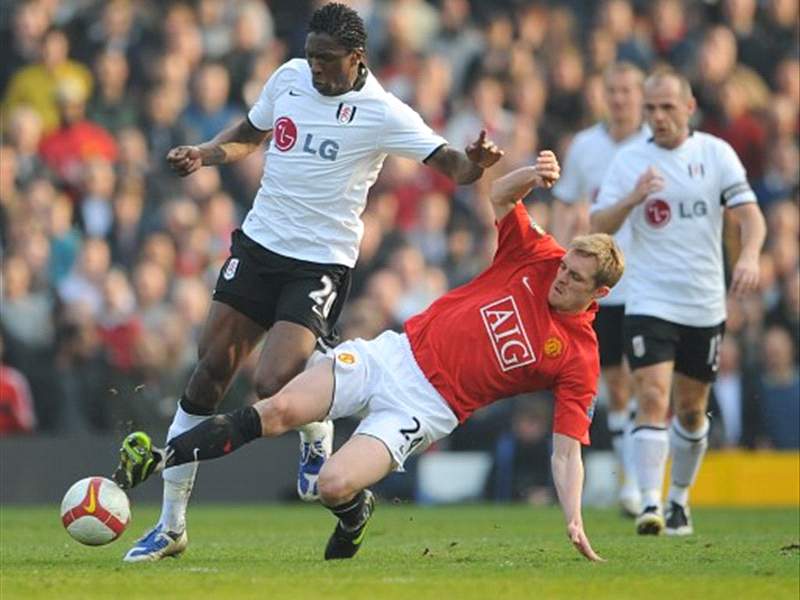 Fulham
's
2-0
win over
Manchester United
at Craven Cottage has not only affected the Red Devils' title race; it's also boosted spirits in west London considerably.
Dickson Etuhu
, the Cottagers midfielder, spoke exclusively to
Goal.com's Salvatore Landolina
after the match.
"It was a great result," he beamed.
"We played really well today and we worked hard as a team, together. We got the result, and we are very, very happy.
"Now we have to enjoy the moment: things like this don't happen every day."
However, the Nigerian is in fact hoping for a repeat performance sooner rather than later.
"Now we have to look forward to it happening against Liverpool in two weeks," he continued.
"I don't know if we'll manage the same result against Liverpool as they're a top team, but we'll do our best."
Red Card Drama
Fulham finished the game not just two goals to the good, but two men, too. Paul Scholes and Wayne Rooney received their marching orders for United.
Etuhu said of the incidents, "These are top, top players. They are under pressure all the time as they have to perform every game, you know.
"At the end of the day you can't expect them to be at their best all the time. We were there to frustrate them and we soaked up the pressure.
"They played attack, attack, attack, especially in the second half. We were under the cosh, but we weathered the storm and got going again. After that we got the second goal."
Looking ahead, he concluded, "Who knows where we will finish? We have to look above us now rather than down below us. We have to see where we can go.
"If we get into Europe then good; if it doesn't happen then it doesn't happen, as long as we play well and give our best. It's about continuing like we are and getting the results."
Salvatore Landolina & Ewan Macdonald, Goal.com