EXCLUSIVE
By Naim Beneddra - Translated by Rami Ayari
Former JS Kabylie forward Djamel Menad recently revealed that he and at least five of his team-mates from Algeria's 1982 World Cup team believe they may have been given drugs by team doctors in the lead-up to, and possibly during, the tournament in Spain.
In an interview with Nessma TV, Menad made the shocking revelation that he and no less than five of his colleagues have had children born with various disabilities that they believe were caused by pills that they were instructed to ingest by team doctors.
Goal.com recently spoke with Djamel Menad regarding the Algerian doping scandal that has come to light, in order to get some background on the issue. Below is the interview in full:
Goal.com: Djamel Menad, can you clarify the affair that broke out in Algeria of which you are a major protagonist?
Djamel Menad: To begin, I want to say that all of this didn't start today. It goes back two years when some of my former national team-mates and I got together for a coaching camp. Kaci Said and Chaib were there. We spoke for a long time about old national team matches and during the discussion we spoke about our handicapped children.
That's when Kacid Said had the idea of bringing up the issue. He wanted to raise awareness, reveal what happened, and to know the reasons why most of our children are born with a disability. He spoke about the medicines or tonics that they gave us at the time. I don't think we can call it a coincidence that all the ex-internationals from the eighties who took them now have handicapped kids. We've identified many of them.
Goal.com: And how many are there exactly?
Menad: Just for football, there were seven or eight. That's without counting other athletes, handball players from the eighties.
Goal.com: Why didn't you speak about all of this sooner?
Menad: You know, when people are handicapped and young, you don't realise how difficult it will be to take care of them. It gets more and more difficult with time. When the children grow up, the handicap grows also and so does the management of the condition.
It becomes very complicated. For some it is very difficult to take. For those with the means, there isn't a big problem, but for those who don't, it is. You know, schools that specialise in this type of disability, there isn't an abundance of them in our country. So with this, we're not just trying to figure out the truth, but also to make culpable parties take responsibility.
Goal.com: What do your children suffer from precisely?
Menad: My daughter suffers from … I wouldn't say that it's a malformation but she's missing something. She's physically and mentally disabled. She doesn't speak, she's not autonomous, she's not clean. At her age (18), she doesn't know how to do her business alone, to clean herself, or even to eat. Plus she doesn't walk freely. If you make her stand up, she doesn't know how to orient herself and walk straight because she doesn't have balance. In her brain, she's missing something called the corpus callosum. For others, it's the same or worse.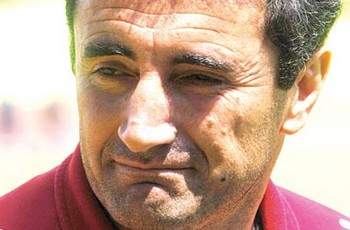 Goal.com: Back then, why didn't you refuse to consume products that you didn't know the exact nature of?
Menad: At the time the only thing I focused on was being a professional footballer. I was very busy because I don't just have one girl, I have three. Thankfully the other two are 'normal.' I was very involved with my family and had no thoughts about the rest. Now that my suffering child has grown older, I told myself that I have to help these people. We need to support them, to go forward and figure out the truth. This way future internationals won't fall in the same trap and won't be the victims of such acts.
Goal.com: These act that you refer to, were they practised only under the orders of the Russian coach Guennadi Rogov?
Menad: No, it's wasn't just him. You know, at the time, Algeria opened up to Europe and there was support on all levels. On medical, technical, and sporting levels. Each club restructured and organised themselves. There were many teams that called upon coaches from Eastern Europe. There were Russians, Czechs, all these people didn't just contribute on a sporting level. In parallel, there were medical monitors who gave us tonics, vitamins, and stuff.
But we didn't know what exact ingredients were in these things. What did they consist of exactly? We didn't know. We were told they were vitamins, nutrients with a magnesium base, iron. We were not in a position to know the origin of these drugs. We are not doctors, biologists, and nutritionists.
Goal.com: And do you think that the pills that you took had products in them that helped your on-field performances?
Menad: No, that would surprise me. There are quite a few people who oppose us or contradict our statements. I tell these people that they're not well placed to speak on the issue since they can't feel they way we do about our handicapped children. They're not well placed to say anything. There are a good number of people, old colleagues, coaches, and players who contradict us.
Their statements are sickening. I tip my hat to Mr Mekhloufi (former coach), to Mustapha Dahleb and all those people who believe in this thing. There are professors and foreign doctors who made this connection and aren't surprised by it. Back then, there were many eastern doctors and coaches from the USSR.
If you take into account the number of disabled children of former athletes from these countries then you will be amazed. As recently as Sunday, on a local television show, there were friends of ours who said the opposite of what we think, but I repeat that they are badly placed. They don't feel the suffering of our children. And it's not a mere coincidence, I'm sure of it.
Goal.com: What do you expect to come out of this and how far are you prepared to go?
Menad: I'm prepared to go as far as it takes to know the truth. We want an investigation opened so that we can know the real reasons why we've had handicapped children. We want them to explain to us what we took.