The Local Organising Committee (Cocan) of the 2012 African Cup of Nations unveiled the official mascot of the tournament on Friday in Libreville, Gabon at a grand ceremony graced by Presidents Ali Bongo and Teodoro Obiang Nguema of Gabon and Equatorial Guinea respectively.
Christened "GAGUIE", meaning Gabon and Equatorial Guinea, the mascot is symbolised by a gorilla with grey fur sporting a jersey in the colours - green, white and blue - representing the national colours of the co-hosts, Gabon and Equatorial Guinea.
The Cocan president Jules Marius Ogouembadja said the choice of a gorilla is not intended to offend or upset anyone, but represents recent history and efforts of both Central African countries.
"The gorilla Gaguie symbolises efforts made by Gabon and Equatorial Guinea over of years in preserving our cultural and environmental heritage," Ogouembadja said.
"Gabon opted in 2002 to classify almost 11% of its territory into a national park. These protected areas are prime habitat for gorillas, thanks to protection efforts made by the authorities of the two countries in the Congo Basin," he said.
A great number of gorillas in the region live in these state-protected tropical rain forests, guaranteeing ecosystems that provide water, food and medicines, according a report from Gabon's wildlife board.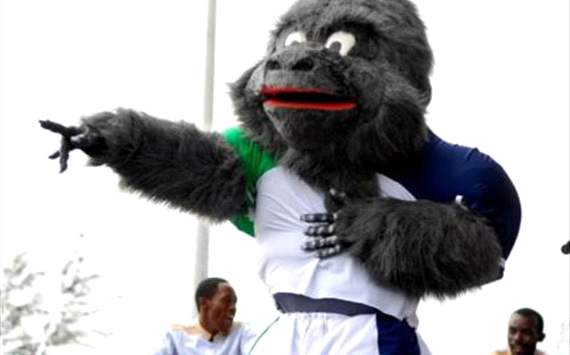 Costumed character mascot of the 2012 Afcon
Caf honorary vice president, Gen. Seyi Memene expressed satisfaction with the launching of the mascot, describing it as a curtain raiser for the showpiece.
"We can say that the 2012 Orange African Cup of Nations is no longer a dream but a reality. We are proud and we congratulate the two heads of state for their participation in the event," Memene said.
Also in attendance were Gabonese football icons - Daniel Cousin, Roger Guy Nzamba, Pierre Aubameyang and Alban Bougandze.
The final tournament will be held from 21 January to 12 February, 2012, with the qualifying campaign ending early next month.