Goal.com
's K.N.S Mensah caught up with Liberia FA vice president Musa Shannon in transit in west African nation Ghana and quizzed him about the state of Liberian football and their chances of qualifying for the 2012 African Nations Cup in Gabon and Equatorial Guinea.
Goal.com:
What are the priorities of the Liberia FA?
Musa Shannon:
Everything is a priority right now with Liberian football. We're a little bit behind and we need to catch up with the speed of world football. We need to build capacity at all levels of football in Liberia. It has not been an easy task but we have been able to accomplish a few things.
Goal.com:
What are some of the problems facing Liberian football?
Musa:
One of our major challenges is generating revenue and also being able to put whatever we generate into a project. We've gotten a lot of support from FIFA and we're trying to use that to build infrastructure and capacity. We are trying to professionalise an organisation that has not been professional for many years. Professional people cost money and we have to find ways to raise money to pay the people with ideas to build sustainable structure to move us into the modern way of football. It has not been easy but once we have that put in place then we can have a strong national and youth team programmes and clubs.
Goal.com:
What is your take - local or foreign coaches for African teams?
Musa:
Currently, we have a generational change that is taking place in Liberia. What we have is the first generation of players that are retiring from the game and returning to find their way into the coaching system. I believe local coaches need to be upgraded in terms of building capacity. But we are moving in the right direction and hopefully we'll be able to attract people into the national team programme. The core is the clubs where players come from so if we can get young coaches who are exposed to European football at the higher level they can really impact their experience at club level before they come to the national teams.
Goal.com:
How are you trying to make the local league attractive?
Musa:
It's essential to our strategy of professionalisation and commercialisation. We have been able to secure sponsorship from a local cell phone company with half a million dollars for over three years. We want to pump the money into the clubs and the league to make it more attractive. We're also looking at TV and radio deals to enhance the product as well as reducing the number of teams in the Premier League [six to be relegated this season]. Also, one of the president's mandates is to give the hardcore football fans free gate access this season just to attract more people to the league centres. That won't last forever.
Goal.com:
Liberian laws frown on those with dual citizenship from holding public office and how does this affect some of your players holding passports of other countries?
Musa:
It's an unresolved issue in Liberia but the law is the law. However, football sometimes turns out to be an exception to the rule when it comes to dual citizenship. It's a topic that one needs to be careful about. But if we say we're going to go strictly by the law then we're going to lose a lot of talents to other countries.
Goal.com:
What are your chances of qualifying for the 2012 Nations Cup?
Musa:
Well, we're under construction. We need to be competitive. On paper we have an outside chance of qualifying but I am looking at the long term. We are building something and it will take some time. We are going through generational changes at the coaching and playing levels. We have a new coach and new attitude towards football in Liberia in the national team. It's not going to be easy and there are no short cuts in football. For so many years in Liberian football we have been taking short cuts but now is the time to build something from scratch. It takes time and money and sometimes painful days but in the end if we do it the right way we can succeed. We have talents but just have to put the structures back.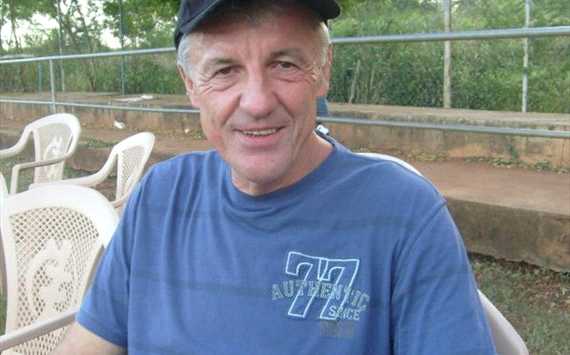 Up for Up for the task ahead| Coach Bertalan Bicskei
Goal.com:
Coach Bertalan Bicskei's main task is qualifying Liberia to 2012 AFCON. What happens if he's unable to achieve that?
Musa:
Well let's not be so pessimistic about this. He is involved with the youth programmes and has his hands in all levels of football in Liberia and I think we all understand it is not going to be an easy task. As long as Bicskei is motivated and feels he can make a difference in Liberian football I'm sure we'll be able to work with him. But in football these things may change fast for several reasons, however, we are giving him all the support to build a competitive national team.
Goal.com:
What's the relationship between the LFA and George Weah?
Musa:
It's harmonious. He's our ambassador. He can come and visit us anytime he wants and he gives us advice from time to time.
Goal.com:
What is your message to Liberia fans?
Musa:
These are the tough days but we'll survive to put Liberia where it belongs on the map of world football. We have a cream of young players coming up and the future is definitely bright. Sooner or later all of our fans across the world will be singing the name of the Lone Star at international tournaments. We can't give up in football.