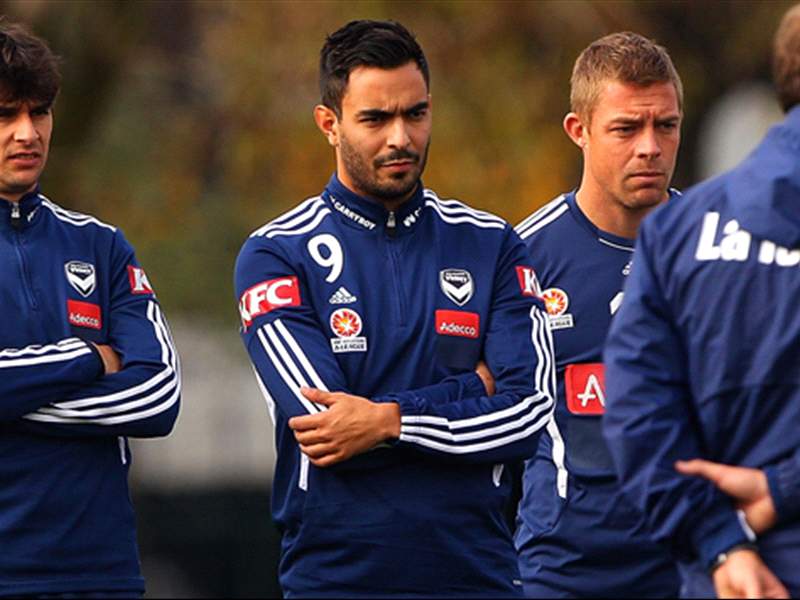 Melbourne Victory coach Ange Postecoglou has hailed star signing Marcos Flores as a key part of his plan to transform the team's fortunes.
Flores, 26, signed a two-year deal with Victory on July 4 following an unhappy season at Henan Jianye.
Before his short-lived stay in the Chinese Super League, Flores lit up the A-League at Adelaide United, winning the Johnny Warren medal as the competition's player of the season in 2010-11.
With championship-winning playmaker Carlos Hernandez and last year's marquee signing Harry Kewell both leaving Victory in the off-season, Postecoglou believes Argentine Flores will prove crucial in his attempts to build a winning team.
"He's a damn good player and most coaches would be able to fit someone like Marcos in their system," Postecoglou said.
"From our point of view, as well as being successful, we want to play an entertaining and attacking type of football and I think you need to have that special capability of opening up games and creating opportunities either for themselves or for his team-mates.
"There's no secret, we want to play a fairly aggressive, attacking style of football and with Marcos in the team that gives us some extra ammunition in that area."
"His personality - he's obviously very confident in his own ability. We've got a really young squad this year and I believe he'll have an impact on and off the field, with the kind of person he is. From our point of view we're really happy to have him at the club."
According to Postecoglou, Flores had been at the top of his wish list after he joined Victory from Brisbane Roar in April.
The departure of both Kewell and Hernandez left the club with a major void to fill in the attacking third, and Postecoglou said he felt "blessed" by the timely availability of attacking midfielder Flores.
"It's funny how things work out," he said.
"He's one of the first I tried to bring in but at the time he hadn't really got himself out of the situation in China and it was looking like it might have been difficult to do that.
"But the way things transpired with Harry Kewell not renewing with us obviously there was a vacancy there and it was perfect, because Marcos had decided he wanted to come back and it kind of all fell into place.
"I guess I'm a little bit blessed in that way, that things turned out the way they did. Certainly if you'd asked me what my initial targets were I'd have said Marcos Flores and Mark Milligan were at the top of the list.
"But both were unlikely when I first started and yet they were our last two signings which is fantastic for us."
As for the player himself, Flores knows pulling on a navy blue and white shirt next season is sure to damage his standing with some of the Adelaide United faithful who came to idolise him.
But the former Newell's Old Boys player, who began his career with Union de Santa Fe, wants to concentrate on the positives of his stay at Hindmarsh Stadium.
"The memories I have from Adelaide, from the supporters, is the best thing," he said.
"I cannot say anything to them. But I am now in a new experience with a new club, I'm looking forward.
"A lot of people will [comment] and have their opinions, and I respect their opinion. The only thing I want now is to respect my team-mates (and) respect my club, who made all this possible.
"I'm not looking back, I don't regret [anything] in life.
"When I put the shirt on, I'm a professional player and I have to give my heart and [everything] I have to the club who trust me. I hope to give back what the fans expect of me.
"Of course, in Adelaide I [had] a good experience. Some people will still love me, and other people will hate me, but this is life."