EXCLUSIVE
By Vince Rugari
Tim Cahill says Australia team-mate Brett Holman's move to the English Premier League next season with Aston Villa will be the "biggest test of his career."
Holman secured his dream move to the English top flight in March, agreeing a move to Villa on a free transfer from Dutch side AZ Alkmaar when his contract expires at the end of the 2011-12 campaign.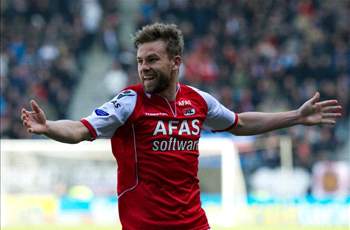 But whether or not he actually ends up where he intended will hinge on if the West Midlands club can correct their woeful record of late.
Villa are hovering just three points above the drop zone and have won just once in their last 14 outings - no doubt a bit too close for comfort for Holman [pictured right], who is counting on his future club staying up.
If they can, the energetic forward will still need to take his game up another few notches to impress in the most watched competition on the planet, according to Premier League veteran Cahill.
"It's a great move for Brett, although it's a bit worrying now the way Aston Villa is performing and not picking up any points," Cahill told Goal.com.
"It's going to be a nervy last two or three games for Brett Holman but he's a great player.
"The Premier League is very hard, very physical and he's got the right attributes to come in. I just think that he's going to have his bedding in period and get used to the style of football.
"He trains and plays hard and now is going to be the biggest test of his career, because this is the best league in the world and he will need to step up."
Cahill, the star of two World Cups for Australia, knows all about what it takes to make it in the cut-and-thrust world of professional football.



"He trains and plays hard and now is going to be the biggest test of his career, because this is the best league in the world and he will need to step up."





- Cahill on Holman

The Everton utility and Socceroos fan favourite will be passing on his knowledge and advice to young Australian players later this month at coaching clinics on the Gold Coast and the Central Coast.
Cahill will be joined by Everton academy coach Robbie Anderson at Bluetongue Stadium from May 18-20 and at the Royal Pines Resort from May 25-27, kicking off a hectic few weeks of travel.
After finishing up with the Toffees, the 32-year-old will come home to run his clinics and then go back across the globe for Australia's ties with Denmark and Oman in early June.
He will then return to Australia once again to face Japan at Suncorp Stadium.
"It's in the middle of my holidays but this is what we do and I enjoy it," he said.
"It's been a while since I've been back in Australia and putting some time in to make sure I'm keeping the kids inspired to play football is important to me.
"That's the sort of thing that makes me tick, I've got children as well and I understand how emotionally sensitive you have to be to keep them stimulated."
Cahill said he was excited to bring Anderson, who helped the likes of Wayne Rooney and Jack Rodwell develop through Everton's academy program, down to Australia.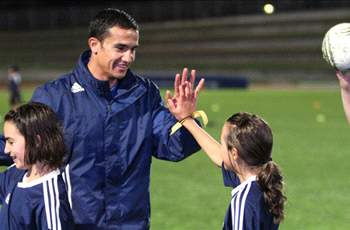 "He's coached some of the best kids out of England and I'd like to help the Australian coaches grow the young kids of our country," he said.
"The biggest thing for me is grassroots football, making sure we've got girls and boys being active and at the same time I can give back my experiences from my career to them.
"This is my way because this is what I've learned. I just want to push something out there that I believe is right, not because someone told me.
"If you work with kids young enough and teach them the fundamental skills, it makes a massive difference."
For more information on the Tim Cahill Coaching Clinics, or to book your place, please visit www.timcahill.com.