Football Federation Australia (FFA) today submitted Australia's bid to host the 2015 Asian Cup.
FFA Chairman Frank Lowy, CEO Ben Buckley and Head of the bid Rob Abernethy handed over the bid book to AFC President Mohamed Bin Hammam at 9am at AFC House in Kuala Lumpur.
"We at the FFA are dedicated, honoured and privileged to make Asian Cup bigger, better and more successful than the previous editions," Lowy said.
"It's my honour to present the Bid book and I can tell you that Australia is excited to host this event at all levels, sporting, government and the general public."
Bin Hammam said he appreciated the personal interest taken by Lowy in showcasing Australia's bid for the 16th installment of the tournament.
"The three-day FIFA inspection visit to Australia ended only last night," said Bin Hammam. "And the presence of Chairman Lowy and Mr Buckley, both of who were heavily involved with the inspections, here today proves the enthusiasm and commitment of FFA for the 2015 bid.
"It has been a win-win situation for the AFC and FFA since Australia joined the AFC in 2006. Now we are all reaping the benefits of this association."
Australia's bid to host the AFC Asian Cup 2015 has the full support of the Federal Government as well as the support of the governments of Queensland, New South Wales, Australian Capital Territory and Victoria.
Mr Lowy said the Asian Cup was the biggest sporting event in Asia and would be a fantastic opportunity to showpiece Australia to Asia and the rest of the world.
"FFA has undergone an exhaustive and highly detailed planning process, the results of which is included in a comprehensive Bid Book document containing some 350 pages of information about how Asia's largest sporting event would be conducted across Australia," Lowy said.
"Australia has a long history of hosting fantastic sporting events and the benefits for Australia to host an event of this kind will not only leave a strong legacy for football in Australia, but also cement Australia's place in the Asian economic community."
The Asian Cup was quickly becoming a huge television spectacle.
"More than 655 million viewers tuned in to the 2007 Asian Cup and 748 million viewed the 2004 edition in China," Lowy said.
"We expect a massive increase in the number of viewers for the 2011 AFC Asian Cup especially considering China and India are both in the tournament at the same time for the first time in its history."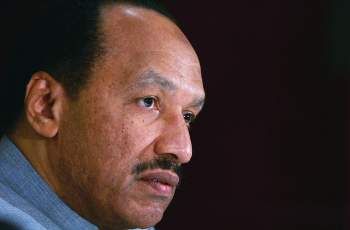 Bin Hammam | Has hailed Australia's "enthusiasm"
Australians are expected to embrace the tournament that will be held in January, 2015.
More than 27 per cent of Australia's overseas-born population is from Asia and 24 per cent of Australia's longstanding (arrived before 2002) migrants are Asian-born.

FACTS:
* Australia is the sole bidder for 2015 Asian Cup with FFA adhering to a formal Bidding process designed by AFC
* Some 655 million viewers tuned in to the 2007 Asian Cup (held in Malaysia, Vietnam, Thailand and Indonesia) with 748 million viewing the 2004 edition (held in China)
* There was a 434 per cent growth in broadcast coverage hours between 2004 (902 hours) and 2007 (3916 hours)
* Domestically, 2.5 million viewers tuned into Fox Sports over the 160 hours of the AFC Asian Cup 2007 telecast
* The Australia v Japan quarter-final broke Pay Television records with an average audience of 419,000 throughout the match
* FFA has undertaken extensive government liaison coordinated through the World Cup Bid Government Taskforce (established for both the 2022 FIFA World Cup and AFC Asian Cup 2015 Bids)
* 32 matches (24 group stage / 8 knockout) will be played across four (4) States and Territories (QLD, NSW, VIC, ACT) during the 23 day long tournament, currently scheduled for January 2015
* A number of ancillary events will also be conducted in Australia including the Preliminary Draw, Final Draw, Opening and Closing Ceremonies and Team Workshops
* The eight (8) Stadiums proposed in the Bid Book include Suncorp Stadium, Skilled Park, ANZ Stadium, Sydney Football Stadium, Parramatta Stadium, Canberra Stadium, Etihad Stadium and AAMI Park
* AFC requires a minimum of four (4) and a maximum of five (5) Stadiums and in conjunction with FFA will undertake a Stadium selection process following the announcement of the Host Country
* AFC will ratify the timing of the Host Country decision and announcement at their 30 July Executive Committee Meeting held at AFC House, Kuala Lumpur though it is anticipated to be made during the AFC Asian Cup 2011 tournament to be held in Qatar 7 - 29 January 2011.