Three major titles in five seasons would satisfy even some of the world's biggest clubs, particularly when two of those were secured against fierce rivals and in the most dramatic of circumstances. Indeed, when Byun Sung-Hwan's penalty hit the back of the net in this past season's A-League Grand Final it confirmed that Sydney FC currently represented the dominant outfit in its rivalry with the Melbourne Victory.
For most analysts and fans, Czech tactician Vitezslav Lavicka is the architect of the Sky Blues' return as a major force on the Australian – and potentially Asian – football landscape after three abject interceding seasons during which stability has been conspicuously absent. Lavicka has proven himself to be a far more astute coach than arguably all of his predecessors; he has handled the media spotlight superbly using his humility and soft-spoken manner.
The appointment of the former Sparta Prague boss was made within the context of a restructuring of a club that was isolated from fans and failed to capitalize meaningfully on its inaugural A-League title victory four years ago. For a city with a population of 4.5 million people an inability to consistently fill out the Sydney Football Stadium – capacity 45,500 – has been particularly disappointing.
Relatively low crowds aren't the only concern for the club either but filling the SFS is one of the main tasks with which Edwin Lugt, appointed as new CEO of Sydney FC eight months ago, has been assigned during his reign. It runs parallel to the need to address the fact that the club is running at a loss and to build a football philosophy that has not been allowed to develop during the managerial merry-go-round suffered since inception.
Lugt's background in football began around eight-and-a-half years ago when he was appointed the CEO of the Dutch second-tier, the Jupiler League. Having previously launched a magazine called
Sportweek
in the Netherlands before selling it to major publisher
Sanoma
, it was new territory for a life-long fan of football who described the chance to enter the industry as "golden".
During his six-year tenure he reshaped the image and format of the league and Dutch football below the top tier. The most striking of his changes was creating a relegation/promotion system from the second tier down into the Dutch amateur leagues: unsurprisingly this was the most hard fought of his reforms, set to be implemented only now after years of negotiations with board members and clubs.
The increased competitiveness of ditching the previously closed system allowed for Lugt to then use his business background to attract sponsorship, though that in itself was a difficult task given a number of clubs were virtually bankrupt when he was appointed. Eventually though he succeeded, also bringing in a committed broadcaster; when Lugt arrived the highlights program drew an audience of 250,000 whereas at the time of his departure it commanded 700,000 viewers. The league meanwhile had also managed to attract major sponsors like Vodafone, European insurance giants Generali and Jupiler, a brand of the largest beer brewer in the world, Anheuser-Busch InBev.
A graduate of top Dutch university Nyenrode, at 29 he was a Board member of a publicly-traded US company before his life-long passion for football called.
One must ask how Lugt, with such a background and so many options seemingly available to him, managed to fall into Sydney's lap?
After working with a Dutch business innovation company called
Hypercube
that specializes in econometrics and football – specifically they optimize league and tournament structures from a commercial and sporting point of view, responsible for the change in the number of teams competing in the European Championships from 16 to 24 and also for the UEFA co-efficient system at club level – his insatiable appetite for traveling brought him to Australia with his family.
Sydney FC swooped for the former president of Dutch amateur club SV Epe, the club that delivered Marc Overmars, who has recently returned to his hometown to play for their first squad and who was Lugt's technical advisor for two years.
Working at the direction of majority shareholders David Traktovenko and Paul Ramsay, he has, in close cooperation with Vice-Chairman Scott Barlow (son-in-law of Traktovenko), set about making a tangible framework for the objectives of the club and translating them into a strategic plan, to which the expansion of the Sydney fan base is key.
Goal.com
takes a look at the areas in which Lugt and Barlow will look to take the club forward...

Expanding Fan Base, Strengthening The Core
"That requires a different approach where we are moving away from general marketing, trying to convince 4.5 million Sydneysiders to come," Lugt tells
Goal.com
.
"This is for me a basic principle of marketing: finding out where your primary target group is and trying to convince those people first.
"Is that 4.5 million Sydneysiders, 70% of whom prefer to sit on the beach? Or is it a person who probably plays football and we've got - according to the data of football NSW - in the greater Sydney area 220,000 registered football players of which about 100,000 are 12 years old and under. Kids – they are the future.
"If you look at the other codes but also football in Europe, it's from generation-to-generation. I find it incredible that we've got so much loyalty already to the club but we have to build that over time and reward it.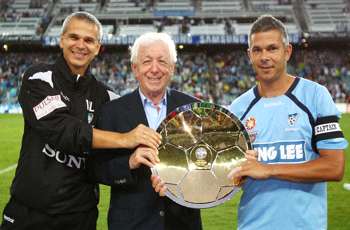 Connection | Corica's youth team will tie to Lavicka
"So we have this group of adults and we're trying to expand that group by focusing on that prime target group: resident football players.
"For a lot of new Australians such as myself, football is the number one sport. So we're also going after the English, Italians and Dutch who live here.
"You've got all kinds of ex-pat organizations and these guys have databases and communication channels. They contain a lot of potential fans.
"But not only as a fan but also from a business point of view: sponsoring. There's quite a few influential Europeans and Asians in interesting business positions in Sydney. Why don't you appeal to their love for the game?"
The absence of an identified target market before Lugt arrived is one of the reasons which can be attributed to the club's struggle to fill out the SFS and to that end a new position within the structure of the club has been created: General Manager, Fan Relationships. Dutchman Sipko Adriaansen has been appointed in the role, boasting a CV which includes taking up a similar position recently with Dutch giants Feyenoord, where he built a kids club with 32,000 (paying) members (later he was also Head of Marketing at FC Utrecht).
"He builds a database with potential new fans, developing strategies, activities to communicate with those fans one-on-one in a targeted way so that we know who the fans are, expanding and enriching the profile so that we know what they want, and targeting activities and communication towards them," Lugt says.
"Last year there were 45-50,000 unique visitors to the SFS and we only knew a limited percentage of them; most only come 1,2,3 times a year.
"You have members, regular fans and incidental fans. The question is: how can we develop them and get them higher on the value chain?
"In order to do that you've got to stimulate them but first you've got to know who they are by inviting them to register, via in-stadium activities or stimulating them to pre-purchase, because if they do that online you know who they are and can start communicating with them."
As well as this, the club are launching free memberships for junior players 12 years and under, recognizing the value of amateur football. Combined with the profiling of fans and the creation of a target fan-base, it represents "new territory" for the club according to Lugt.
"You see for example that a club like the Melbourne Victory sets the benchmark for average attendances; they were way ahead of us [in fan relations]. They were very professional.
"There is a logic behind it: they've got a huge database compared to us and they've been able to build that profile of their fans. That's the way to go."

Finances
"There's money going into Sydney and not coming out and the bottom line is that it's not positive. I consider it to be a significant figure, too high, and that's what the shareholders say as well. My task is to review the negative bottom line.
"It's a mix of cutting costs and increasing your sales and of course, nothing is easier than predicting you are going to increase your sales by %X and I've seen many businesses go bust from that assumption.
"That's the good news about having won the double; we do feel that there are a lot of positive vibes around the club on a corporate level. In the operation there were some changes, in terms of staff and now we have the right people in the right places to take advantage of that."
"If you're in football to make a profit, you shouldn't be. I'm convinced that none of the investors in football clubs in this country are in it for the capital gains.
"Losses - I consider them investments. You only need to develop one or two great talents and sell them and you may have a return.
"There's quite a few owners who actually admit it helps them with their regular business. There is a network they can build nationally and internationally with their football club. They get in contact with people who could support them in securing business deals for their business.
"I know of one owner in the Hyundai A-League who said it about his business, who openly admitted that he may have invested $1.5 million per year in his club but because of his network he secured a business deal that gave him a multiple return on that.


Developing A Football Philosophy
"We've been working on also during the last eight months developing a football philosophy strategy which is consistent with what the club Sydney FC should stand for.
"For Scott Barlow and me it has been an essential question: what should Sydney FC stand for? The board had already defined that and it was very broad, it wasn't translated yet: they defined it as a 'premium brand'.
"What does that say something about your approach to fans? The profile of fans? The way you want to play your football? We started to answer those questions.
"You want to be from a sporting perspective the predominant club in Australia and a predominant club in Asia. How are you going to achieve that? Sydney FC should be consistent with the brand image of Sydney – what does Sydney stand for? If you ask people from this country or outside this country, for us it's things like 'open, attractive, stylish'.
"We want to develop a football brand that reflects that and it means we are not going to play catenaccio. We want to have flair, we want to be attacking, dominant and if that's your long-term philosophy you're going to select a coach who fits that picture. Fortunately enough that coach actually is already with us.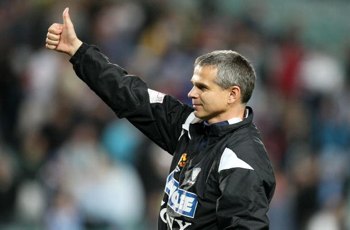 The Right Man | Lavicka has brought success
"In our view it's extremely important that the direction of the club in a sporting perspective doesn't change with a changing coach. You seek a coach which fits that profile and it means if you do that, the risk that you contract players for a period beyond the coach, you're stuck with a player who may not be able to play in another system.
"It's crucial to define a long-term philosophy, particularly with the constraints of the salary cap and marquee positions. It defines the way your head coach is going to operate but also his assistant, going down to the youth league team and the academy and you want that consistency throughout the club.
"We had the A-League team with Vitezslav Lavicka, Tony Popovic and Michal Zach on the one hand and the youth league team on the other. There was insufficient connection between the two. Now we've decided to change, so we've got the youth league team under the A-League team.
"With Steve Corica running the youth league team, he is going to be mentored by the head coach and his assistants. Even if Vitezslav eventually would leave we've created a structure that should enable us to fill that position with a coach with similar qualities and philosophy. The coach should fit the structure, the structure should not fit the coach."

Player Development
"The advantage of doing this is that once we get to the stage where we're really going to develop our talent from the u10s up, we're going to make sure that these kids are learning that same philosophy, playing style and culture as our A-League squad.
"I do have the experience having worked in the country that has a similarity in that respect to Australia: you will always be a feeder country in terms of players.
"If you look at the J-League the average revenues of the J-League club are about $56-58 million and they don't have a salary cap and they spent 70% of that on players. The salary cap here is not even $3 million so you can't compete from a commercial point of view. So if you don't have the money, you have to be smarter.
"We've got to make sure two to three players will be coming through the system every year, play for two or three years in our A-League squad before travelling overseas. That is, if they are good enough.
"It's not about buying the best players around: there's only one way going forward and that's developing your own talents. Yes, there will be the occasional player runs out his contract and goes for free.
"But with the maximum sizes of squads and the salary cap those limit you from entering into long-term contracts. We'd love to go into four or five year contracts with certain players but there's a lack of flexibility which prevents us from doing that now."

Become a fan of Goal.com International on Facebook! Just click onto Facebook.com/Goal to join the beautiful game's leading fan community...