There was a time where Dean Bouzanis polarized opinion in his native country, with his decision to represent Greece at the U-19 European Championships providing unsavoury flashbacks to an era that saw trio of talented Australian-born footballers elect to play for their ancestral Croatia rather than the nation of their birth.
It is almost cliché to attach the nationality issue to Bouzanis' name; the young goalkeeper is much more than a vehicle for the exploration of an issue that will arguably become far less prevalent as Australia's international pedigree continues to grow over the coming years. According to Socceroo goalkeeping coach Tony Franken, the hype surrounding the 19-year old as one of the nation's finest ever talents between the posts is justified.
"He was signed at 16 years of age from Liverpool and one of the comments at the time coming from Liverpool was that he was the best they've seen for his age," Franken tells
Goal.com.
Three years later and a barely a month out from the World Cup in South Africa, the obvious question is whether he has developed enough during that period to be taken along as part of the train-on squad for the tournament.
"He's got an outside chance and we'll obviously be discussing that with the coaching staff in the lead-up to the 9th of May [when the squad is selected]. We've obviously got two or three goalkeepers in Australia [in contention]."
That Bouzanis is now spoken about by Franken in the same breath as Mark Schwarzer is a testament to the meteoric rise he has enjoyed since moving to Europe. This after all was the same goalkeeper who narrowly missed out on intake into the Australian Institute of Sport – responsible for the production of national team stars Marco Bresciano and Vince Grella – and was identified by Franken at the U15 Nationals in NSW, though considered by him not to be as developed as the likes Andrew Redmayne at the time (Redmayne currently resides as a substitute in the A-League). By contrast, Bouzanis has now trained with Steven Gerrard and Fernando Torres.
"Obviously when I first came over I was excited to see these types of players; it was an amazing feeling to actually see and play with them," Bouzanis says of his arrival at Liverpool.
"But over time you get to see that they're normal people and that they're normal teammates, as if you were playing back home or anywhere in the world.
"When I first signed Stevie [Gerrard] came up to me and introduced himself which makes you feel right at home and he does that with all the young players. To have the club captain - who you've never spoken to in your life - come up to you, is something that's good for you."
Describing his first meeting with the iconic Scouser as an "experience I'll never forget" Bouzanis explains that the presence of world class players on the training ground serves as inspiration for his own game; it almost seems natural that the teenager would want to show the best of himself when surrounded by such individuals.
Yet being exposed to the working class identity of the fans, the club and the city in which he resides appears to have proved crucial in Bouzanis' maturing not only on the pitch but off it as well.
"When you're back home in Australia you see these guys as something different, from a different perspective but they are no different to you and I.
"They are normal people with a talent... A lot of players are down to earth."
Learning Curve | Bouzanis is learning in League Two
Humility it appears has been drummed into the talented shot-stopper, who will be forced over the next few years to prove himself to what will likely be a changing coaching staff as he looks to fight his way into the Liverpool first team. It is a goal that is obviously some way off given his age and what will be a continuing presence of world-class goalkeepers at the club, Pepe Reina the current incumbent and the individual upon whom Bouzanis has been modelling himself since he joined the club.
"He's one of the leaders in the squad. I rate him as the best goalkeeper in the world and to have him at your club, to be able to watch him play is good because you want to learn from the best," Bouzanis says.
"The goalkeeping coaches at Liverpool mould you to play like Pepe, his kicking and everything that he does. You've got to train to be like him.
"It's a big part of the learning curve, what they say. They often give us DVDs and go with us our own games that we play. The goalkeeping coach pulls me aside and shows me clips and shows me where I should have done better; it might be a small thing but you can still pick up on it. He'll pick up the DVD and compare it to the likes of Pepe, Peter Cech and [Iker] Casillas."
High standards indeed.
It is a necessary process though if he is to fulfil his billing as Australia's future No.1, a process that began with the recent U-20 World Cup in Egypt. Concerns about his allegiances were laid to rest as he confirmed he would play for his country of birth, part of a campaign from which Franken was able to highlight key areas in which Bouzanis will have to improve.
"Dean didn't really make saves that made a difference in our campaign and he probably agreed with us," Franken says.
"In terms of consistency he has made mistakes that have cost goals at times over here [in England] but that's just inexperience. It's no coincidence that when he joined Accrington Stanley that they started winning games and keeping clean sheets and that can be attributed to Dean."
Bouzanis' loan move this season to the League Two has been a key part of his education, encouraged by the Liverpool coaching staff and Franken himself. Because of it the goalkeeper now has a real chance of travelling to South Africa as part of the national team set up.
"You've got to start from somewhere don't you?" Bouzanis says. "That's why I've wanted to go on loan. It's different in the lower leagues because it's a lot more physical and that's tested my high ball game whereas in the Premier League it is a lot more technical and a lot quicker.
"When I first came down I found the physical side a little bit difficult and that's something I've had to adapt to.
"The first thing the goalkeeper said to me was that it was a good learning curve to see how physical the game is and to play with men."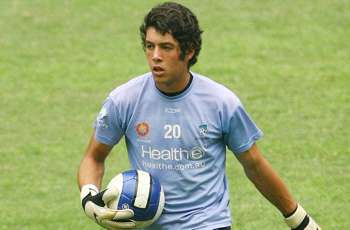 "A Sponge" | Mentored by World Cup legend Jim Fraser
It hasn't been an easy ride by any means for Bouzanis, who has had to fight for a starting spot at Accrington, individual errors and injury limiting his time on the pitch. His lack of game time serves as a taste of the life that awaits him as a professional footballer.
A face-to-face meeting with current Socceroo No.1 Mark Schwarzer when Accrington met Fulham in a 3-1 FA Cup defeat perhaps crystallized Bouzanis' pathway to the top, which will initially be traversed through England's lower leagues.
"Ever since I've followed football from a young age it's always been Schwarzer. He's been around all my life at the top level for a very long time and that's all I've ever known in terms of playing for the Socceroos.
"For me to play against him and see what he's like was amazing as well because I look up to him.
"Mark said to me he'd started at lower leagues and worked his way up to get experience and to hear that from Mark and to hear he took the same route as me, I was happy to have a chat with him and see how he'd progressed. He just said to keep working hard and that things would fall in place for me."
The size of the task ahead is not lost on Bouzanis, who pays tribute to his father as someone who "has been able to put me straight" and instilling a hard-working ethos in the player that runs parallel to his undoubted natural abilities: he has been described as a "sponge" by former mentor and 1974 World Cup goalkeeper Jim Fraser in the past.
With the interest for Bouzanis is high from would-be European suitors the goalkeeper is set to sign a two-year contract extension with Liverpool this week, though he is also set to be farmed out on loan again next season. With the 2014 World Cup in Brazil a realistic target for the teenager according to Franken, Bouzanis will no doubt be aiming to emulate the feats of the likes of Adam Federici and Brad Jones in the Championship at some point during the four years leading up to the tournament.
"There's a major possibility [Bouzanis could go to Brazil]. I'd like to think that he would continue to play at League Two level or possibly move into League One or Championship level like Adam Federici and Brad Jones; that's the level we'd expect him to be playing at and by all means he would be in contention for Brazil 2014," Franken says.
In the meantime, Bouzanis can focus on more immediate goals and look forward to an international career that at one stage seemed set not to be played out in an Australian goalkeeping jersey.
"I played for Australia because I thought of Australia as my home and that's where my heart was. It's something I'll never ever forget.
"I'm proud to have done it and hopefully I can do it at a higher level for the Olyroos and the Socceroos and I'm trying everything I can to get into the train-on squad for the upcoming World Cup."

Become a fan of Goal.com Interantional on Facebook! Just click onto Facebook.com/Goal to join the beautiful game's leading fan community...