"It certainly opened my eyes up to see how cut-throat it can be. It made me more determined to try and do well and make something of myself in my football career.
"I've been lucky enough to do that to a certain extent but I'm still not happy with where I am."
You'd be forgiven for thinking that the above quote from Mile Jedinak came after his whirlwind introduction to Turkish football: after maturing into an A-League star during a steady three years with the Central Coast Mariners, the midfielder signed for Genclerbirligi and found immediate success in Europe despite joining half-way through the 2008-2009 season and having little time to adapt.
Yet when Jedinak speaks of an experience that "opened up his eyes", it is of his first ever taste of life as a professional on the continent, a little-known time of his career spent at Croatian club NK Varteks.
Joining as a teenager and spending barely a season in his ancestral Croatia, the Sydney United youth product endured a humbling time with a club he describes as being a tier below powerhouses Hajduk Split and Dinamo Zagreb. Making only one competitive appearance for Varteks – in a UEFA Cup Qualifier against an Estonian team, Jedinak recalls – the Australian was forced to spend part of his time in Croatia without a team, simply looking for an employer before recognizing an opportunity for regular football back home with the birth of the A-League.
It was then that Jedinak says he realized he needed to be playing at such a tender age, though he wasn't initially picked by any of the newly founded eight franchises for the competition's inaugural season. Instead, he returned to the familiar surroundings of Sydney United, where he re-established himself and earned a trial with the Central Coast Mariners after two years.
Jedinak hasn't looked back since, his career rejuvenated under the now departed Lawrie McKinna. From being an unknown when the A-League was formed in 2005, his talents would be harnessed to the point where the Mariners were unable to stop him from trying his luck again in Europe, Jedinak by that stage a fully-fledged Socceroo.
He is quick to recall his time in Croatia though, where he was brought in by manager Drazen Besek before having the privilege of playing under Besek's successor: Miroslav Blazevic.
Sound familiar? That is of course the name of the man who famously earned Croatia a third-place finish at the 1998 World Cup in France.
"He's a very big name in Croatia and has a huge reputation, having taken a number of teams," Jedinak tells
Goal.com.
"Having taken the national team to the bronze medal, it was a great, great time for Croatian football. He had a big personality and had his own way of doing things.
"I can't say my relationship [with him] was good or bad, it was a player and coach and I did what I had to on the training pitch. There was nothing more to it. He wasn't one to go out of his way to talk to players and see how they were doing but that's his way."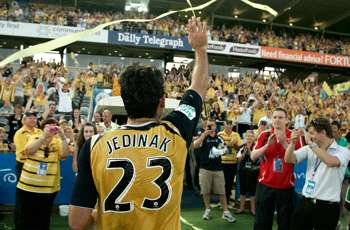 Farewell | Jedinak departs Gosford for Genclebirligi
Nonetheless, there are few Australian players who can boast to having played under a man so revered by his fellow countrymen, with an accomplishment as historic as that of the famous Croatian side of '98 – a tournament that Jedinak was young enough to be watching as an adoring fan.
"I was watching that World Cup and it was a massive thing back then for the whole community. An old teammate of mine was here in Antalya [Turkey] recently and we were reminiscing about old times at the club and it was quite surreal!
"I think at the beginning everyone was sort of in awe and we were all listening to every single word, hanging on his every word and bit of information at training."
Describing Varteks as a club with a good football philosophy and school for young players, Jedinak shows no animosity in recalling his time under Blazevic (perhaps by virtue of the fact that there relationship went largely undeveloped). However, scratching the surface the 25 year-old alludes to a period of his career where club politics brought home some heavy truths about the life of the professional footballer.
"When I was in the actual club environment, being part of the team you get to see how certain things done, some things good and something things not so good," Jedinak says.
"A lot was out of my control and I was like 'What do I have to do?' and it became a bit difficult.
"That's where my teammates helped me immensely and if we didn't have each other, we would have gone crazy. We went through a lot of stuff together there."
One of those young teammates was Nikola Pokrivac, who played with Jedinak in the Varteks second team before going on to play for Zagreb, Monaco and now Red Bull Salzburg, becoming a Croatian international along the way.
It is a stark contrast to the fate suffered by Jedinak, who went unnoticed during his short time in Croatia and was essentially forced back to Australia without having had the chance to prove himself. Such was the force of the experience that it changed the youngster, perhaps giving him the drive to succeed that seems to characterize his personality today.
"I had a good bunch of teammates who made my life a lot easier in Croatia when I was living with my own, guys I'm still in contact with today.
"I can't forget my time there because it made me stronger as a person and as a player and I look back on it as a positive."
Just as he was thrust into a foreign environment when he joined Varteks, Jedinak has been forced to adapt to the rigours of Turkish football – speak to the likes of Bruce Djite and the magnitude of the task becomes clear.
Fortunately for the former Mariner, the uncompromising and physical style that defined his short A-League career immediately allowed passionate Turkish fans to take a liking to him at both of his clubs (Genclerbirligi and now Antalyaspor). Jedinak describes Turkish supporters as those who appreciate good football as much as they do a midfield workhorse who is unafraid to "put his foot in" to tackles.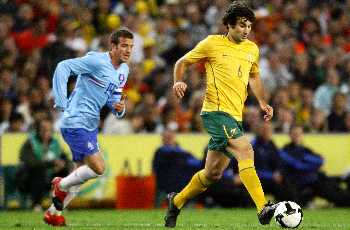 Form | Could Jedinak be a surprise first choice in SA?
Such an approach to the game appears appropriate for a man who has been battle-hardened by some difficult early experiences in his career. Crucially though, Jedinak has been able to add goal scoring to his repertoire and thus transcended the stereotype of the bullish, uncultured defensive midfielder that might otherwise have followed him around.
"I get into some good positions and luckily for me, I've been able to put a lot of those chances away. Our team has scored a lot of goals from set-pieces – we've been able to benefit from that and so have I.
"It's something that you do try and work on – you'd be silly not to. If you can chip in now and then for the team it does wonders and obviously for yourself, confidence wise.
"At training we do a lot of finishing and I get involved quite a bit, I try and get on the end of things. The opportunities don't come that often in the game, you've got to pick and choose when to go."
Understated explanations for a consistent goal-scoring threat that has seen him score five invaluable times for his club this season. It might just be that his attacking abilities – which compliment his undoubted tenacity in defence – are beginning to convince national team boss Pim Verbeek that the Turkey-based Aussie is good enough to occupy one of two holding midfield roles in South Africa.
Indeed, with Vince Grella's season ravaged by injury, it might just be that Jedinak will have to step into the breach alongside Jason Culina (few other nominees for the position can boast as much regular game time and form) at the World Cup.
Unable to open his scoring account during a still-young international career, goals for the Socceroos would surely begin to press Jedinak's place for a starting berth in even a full-strength line-up. But why is it that his attacking form hasn't been transferred from club to country?
"At international level it's a little bit different because every game is a crunch game and with the club you've got every game to work on it," Jedinak says.
"[At international level] you've got 90 minutes to do what you can and then you don't see each other for a little while.
"I guess you are a little bit restricted because every minute in the international game is crucial and it's something that's a little difficult to explain"
Verbeek's tactics though are particularly conservative, his holding midfielders strictly carrying out defensive duties and generally not involved at the end of attacking movements, forcing Jedinak to change from his rather more cavalier club ways.
"Obviously you're going to prepare yourself a little bit differently but the basics are the same and if you're incorporating them into your club form then you don't change too much.
"Of course [though] you've got to adapt because the game is a lot more tactical and a little bit more discipline is required. You adapt, as all good players should be able to, and I'm no different."
Adaptation has in fact been the defining characteristic of Jedinak's career thus far; his is not the story of a meteoric rise through European football, of the teen sensation who immediately causes ripples in a foreign land and becomes established as a star.
Like the Turkish Super League in which he plays, Jedinak's career has been gritty and uncompromising, one in which lessons have had to be learned quickly and chances taken in a cut throat and unforgiving environment.

Become a fan of Goal.com International on Facebook! Just click onto Facebook.com/Goal to join the beautiful game's leading fan community...