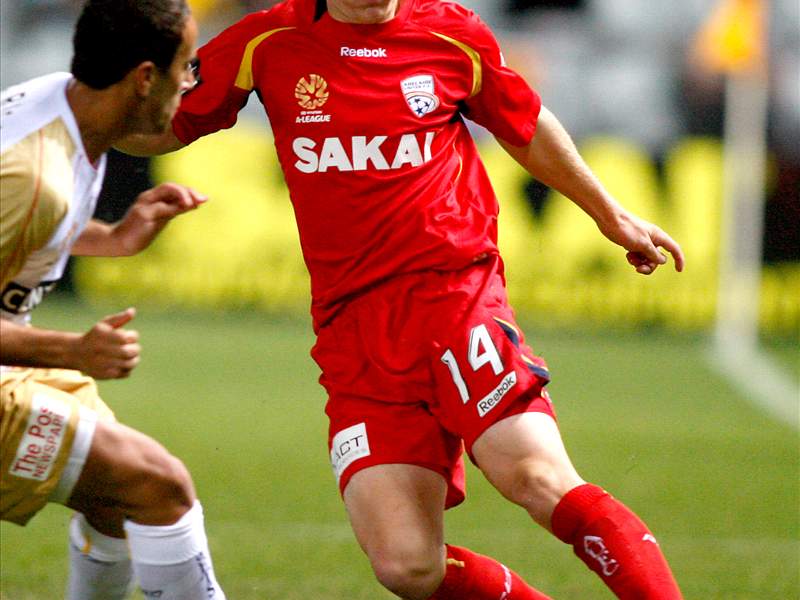 Rising Adelaide United star Scott Jamieson could leave the A-League at the end of this season as he prepares to re-ignite his European dream.
The 20-year-old had a stunning debut campaign with United as they reached the Asian Champions League final and A-League Grand Final, being named the A-League Young Player of the Year and earning his first international cap in the process.
He returned to Australia after a two-year stint with English Premier League club Bolton Wanderers, after being snapped up from Westfields Sports High School as a 16-year-old by then-Academy director Chris Sulley.
However, he never made his senior competitive debut for the club during what was at times a difficult and frustrating period of his career.
Speaking exclusively to
Goal.com
, the left-back revealed that he had the opportunity to join top-flight Dutch clubs NAC Breda and FC Groningen earlier this year.
The Eredivisie outfits were "seriously interested" in Jamieson, though he opted to continue playing in Australia due a lack of first-team football on offer in Holland.
"I think I was ready [to go overseas] this year," Jamieson said. "I had the opportunity to stay in Holland but for me it wasn't the right time.
"I wasn't going to get the amount of game-time I would have liked and with last season I wanted to keep on improving with Adelaide United; with the staff and players here I thought I could do that.
"The time will come where I'll have to make that decision again and I look forward to doing that – I'll be ready and excited about it."
Indeed, Jamieson appears set to depart the A-League at the end of the 2009-10 campaign, after sating that he would "stay at United for the season and then go from there".
Following in the footsteps of fellow starlet Michael Zullo of the Queensland Roar (who also rejected an offer from a Dutch club last season in order to stay at home), his decision represents a growing trend in young Australian players who are delaying their European careers, instead seeing the A-League as an effective developmental pathway.
Jamieson also called upon his experience in England when making the decision, describing the highs and lows of playing on the continent.
He continued, "I've been over there, done it and experienced some good times and bad times.
"You're not going to improve as much as you want to as a player if your not playing week in, week out.
"I think with Michael Zullo as well, it was a great opportunity to go overseas but it might not have been the right one, given that we wouldn't get much game-time.
"I was actually talking to Mile Sterjovski last week and he was saying that he was happy that he stayed in Australia until a certain age because it helped him grow up and get ready for that overseas transition."
While he drew invaluable experience from his time with Bolton, where he developed into the footballer he is today, Jamieson described his time in England as a "roller-coaster ride".
"You go over there and train with players like Nicolas Anelka and Jay-Jay [Okocha] and it's hard not to learn," Jamieson said. "It definitely made me the player I am and as a person, growing up there.
"[But] I had some lows – I was playing reserve football, I was on the bench sometimes and wasn't in favour with the managers and that was why I left. They didn't renew my contract and that was it.
"But I'm very happy because it's made me the person and player I am today. I don't regret it one bit, I'm very thankful for the opportunity I had there and all the people I met."

Chris Paraskevas, Goal.com

Get all the Australian football coverage you need on the Goal.com Australia homepage!