Bebeto is iconic for many reasons, but two stand out. Firstly at club level he became the darling of Deportivo La Coruna fans for his amazing goalscoring feats for the club. In the four seasons he spent in the north of Spain, the Brazilian scored an astonishing 108 goals in just 131 games between 1992 and 1996. The other reason, which is much more worldwide, is the moment when he celebrated a goal for Brazil in the quarter-final against Holland in the 1994 World Cup. The striker peeled away from his celebrating teams mates and, by the side of the pitch, began mimicking the rocking of a baby in his arms. Just two days before that game his wife had given birth to their third child.
It was the moment which defined goal celebrations, and set the trend which has been imitated by players in various guises worldwide for the last 16 years.
The 45-year-old is still as enthusiastic about the game as he ever was. So much so that he was one of several former stars who were happy to turn out and play in the heat alongside youngsters in the Champions Festival in Madrid last week. The event was a series of fun activities organised by UEFA in the build-up to last weekend's 'The Jose Mourinho Champions League Final'.
But this week the talk is much more serious. Brazil flew out to South Africa on Thursday, one of the first teams to arrive in the country, to begin their preparations for the finals. Eyebrows were raised when Dunga named his 23-man squad ahead of the June 1 deadline. While there was not too much surprise that Ronaldinho was left out, there are many in Brazil, and outside, who think that even as a fading star, the 30-year-old is worth having in a World Cup squad. Also out are Alexandre Pato and Adriano. But despite the absence of such obvious flair players Bebeto is not duly concerned.
"This team that Dunga has called up is very hard to beat. They have won the Confederations Cup, become the champions of South America and got us through the qualifying campaign for the World Cup without problems. How can you really complain about a team such as this? This team just wins all the time."
That said, Bebeto immediately gives a different take on the selection policy were he in charge of choosing the players.
"If I was in charge of the squad then players like Ronaldinho and Pato would have been worth taking to South Africa and I would have done so."
I ask Bebeto whether there was disappointment back in Brazil at the lack of star names being called up.
"The most important thing in Brazil is that you win. Brazil have to win all the time. If they don't do that then the team feels really down and so does everyone else. If this team of Dunga's fails it will be seen like this. But if they go and win ...whooa!!!"
Bebeto has no words to describe that feeling, rather he simply rolls his eyes to suggest everyone would likely go mad with the sheer delight.
"But then that's football and that's how it is," Bebeto continues. "In Brazil everyone also thinks they can be the coach and thinks they are better than everyone else. But Dunga really has worked hard and he deserves to be given the credit for what has been achieved."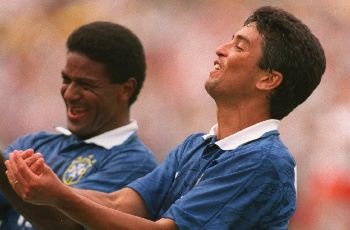 While Dunga shapes and forms a far tougher Brazil than most fans worldwide are used to seeing, all is not despair. Most fans and experts alike feel that the biggest threat to Brazil will come from Spain. The European Champions play a style of one-touch passing and moving football that may as well have been ripped out of the pages of the Brazil Compendium on how to play Jogo Bonito......if one existed that is.
"Yeah, Spain really have a great team as well. They have players of quality everywhere. But they are not a team which have a tradition in the World Cup. They have always looked to do it but so far haven't done so. And so you also have to look at those countries who do have a pedigree in the finals. You have to think about Brazil, Germany, Italy and Argentina. All these teams will also be very strong."
Become a fan of Goal.com International on Facebook! Just click onto Facebook.com/Goal to join the beautiful game's leading fan community...