He's not the most forthcoming of talkers. As far as football goes, Daniel Agger is definitely one who prefers to do his talking on the pitch rather than off it. At Lisbon's Esatdio da Luz on Thursday, the 26-year-old central defender was certainly in a talkative mood both with the football and also with the referee, Sweden's Jonas Erikssson. And the match official was not a subject of too much post match discussion by Agger
"I don't think the referee is worth making a comment about to be honest," Agger says resignedly. "But the one thing I don't understand is what is the point of having five referees if nobody wants to make a decision?"
I ask Agger if he is referring to the decisions taken to award Benfica the two penalties which helped them to victory.
"No, no, it was nothing to do with those decisions. I can't comment on that because I still haven't seen them. No, I am just saying it in general."
The frustration that Agger felt with some of the decisions was very visible. He was constantly remonstrating with the referee throughout the match and can possibly count himself lucky in not joining his defensive partner Jamie Carragher into the referee's book with a yellow card.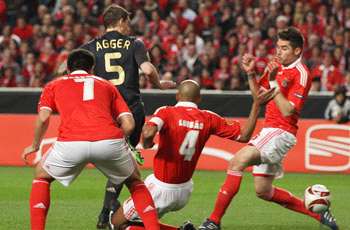 The Dane also inspired Liverpool, giving them the vital away goal that keeps this tie alive for the return leg at Anfield next week. It was his superbly improvised back heeled flick, from a short free-kick played across the penalty area by Steven Gerrad, that opened the scoring, giving the visitors the lead. But Agger is all modesty when I question him about his wonder goal
"I guess it wasn't a bad goal," he says indifferently about his first strike in almost a year. "It was a bit lucky maybe," he adds, shrugging his shoulders. Agger also denies that it was a training ground routine that the team had been working on.
It's not easy getting Agger to look on the bright side, and he is clearly angered by the fact that Liverpool ended up losing the match after taking the lead.
"I thought right at the beginning of the first half we did well. We got a goal and then we got the red card [shown to Ryan Babel] and after that it all became very difficult."
Agger continues: "What really irritates the most is that we got a good start and then ended up conceding two goals to penalties. We knew it was going to be difficult when we got the red card, and overall I think we did okay to be honest. But to concede two penalities, we can do nothing with that."
Despite the setback, Agger is very sure that the tie is not lost for Liverpool. So is he confident that the Reds can turn it around?
"Definitely!" he says, almost surprised at my question. "We showed here that it's possible and we have always known that. Obviously it would have been better to have gone into the return leading 1-0, but we will take 2-1 and play at Anfield."
Liverpool will be without Babel for the return after his red card and may well also have lost the services of Alberto Aquilani after his ankle injury, but the central defender feels there is enough strength in the team to cope with the losses.
"We have a good squad, so I don't think it will be a problem. We will just have to play that game with the players we have available."
As much as he is looking at how Liverpool could have been better on the night, Agger is also very self critical as a player. Manager Rafael Benitez recently said that there was still much more to come from the youngster. Agger's career has been blighted by injuries, but he seems to share his manager's viewpoint.
"I am getting there, but I think you can always be better. I always think after every game. No matter how well you play, you think 'Ok, I could have done this better I could have done that a bit better' so you can always be better."
Attention for Liverpool now has to quickly turn back to the league, and to the task of trying to qualify for a Champions League spot for next season. It's not going to be easy, with a trip away to Birmingham and a points defecit to catch up with Spurs, who currently occupy fourth place. The ambition is to try to achieve that, and also to bag the Europa League trophy, but given the task at hand in both competitions, Agger wisely preaches caution.
"It is definitely our target, but you know as well as I do that we don't always get to reach our targets."
It's a timely warning for all Liverpool fans.
Become a fan of Goal.com International on Facebook! Just click onto Facebook.com/Goal to join the beautiful game's leading fan community...