If nothing else, Ryan Babel has to be commended for coming out and speaking to the world's media after Liverpool's defeat to Benfica on Thursday night. The Dutchman, who seldom gets a starting berth in the team, will have regretted the lost opportunity after receiving his marching orders on the half-hour mark. His side, then leading 1-0, went on to lose 2-1 in their Europa League quarter-final first leg clash in Lisbon.
With Liverpool comfortably in the lead thanks to a super back heeled flick by Daniel Agger, the winger was given his marching orders for aggression. Babel twice raised his hand to the face of Luisao, the Benfica captain, after Fernando Torres had been fouled. It's the first time the Dutch star has been sent off in his Liverpool career. Babel says he wasn't trying to look for trouble.
"He [Luisao] was all loud in my face and I was just trying to back him off, saying: 'Don't come too close', and in the end the referee gave me a red card for putting my hand on his face. And, well, I did it."
Babel feels that the decision by the referee was a bit harsh but he also accepts the punishment he was given.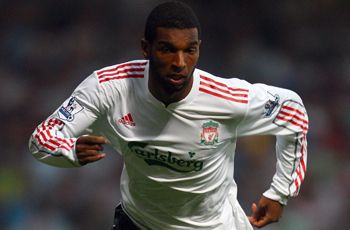 "To me, I think it was a little bit too harsh maybe. In the end, yes, it was a silly thing for me to touch him on the face, but I think a yellow card would have been fair enough. But I suppose those are the rules. The thing was that he came onto me very loud and he came very close to me with his face and I just tried to back him off. They [Benfica] made it all a lot bigger than it actually was. But it was my mistake and I will learn from it and it won't happen again."
It is an honest admission from a player who is not known for being volatile. And Babel went on to admit that he had apologised to everyone in the changing room.
"Of course [I did]," he says, "But it's good to know that my team-mates were backing me up. They didn't let me down. I feel very guilty though that we lost. I think it could have been a very different situation otherwise," Babel admits. "But you know we cannot turn it back now and hopefully in the second game we can turn around the result."
Babel is not guaranteed a place in the first XI for the Merseyside club and will now be suspended for the return fixture. It was a rare start for the flying Dutchman, who was more disappointed at the opportunity that slipped out of his hands.
"Maybe the first dribbles I had were a little bit unlucky, but I felt confident afterwards that I could grow in the game. So it's definitely a shame that I wasn't able to finish the match."
Babel may feel guilty for the sending-off and the inevitable part that it played in his team's demise, but he thinks Liverpool can bounce back and go through.
"We were pretty comfortable in the first 20 minutes or so and we feel confident that we can go though to the next round. We contained them quite well when we were down to 10 men, so that is a compliment to the rest of the team."
Become a fan of Goal.com International on Facebook! Just click onto Facebook.com/Goal to join the beautiful game's leading fan community...